Amazon adds multi-room audio to Echo, Echo Dot and Echo Show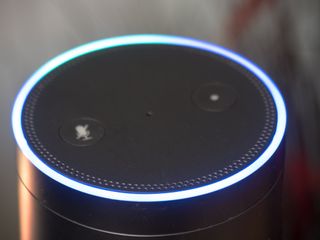 Long expected and highly anticipated, Amazon today announced that its flagship Echo devices (opens in new tab) now support synchronized music playback. Multi-room audio, that is. It works on the original Echo, the venerable Echo Dot, and the new Echo Show.
You'll set up groups of devices in the Alexa app (go into settings and the look for "Multi-room music.") You'll create groups of at least two devices, and supported services include Amazon Music, TuneIn Radio, iHeartRadio and Pandora. SiriusXM and Spotify will be added later.
Which Amazon Music subscription should you get?
After that, it's music time, all over the house.
Amazon says multi-room audio is initially available in the United States, the UK, and Germany. It's also added documentation for developers to take advantage of multi-room audio as well.
See at Amazon (opens in new tab)
Android Central Newsletter
Get instant access to breaking news, the hottest reviews, great deals and helpful tips
Great...now just let me connect my Sonos PLAY:1 in to the same group and my house is covered!

Right after I took one if my echo dots to my apartment.... Plan to buy a google home mini anyways

...and when is this "google home mini" coming out?? cuz i've been waiting for this formerly fictitious device to come out too.

Hey let me use google play music

That'll never happen unfortunately.

FINALLY! This was the reason I invested in a bunch of Google Homes and Chromecast Audios. GH/CC still has the advantage here since you can cast from any app or browser that supports it vs being limited to only the Echo-supported music services, but this is going to be big for a lot of people.

My only issue with Google Home/Chromecast is that they don't allow multi-room audio on HDMI versions and haven't explained why (as far as I'm aware). I'm not complaining, since I bought the Chromecasts knowing this to be the case, but I'd just like to know why that's the case. My guess is that it has to do with synchronizing video streams.

This might have me convinced to acquire additional Echos.

I just set up a group....love this!

This is awesome! I can play podcasts, too. I can even play music on all my echo devices by using Alexa in the Amazon shopping app on my phone.

What do you use to play podcasts? I listen to some that aren't, for some reason, available in the mainstream apps.

Tune-In. Say, Alexa, play the android central podcast from Tune-In.

Just in time for Labor Day Weekend parties!

Nice...doesn't work with the Tap. WTF???

Yea, why is the Tap the red headed step Alexa yet again? Doesn't support drop-in either. I have one Tap so I can take it outside, deck, yardwork, but it is the Echo for one room I'm not in when I'm outside. Guess I need to watch for the next $35 Dot deal.

I connected two Dots and an Echo into a group called "Everywhere". I then asked Alexa to "Play music everywhere". She happily obliged and started playing music to all three devices. Unfortunately, she also disconnected the Bluetooth speaker connected to one of my Dots. I stopped everything and recycled power on the Bluetooth speaker, which re-established a connection between the Bluetooth speaker and the Dot. However, every time I tried to play music to the Everywhere group, the same thing happened.

I think it says when you set it up that it'll disconnect Bluetooth.

I assumed that meant when it was setting it up, not once it was in use. They need to fix that. Does the BT speaker have an audio in for the interim.

I'm experiencing the same thing. The sound from the Dot is so awful that I avoid playing music using the Group feature.

Nice! Been waiting for this feature, had even considered Chromecast Audio, glad I waited.

App on my Pixel crashed every time I tried to name the group. iPhone worked fine. Just an FYI.

Strangely, Tap can't be included in groups.
Android Central Newsletter
Get instant access to breaking news, the hottest reviews, great deals and helpful tips
Thank you for signing up to Android Central. You will receive a verification email shortly.
There was a problem. Please refresh the page and try again.