Alex's Favorite Tech of 2017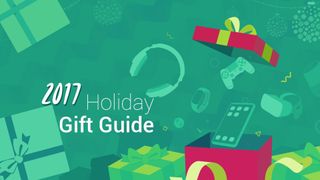 Alex's Favorite Tech of 2017
The past year has brought us bountiful quantities of new gadgets, and not just in the smartphone space. Whether it's the tech I use to do my job, to relax at the end of a busy day, or to capture special occasions and everyday moments, 2017 has been a year of many upgrades for me. So here, presented below for your perusal, are a few of my favorite tech-related things for 2017. Cast your eyes on the high-quality toys below.
Google Pixel 2 XL
The Pixel 2 XL has one or two screen issues, and isn't as pretty as Samsung's current Android lineup. But ultimately I don't care — for me, the Pixel 2 XL is the best Android phone you can buy right now. The larger of the two 2017 Pixels gets the basics right, and delivers the best software experience on any Android phone, and a world-beating camera to boot. (Seriously. This phone has ruined pretty much every other smartphone camera for me.) Software and imaging are two areas that are really hard to excel at, and major reasons why the Pixel 2 XL should be your next phone.
It's expensive for sure, but with Google's promise of swift software updates for three years, the 2 XL should have a long life ahead of it.
From $849 Buy Now (opens in new tab)
Panasonic DC-GH5
OK, so this one is a big purchase, but Panasonic's GH5 has probably been the most important addition to my tech loadout in 2017. Almost everything you'll see on the Android Central YouTube channel since August was shot on the GH5. It's a camera which can caputre phenomenal footage (with the right lens, of course), backed up by software features that feel in step with the way professional and semi-professional users want to shoot.
In particular, Panasonic's (slightly clunky but still great) mobile app has been indispensible to me, offering an easy way to control most functions to the camera remotely via my phone.
$1998 Buy Now (opens in new tab)
Google Home
Had I not reviewed Google Home shortly after it launched in the UK this year, I probably would've let it pass me by. I wasn't hugely interested in a connected smart speaker, but little by little, Google Home — the full-sized model, not the smaller, cheaper "Mini" (opens in new tab) has won me over. It's a quick and easy Chromecast target for music or podcasts, with a surprisingly great (and surprisingly room-filling) little speaker lurking within
Like everything with Google Assistant built in, Google Home is going to get better with time, and many of the early teething problems with Home have now been worked out. Google Home Mini is great for cheaply building out a network of speakers, but the original, big Google Home is the one to get if you want superior sound quality at a non-outrageous price.
$129 Buy Now (opens in new tab)
RAVPower 26800mAh PD Power Bank
Sometimes you want a slim portable battery that you can carry around in a jeans pocket. Other times you just want all of the power, and RAVPower's 26,800mAh portable cell fits the bill for multiple phone refills, and even a full refill of a USB-C-enabled laptop. If you're going to be traveling, and don't want to worry about constantly refilling a portable battery as well as all your various gadgets, this battery is worth a look.
It has three ouputs, and it'll charge devices over the USB Power Delivery standard, with a total combined output of 5.5A. That's a lot of juice.
$50 Buy Now (opens in new tab)
Razer Blade (14-inch)
Having managed almost five years without a laptop upgrade, this year I made the jump from an aging 2012 MacBook Air to a Razer Blade — mainly for video editing reasons. The Blade packs a ton of power (with the expected battery sacrifices, of course), and the included NVIDIA GTX 1060 GPU makes the blade just as great at video editing and other visually intensive work as it is at gaming.
$2099 Buy Now
Samsung Gear Sport
With Android Wear continuing to stagnate in 2017, it's been really hard to track down a decent, good-looking, non-gigantic, Android-compatible smartwatch — at least until Samsung recently launched the Gear Sport. The company's latest wearable is a sort of follow-up to 2015's Gear S2, with a smaller form factor, improved water resistance specs, faster software and improved battery life.
The sleek design and easily interchangeable straps mean the Gear Sport doesn't look out of place alongside a tracksuit or smarter attire. And in the grander scheme of watch prices, you're not shelling out a whole lot of cash .
Alex was with Android Central for over a decade, producing written and video content for the site, and served as global Executive Editor from 2016 to 2022.
Great list Alex.. Thinking the Gear Sport is next for me

Another anti ad post. Many more of these and I'll delete it just like the Crack Berry app.

Yup. The Pixel 2 XL gets all the basics right. Except for the long list of problems (note to those who say these problems don't exist: if the problems don't exist, then what is Google fixing and promising to fix with updates?), it is a very basic phone. For $849.

You don't have to keep posting the same thing over and over again. We get it. You don't like the phone. Your feelings about the phone have no bearing on what others feel about it.

I'm sensing butthurt in the force.

I was going to say you're butthurt. Every time someone says the Pixel 2 is the best phone you throw a bitchfit.

For me, the Pixel 2 is the best phone. Had it more than a month now. No problems at all. Great camera. Switched from iPhone 6s and would not go back to iOS, after owning almost every version of it.

Well, you missed your chance. Better luck next time.

You keep reminding us you worked in publishing for the tech community? I didn't know respected publications made use of "butthurt" in their articles. What was the magazine you supposedly worked for, Highlights? And no one is saying the issues don't exist. They're saying their not widespread. I would assume someone as learned as you claim to be could tell the difference.

I didn't know comments were articles. If they're not widespread, then why is Google releasing fixes for the problems for EVERYONE? If the problems only existed on a few phones, they could simply replace those few phones.

Most people's speaking patterns and verbiage make their way into their writing. I would assume a writer would know that. Ok, so when Samsung has released a fix for their devices, all of them were affected? Every time? Google isn't the only OEM who does this.

Google adds insult to injury (a serious Oreo problem). But I'm sure you Pixel 2 owners are thrilled you always get the latest Android first, right? https://www.reddit.com/r/Android/comments/6y4mvj/psa_using_mobile_data_a... Tip: Turn off mobile data until Google provides a fix for this problem that doesn't exist.

Do not be alarmed. The linked thread is 3 months old. C'mon now. This is getting petty.

The thread may be old, but AP just published a story on this, and it's still a problem. Either that, or there's a new bug that leaves mobile data on by default. The takeaway from this, either way, is that getting the latest updates first isn't all that, despite what the Google fanboys tell you.

That thread was BEFORE the Pixel 2 was even released. It was BETA (a choice to use) and people that enroll in a Beta Program know there will be issues. That is the nature of the beast. You "warning" to people to turn off mobile data by linking a 3 month old Reddit post is not helpful.

http://www.androidpolice.com/2017/12/09/fyi-mobile-data-now-set-always-a... "Some people on 8.0 have been seeing it, but we're only getting it on 8.1, so it's more that it's varied between the two versions, though according to the commit it should be on both." Also, I said it was about Oreo. I never said it was about the Pixel 2, except the implication that it's supposed to be good to get updates first -- but it's not.

That story and your initial link are not the same thing at all. One used data, the other used battery (maybe...as the story explicitly says, YMMV). Also, your warning to turn off mobile data in your comment is not the same fix as given in the new link. Very simply, your initial comment has no bearing on anything currently in use.

Yes, I said that already. "Either that, or there's a new bug that leaves mobile data on by default. The takeaway from this, either way, is that getting the latest updates first isn't all that, despite what the Google fanboys tell you." In addition, some Pixel C tablets are getting factory reset after taking the 8.1 update. How does this happen so often to stock Android? Because Google's revenues are from advertising, not its hardware products. So they're not motivated to do proper QA for releases. Let the users figure out what's wrong. No skin off their noses. OEMs, on the other hand, depend a lot on sales of their devices, so they work harder on QA before passing on their version of the latest Android to customers.

And somehow you're ok with Samsung? Tell us about their QA from last year. Nig difference between mobile data staying on and your phone burning up.

I was talking about software, not batteries, most (or all) of which were outsourced. You Google fanboys need to come up with a better retort when Google phones suck every year. "Oh, yeah? Note7!!"

Yes, Android 8 is superior to Android 7... Mostly several minor performance improvements, which added up make 8 possibly meaningful. Is there anything in Android 8 that you are losing your mind over because you are stuck on Android 7? Picture in picture mode? Personally, I'm either watching something full screen on a phone, or I'm not. Improved autofill framework? I don't save credit cards through Google. This improvement is Google making it easier and more appealing to convince you to store more banking and personal data about you. Oreo can better learn your sharing habits? Again, it's a small convenience, it is smart, but it is more data stored about you. Per app disc space quota for cached data, WiFi aware, default max aspect ratio gone, and multi display support round out the headlines.... There is some other stuff. Google android 8 VS 7. A great article by a competitors to Android Central will be found on this topic. Seriously Alex... I'll take what is easily the best Android phone... The Samsung Note 8....& a wait for Oreo over the multiple software and physical hardware issues that is the Pixel 2, or any other Android phone which has Oreo. . In Canada, the Note 8 is $1349.99 (no term), the Pixel 2XL is on $49 cheaper, $1299.99... Thus there is no sane reason to buy the Google phone, with an inherently inferior LG display.... Hey, it's your money... The Android 'software experience' argument in laughable... Most importantly, none of my apps care if the OS is 7 or 8 in any material, significant way....

Lol at these guys the pixel 2 And 2 xl are fine,they just have a long list of issues but they are completely fine LMAO.

My list of 2017: Phone
Google Pixel XL
Galaxy Note8 Headphones:
Gear IconX 2018 Smart Watch
Gear Fit2 Pro And Google Home Mini of course
Android Central Newsletter
Get the best of Android Central in in your inbox, every day!
Thank you for signing up to Android Central. You will receive a verification email shortly.
There was a problem. Please refresh the page and try again.