Alexa can now help manage your health information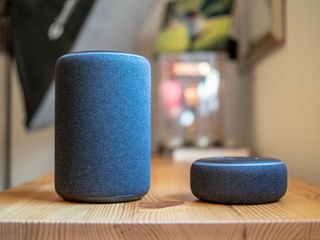 (Image credit: Android Central)
Alexa has just gained some new skills to help manage your health, including scheduling urgent-care appointments, monitoring blood sugar levels, tracking when your prescriptions have shipped, and checking health insurance benefits.
Five companies so far have joined this initiative with Alexa, including Cigna Corp., Express Scripts, Livongo, and major hospital systems. This is big news for a multitude of reasons, but most importantly, anything related to health ruffles up laws and privacy concerns.
With this foray into handling sensitive medical information, Amazon says Alexa meets all health privacy requirements under federal law. Not only that, but Alexa is fully compliant with the Health Insurance Portability and Accountability Act, HIPAA for short, which ensures your health information stays private while also providing access and preventing tampering.
While Alexa meets all of the guidelines for keeping your information private, it also recommends that developers require a voice code or password when handling your medical information. However, developers still include a disclaimer that your information "may be available to anyone using your Alexa devices."
As you can see, venturing into the world of managing health information is an arduous task, which must guarantee your information is secured and kept private.Alexa is the first to do this amongst smart speakers, with a spokesman from Google stating the company's developers are not allowed to create features that transmit information under federal privacy law and Apple declining to comment, according to Wall Street Journal.
Alexa has an inherent advantage for usability when compared to something such as an app. Using voice commands comes naturally to us and there aren't any big manuals to memorize. One way this has shown to be beneficial to both the patient and doctors was at Boston Children's Hospital, where parents can use the Alexa feature to report whether their children are experiencing pain or lack of appetite after surgery, and it can even offer appointment reminders.
Smart speakers have grown in popularity over the years and changed many of our lives, and Alexa has just found a way to outpace the competition yet again. The question is, would you trust your smart speaker to handle your sensitive health information? Going a bit broader, how much do you trust your smart speaker in general with other parts of your life? Just last year, Alexa made headlines after accidentally recording a conversation and sending it to someone on a user's contact list.
Two years ago, Northwell Health launched an Alexa skill to search wait times for hospitals for the New York hospital system. Despite not requiring any HIPAA certification or sharing your personal information, it has not become widely used. Could it be people aren't yet comfortable using smart speakers for health-based queries, or perhaps this feature wasn't as significant as checking your prescriptions or blood sugar levels?
Tiny and mighty
Small package big performer
This tiny smart speaker can do it all from playing music, reading books, controlling your smart home, and more without breaking the bank. It's available in multiple colors, has a surprisingly good speaker for its size, and works seamlessly with other Alexa-powered devices.
Get the Android Central Newsletter
Instant access to breaking news, the hottest reviews, great deals and helpful tips.