Alcatel revamps the Pop family with a new tablet, phones (hands-on)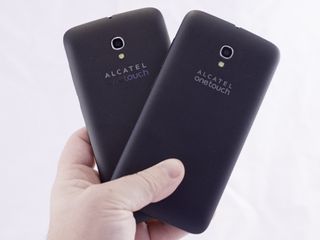 2015 is all about affordable LTE devices for the low-cost manufactuer
Alcatel today announced new additions to its affordable Pop family in the form of the Pop 10 tablet and a trio of Pop 2 phones ranging from 4 to 5 inches.
This year is going to be all about LTE for the low-cost manufacturer, and the Pop 10 tablet brings it with Cat. 4 speeds. The tablet's powered by a quad-core MediaTex CPU, has 8GB of storage and sports a 5MP camera 'round back and 2MP out front. It's standout feature, however, is the removable Bluetooth keyboard. It's done in the manner we've become accustomed to over the years, with a little bit of thickness added at the hinge. But the whole smash manages to retain a pretty thin profile. The keys have decent (not great) travel, and the trackpad is clicky enough.
The Pop 2 phones start at 4 inches with a 480x800 resolution, move on to a 4.5-incher at 854x480, and finally to a 5-incher at full HD. All three will sport LTE data, and price points will reflect their various standings in the family. The high end Pop 2 (5) has a plastic textured back which we actually liked a little less than the soft-touch 4.5 model, but to each his own on that one. All three phones will have options for color backs and flip covers.
We've got more on the Pop 8 tablet and Pop 2 phones on down below.
POP 2 (5)
Image 1 of 9
4G LTE Cat 4
5-inch FL HD display with IPS, quad-core 1.2 GHz CPU, 2500mAh battery
8MP camera with front 2 MP flash
Android Lollipop
Accessories: FlipCovers
POP 2 (4.5)
Image 1 of 9
4G LTE Cat 4
4.5-inch FWVGA display, quad-core 1.2 GHz CPU, 2000mAh battery
5 MP camera with LED flash, digital zoom, VGA front camera, QR code scanner
Android 4.4
Wi-Fi display feature, Dual SIM option, one finger zoom
Accessories: Color covers, FlipCovers
POP 2 (4)
Image 1 of 4
4G LTE Cat 4
4-inch WVGA display, quad-core 1.2 GHz CPU, 2000mAh battery
5 MP FF main camera with flash, digital zoon x4, VGA front camera, QR code scanner
Wi-Fi display feature, dual SIM option, one-finger zoom, pre-embedded apps
Accessories: color covers, FlipCovers
POP 10 tablet
Image 1 of 11
4G LTE Cat. 4
Quad-core CPU, 8 GB storage, 400 grams, 7.9 mm
5 MP rear camera, 2 MP front camera
Wi-Fi display
Accessories: ergonomic keyboard, docking station, ALCATEL ONETOUCH LINK device to synch smartphone and tablet, ALCATEL ONETOUCH CONNECT, FlipCovers and neoprene pouches
ALCATEL ONETOUCH's Affordable POP Family Revolutionizes the 4G LTE Mobile Experience: On Display at CES 2015
ALCATEL ONETOUCH's newest tablet, the POP 10, is the thinnest and lightest tablet on the market and offers a line of companion devices including an ergonomic keyboard, docking station and more
The POP 2 smartphones make the 4G LTE mobile experience accessible to all
Smartphones and tablets are customizable with a choice of colorful covers for further personalization
CES - Las Vegas, January 6th, 2015 – ALCATEL ONETOUCH demonstrates its commitment to democratizing the 4G LTE market with its richest product portfolio in entry-level smartphones and tablets. At the 2015 Consumer Electronics Show (CES) in Las Vegas, consumers will get a firsthand look at the devices, ranging from a compact 4-inch smartphone to a spacious 10-inch tablet, all loaded with easy-to-use features and equipped with customized accessories.
POP Family: Revolutionizing the 4G LTE Market
The POP family offers a series of powerful smartphones and tablets to democratize the 4G LTE market. Thanks to its smooth browsing capability and ultra-fast connections, the POP family is a step forward in mobile Internet access and everyday multimedia consumption. Users can always count on a lag-free experience when browsing the Web, watching videos or gaming.
POP 10: Converts Into a Laptop in One Click
ALCATEL ONETOUCH's newest tablet to launch at CES 2015 is one of the thinnest and lightest 10-inch tablets on the market. The 4G LTE POP 10 converts into a laptop, thanks to its ingenious design. With a silhouette of only 7.9 mm and weighing 400 grams, the tablet snaps into the ergonomic keyboard with a simple gesture. Ultra-connected, as part of its own smart universe, the voice-call-enabled POP 10 offers a line of companion devices including the ergonomic keyboard, a docking station for charging, a Smartlink application to synch a smartphone with the tablet and ALCATEL ONETOUCH CONNECT, a Bluetooth-enabled phone that allows users to answer calls, read e-mails and more.
"In today's hyperconnected world, quick connectivity and instant communication should be at everyone's fingertips," notes Dan Dery, Chief Marketing Officer for ALCATEL ONETOUCH. "Our POP family ensures this by making the 4G LTE mobile experience accessible to the mass market."
POP 2: Affordable, Colorful 4G LTE Smartphones
The POP 2 family includes the premium POP 2 (5), POP 2 (4.5) and POP 2 (4). These customizable devices offer superfast 4G LTE connectivity and are optimal for a great viewing experience. To spice things up, the POP 2 smartphones are available in a great variety of colors for further personalization.
The POP 2 runs on the Qualcomm® Snapdragon™ 410 processor with integrated 4G LTE. The Snapdragon 410 processor is a product of Qualcomm Technologies Inc., a wholly-owned subsidiary of Qualcomm Incorporated.
"The Snapdragon 410 processor delivers higher performance, 64-bit capabilities and ultra-fast 4G LTE so that users can be connected virtually anytime, anywhere," said Raj Talluri, Senior Vice President of Product Management, Qualcomm Technologies, Inc. "We are proud to work with ALCATEL ONETOUCH and integrate our superior camera, graphics and connectivity technologies to benefit the greatest number of users possible."
Get the Android Central Newsletter
Instant access to breaking news, the hottest reviews, great deals and helpful tips.