Alcatel Idol 3 series hands-on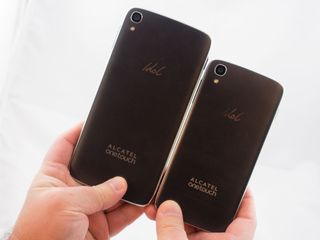 Do not look down upon the affordable smartphone any longer. Alcatel OneTouch at Mobile World Congress in Barcelona, Spain, has unveiled the Idol 3, bringing some high-end specs to and some serious design to a pair of phones that shouldn't get anywhere close to breaking the bank.
The two phones in the Idol 3 line — a 4.7-incher with a 720p display and another at 5.5 inches and 1080p — bring Android 5.0.2 Lollipop, a couple of excellent displays tuned by Technicolor, and front-facing speakers that put the expertise of JBL to work.
In a day and age in which we see more metal and glass than ever, the Idol 3 definitely stands out as a plasticized phone. But that's to be expected when you're not paying above $250 off contract. After just a few minutes with the phones, however, you definitely get the feel that you're getting a lot of bang for those few bucks.
More: See the complete Alcatel Idol 3 specs
Idol 3 has dual front-facing speakers — with support from JBL — on both models. They've got a decent amount of volume to them, but they're lacking bass — not surprising given how thin the phones are. They tie in nicely with Alcatel's Mix app, which buffers any song and lets you play virtual DJ. Another fun thing about those speakers is that each is paired with a microphone, top and bottom. Or bottom and top. You actually can pick up and use the phone either way, and the user interface rotates accordingly. While the phone's not 100 percent orientation agnostic, it's still a neat little trick.
Alcaltel is particularly proud of the cameras here as well, with a 13-megapixel shooter on the rear of each phone. We'll need some proper time to judge image quality, of course.
But as far as first impressions go, we're looking at a couple quality, inexpensive, contract-free phones. Stay tuned for full for reviews as they're closer to release.
IDOL 3 Rocks the Smartphone World With Top-Line Technology
Mobile World Congress, Barcelona, 1 March 2015 – ALCATEL ONETOUCH's new IDOL 3 smartphone is packed with best-in-class components and software, designed with partners who are leaders in their fields. Award-winning JBL audio with two front-facing speakers and Clari-Fi technology. Technicolor Color Enhance technology. And a 13-megapixel rear camera with a next-generation sensor. Plus, an IDOL 3 exclusive feature: it is 100 percent reversible, so users can grab their phone upside down and the IDOL 3 user interface automatically adjusts.
Pump Up the Volume
An impromptu beach party. Hanging in the park with friends. A sparsely furnished loft. Somebody needs to make some noise! IDOL 3's tailor-made, award-winning JBL audio with Clari-Fi technology gives users the power of professional hi-fi audio components in the palm of their hands, to play their own music or stream tracks over the airwaves. The two (yes, two) front speakers provide a 3D, surround-sound experience. With the ONETOUCH MIX music application, audiophiles can mix the tracks themselves or let the app do it, using either downloaded or online tunes. IDOL 3 is primed to party. Anytime. Anywhere.
Clubbing downtown. A street scene at night. An indoor gathering with friends. IDOL 3 has got the shot. A high-resolution, 13-megapixel rear camera with a large aperture for low light. A front camera with a wide (84°) viewing angle for selfies that include the whole gang. Fast Face Focus software detects faces in 0.26 seconds. Sharp HDR real-time video at 30 frames per second. Auto Scene Detection automatically adjusts contrast, exposure and colors to provide the best shots every time, under every circumstance.
I Can See Clearly Now
Check the score. Read that text message. No squinting necessary, even in bright sunlight. Technicolor Color Enhance technology offers superb color rendering. The high-definition screen gives users perfect visibility from all angles and its increased luminosity furnishes crystal-clear outdoor readability, even under bright sunlight. That's what you might call a win-win situation.
Rock Your World
And by the way, IDOL 3 rocks even upside-down. The interface that always rights itself. Even while executing a kickflip on the goofyfoot. Or rummaging in a purse filled with makeup and files from work.
Pick up the phone any which way. That's right: it's 100% reversible. Answer a call, surf the Web, take a photo and mix tunes right-side up or upside down. No matter which direction users are heading, their display will always be looking right at them.
A Tech-Stacked Deck
The ultra-slim smartphone is available in two sizes, 4.7" and 5.5". It comes equipped with dual hi-fi speakers, a 13-megapixel rear camera, a large aperture for shooting in low light and a sensor that enables the camera's lightning responsiveness. The 4.7" model has a quad-core CPU and HD screen; the 5.5" has an octa-core CPU and a full HD screen. Both offer 4G LTE connectivity. Both run on Android L. IDOL 3 features a symmetrical design for complete reversibility.
Alex was with Android Central for over a decade, producing written and video content for the site, and served as global Executive Editor from 2016 to 2022.
I'll wait for a review, but at that price point with the good mid range specs I say these would definitely be a hit. They look pretty nice too.

Did Alcatel just make something worth buying?

Yes. But don't expect future y updates. Rooted LG G2.
Rooted GS3, Stock Galaxy Note 4
If it ain't Tech, it ain't Right!

Okay. I just watched the video and my G2 got jealous and rebooted itself. Rooted LG G2.
Rooted GS3, Stock Galaxy Note 4
If it ain't Tech, it ain't Right!

I'm intrigued....my Nexus 4 just started having screen issues (looks like bad digitizer). It's about time someone made a competitive option to the moto g! The moto g is great and everything for what it is, but without a real unlocked competitor, they are resting on some laurels (no lte?, low storage space?). I'm more than happy to see the budget market get some quality devices that don't give a horrible experience. Not everyone needs/wants the latest flagships at $700!

Look at some of these comments!
Unreal... This is a GREAT phone with GREAT specs for a GREAT price.. And I own a Galaxy Note 4. Excellent Job Alcatel.. With Samsung drinking the Apple Kool-Aid with their S6.. and the HTC M9 staying pretty much a M8.5.. This 64 Bit, Micro-SD, 5.5 inch True-HD device may be the REAL STEAL of 2015 at only $249.99.

Fantastic phones for their prices. Impressed by Alcatel. Never have they built anything worth glancing at but this fantastic. Posted via the Android Central App

Alcatel just don't make reliable phones though. I mean, they had a recall on their recalls just last year.

If this budget phone can package small top and bottom bezels with front facing speakers, why can't the premium priced M9?

I know it's new. Is the boot loader locked? Is it too soon to ask about root?
Android Central Newsletter
Get the best of Android Central in in your inbox, every day!
Thank you for signing up to Android Central. You will receive a verification email shortly.
There was a problem. Please refresh the page and try again.