Acer Iconia Tab A100 ICS update now hitting the masses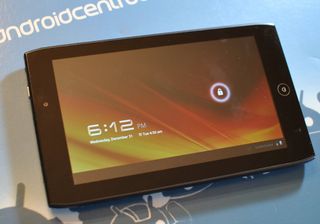 Although Acer laid out their Iconia Tab ICS update list not all that long ago, it seems there has been some issues in the Acer camp with folks actually being able to you know, update their devices. The updates, more specifically for the Iconia Tab A100 have appeared for the most part on again, off again with some getting the update very early while others, very late.
No matter though, folks in the Android Central forums are now reporting the update appears to of have been potentially sorted out and an influx of those unable to previously update to ICS are now getting the update notification on their devices. Have you got it yet? If so, let us know in the Android Central forums.
More in the Android Central Forums
As well, A500 users in Australia and a few other places are getting ICS beginning yesterday. In the past Australia got updates first, but this time around they were last for the most part.

My wife got the update today. Runs amazing!!

And still no update for the Verizon Xoom.

Oh, but its a Pure Google reference device. Just ask any owner.

the key issue is it's a Verizon device, the carriers really slow things down.

got mine for my A100 yesterday morning around 5am - it actually took 3 "updates" after the first one, i checked to see if i had ICS and didn't then "checked for new updates" and it found another, and then one more time and it finally did the "real" ICS update. so far has been working very well. thank you acer for being so quick on updating this relative to the other android tablet mfrs!

WTF!! When I decided to spend $299.00 for the rezound I was told it would be one of the first devices to get ics...????

Got mine Monday...finally, except now my speakers pop randomly.

I got mine as early in april 27 im happy because its automatic update..thanks for the leak..

still stuck on gen 2 3.31 as of morning.

Runs great, but not that big of a deal. You ICS freaks need to get hobbies.

Still no ics update. Acer iconia, gen2, 3.2.1. Out of box. U.S.A.

CA USA A100 owner with no ICS update yet (gen2, v3.2.1). How long is too long to wait after the April 27 initial release?

I received my DL today to my Acer A100 7 inch Tab. Holy Smokes !!! It is great !!

Still no ics update. Acer iconia, gen2, 3.2.1 in Taiwan huhuhu

Please help why still no update here in Taiwan?? Any idea?? Im from Philippines.
Android Central Newsletter
Get the best of Android Central in in your inbox, every day!
Thank you for signing up to Android Central. You will receive a verification email shortly.
There was a problem. Please refresh the page and try again.