Acer Iconia A200 now available at Best Buy for $349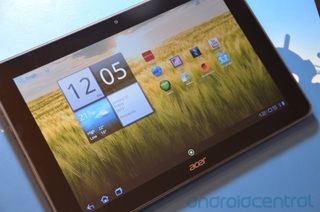 Update: Watch our video hands-on!
As if deciding on an Android tablet wasn't hard enough now yet another one is available to make things harder. The Acer Iconia A200 is now available from Best Buy, both online and in stores, for $349. The A200 is a Honeycomb-based tablet, but all signs point to a mid-Febuary ICS update -- and there's a giant sticker on the box saying that an upgrade is coming. So, will this be your next tablet? Be sure to stay tuned as we review this bad boy!
Source: Best Buy (opens in new tab); thanks to everyone who sent this in!
Jared started off writing about mobile phones back when BlackBerry ruled the market, and Windows Mobile was kinda cool. Now, with a family, mortgage and other responsibilities he has no choice but to look for the best deals, and he's here to share them with you.
I wonder what the difference between this and the A500 is. I see they moved the front facing camera and put an Acer logo on the front. I love my A500. The only thing I can complain about it is that is it a little "creaky." I got mine on a really good sale, so I can't complain about build quality when you are talking 10" tablet for under 280 dollars.

I concur; I love my A500, but I get that same squeak on one side of the tablet. I'm honestly a little disappointed with the resolution on the front camera though as I would be more likely to use my tablet for video conferencing than taking photos with the camera on the back. I didn't get mine at fire sale prices, but it was still under $400 when I bought it. Rumor has it that the A500 is supposed to be getting ICS via OTA update (provided you haven't rooted your device) sometime in January, but I wouldn't hold my breathe.

The difference is the a200 has no rear camera. That's about it. And of course it's case is designed to not feel like it's cutting your hands off.

Does the Acer A200 have haptic feedback?

Yes it does.
See page 50 of the full users manual.

Hold out for the 510 or the 700. This is an ok price, but its as those next two models hit there will be some better deals coming on this model and the the 500 will be going at liquidation prices soon.

can't they get the ics update out for a100 and a500 before talking about new tablets and new updates for those?

Why would they do that? Look, you have to understand that WAITING for updates is the price you pay for FREE updates. They can make a new tablet, load ICS on it, and make a profit.
OR
They can spend their time updating an old tablet for zero money and then pay some bandwidth provider to push it to every tablet previously sold. The more sales previously made the bigger the problem, and the more the cost. All profit made on a device sold in the past could be gobbled up supplying updates. Even putting it on their website for free download costs money in bandwidth as well as warranty claims for bricked tablets by people not following directions. Someday it will dawn on manufacturers that they can monetize updates by selling you Priority Push services for advance access to updates, while everybody else gets it much later. (I should patent this idea).

I saw an A200 at Best Buy the other night and it felt and looked much better than the A500, but it was still very thick and heavy. It seemed quite smooth and fast, but I would pass on this for now and wait for the new TF Prime with the high res screen.

Dont hold your breath, the Transformer prime was pulled from stock due to Mattel suing the pants off ASUS for infringement. There's gonna be a new Transformer near the summer though.
Android Central Newsletter
Get the best of Android Central in in your inbox, every day!
Thank you for signing up to Android Central. You will receive a verification email shortly.
There was a problem. Please refresh the page and try again.