Stuffcool's latest 20,000mAh power bank has three ports and goes up to 85W, giving you the ability to charge several devices at once. The main USB-C port hits 65W and works over the USB PD 3.0 protocol, and you get a 100W USB-C to USB-C cable bundled in the box. The best part is that the power bank doesn't feel heavy or cumbersome to carry, and it has the usual set of safeguards against overcharging. It works incredibly well with the Galaxy S23 Ultra and Pixel 7 Pro, and if you need a power bank to charge your notebook and phone at the same time, this is my current recommendation.
Pros
+

Charges via the USB PD 3.0 protocol

+

Great for charging two devices at once

+

Has two USB-C and one USB-A ports

+

Internal battery charges at 65W

+

Enough power to charge a phone four times over
Why you can trust Android Central Our expert reviewers spend hours testing and comparing products and services so you can choose the best for you. Find out more about how we test.
Stuffcool is the best homegrown charging accessories brand in India, and it has an extensive portfolio of products that include wall chargers, wireless chargers, eco-friendly cables, power banks, and general accessories. I used the brand's 100W Centurion 4-port charger for charging all my phones and tried out several of its GaN chargers, including the 25W Flow and tiny 20W Neutron.
The brand's latest product is the Superpower, a 20,000mAh power bank that goes up to 85W. Now, you can find power banks that go up to 100W in India, but they're either made by unknown brands with no track record, or are obscenely costly. That's why I was excited to try out Stuffcool's offering in this category. I don't need a power bank as much these days as I don't travel, but it's usually nice to have a few around the house if I have to charge a device while using it. My go-to has been Xiaomi's 20,000mAh option, and while that only hit 50W, it was adequate for my needs.
I also have the Shargeek's insane 20,000mAh see-through Storm power bank that has a built-in power meter and goes up to 100W, and I use that mostly for devices that need a bit more power. Considering the Shargeek power bank is several times costlier than any other power bank, I'll use the Xiaomi 50W power bank as the reference here.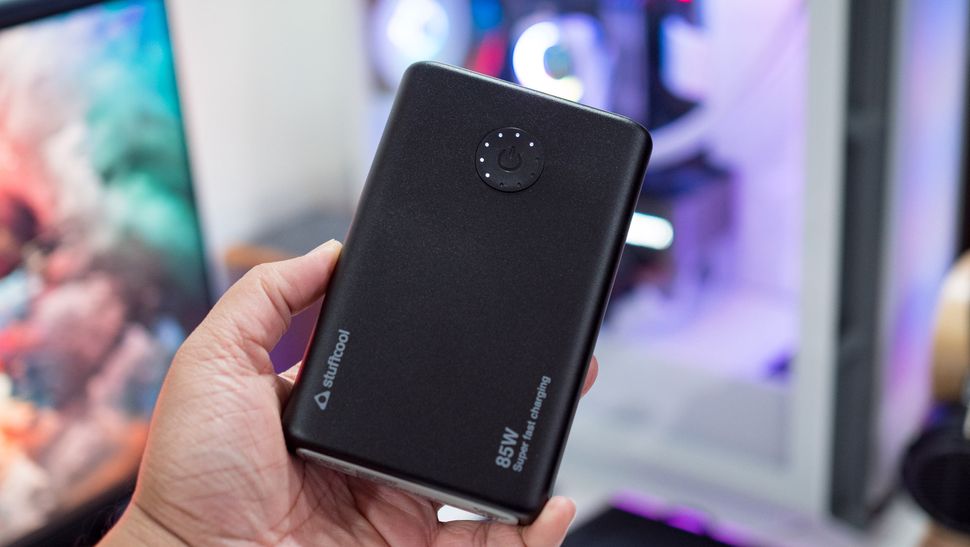 What I like the most about the Stuffcool 85W power bank is the size. Most power banks tend to be tall and narrow, but Stuffcool went with a wider design that makes it more comfortable to slot the power bank in a bag. It also feels lighter than Xiaomi's 20,000mAh power bank, and while it is made out of plastic, the build quality feels great.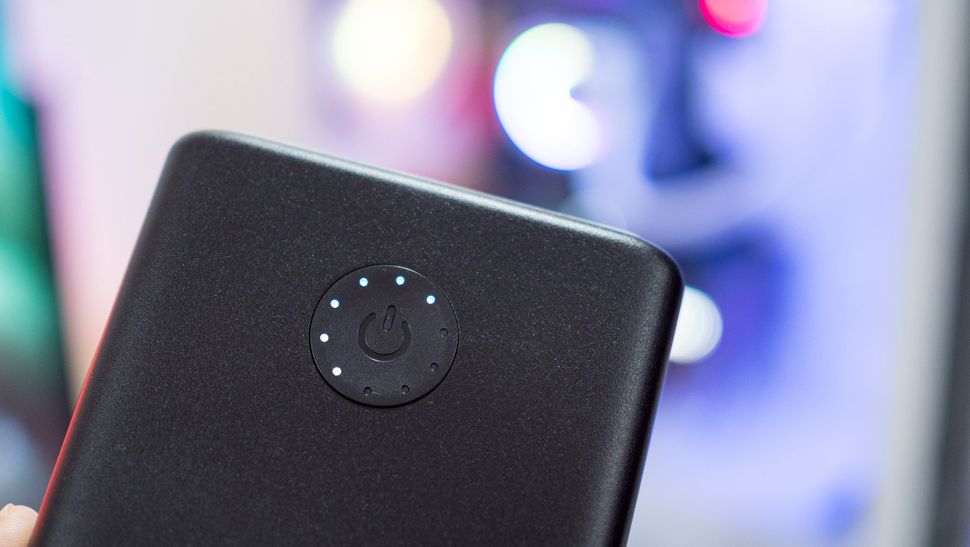 There is a single button on the power bank to indicate charge level, and on the side you'll find two USB-C ports along with a USB-A port. The port labeled USB-C1 is the star of the show here, going up to 65W over the USB PD 3.0 protocol. That means you can charge the best Android phones as well as a MacBook, Windows notebook, or just about any device that charges over USB PD.
Stuffcool bundles a 100W USB-C to USB-C cable in the box, and it is among the best you can get in India. I've used Stuffcool cables for several years now to charge notebooks at 100W and didn't run into any issues, and that was the case with this bundled cable as well. The USB-C2 port goes up to 20W, and the USB-A port hits 18W. Here's the breakdown of the power budget when individual ports are in use, and the voltages:
USB-C1 (out): 5V/3A (15W), 9V/3A (27W), 12V/3A (36W), 15V/3A (45W), 20V/3.25A (65W)
USB-C2 (out): 5V/3A (15W), 9V/2.22A (19.8W), 12V/1.67A (20W)
USB-A (out): 5V/3A (15W), 9V/2A (18W), 12V/ 1.5A (18W)
USB-C1 (in): 5V/3A (15W), 9V/3A (27W), 12V/3A (36W), 15V/3A (45W), 20V/3.25A (65W)
USB-C1 PPS: 3.3-11V/3A (33W), 3.3-21V/ 3A (63W)
USB-C2 PPS: 3.3-11V/ 2A (22W)
The best part about the power bank is that you can use the 65W USB-C1 port to charge the internal 20,000mAh battery. Considering the size though, it takes just under three hours to fully charge the power bank. That said, it has enough power to fully charge a Windows notebook a few times over and devices like the Galaxy S23 Ultra and Pixel 7 Pro four times over. On that note, it works over PPS at up to 63W for the USB-C1 port and 22W for the secondary USB-C port, making it ideal for Samsung's devices.
Of course, a big selling point of the power bank is the ability to charge several devices at once, so here's a look at the power budget when more than one port is in use:
USB-C1 + USB-C2 + USB-A: 65W + 10W + 10W (85W max)
USB-C1 + USB-C2: 65W + 20W (85W max)
USB-C1 + USB-A: 65W + 18W (83W max)
USB-C2 + USB-A: 10W + 10W (20W max)
The best use case for this power bank is to charge two USB-C devices at once, preferably a notebook that goes up to 65W and a phone at 20W. Stuffcool is positioning the power bank for iPhone and MacBook owners, but it works just as well for Android phones, and I didn't have any issues using it to charge a variety of phones and accessories.
The Stuffcool 85W power bank is now available for ₹4,999 ($60), and while that is ₹1,000 ($12) more than Xiaomi's 50W power bank, the charging potential more than justifies the additional cost. In short, this is the best power bank you can get in India.
Stuffcool Superpower 20,000mAh 85W Power Bank
With a total power budget of 85W and the ability to charge three devices at once, Stuffcool nailed the basics with its latest power bank. The 20,000mAh battery is more than adequate to charge your phone several times over, and for what you're shelling out, you are getting a great product.
Harish Jonnalagadda is a Senior Editor overseeing Asia at Android Central. He leads the site's coverage of Chinese phone brands, contributing to reviews, features, and buying guides. He also writes about storage servers, audio products, and the semiconductor industry. Contact him on Twitter at @chunkynerd.