The GPods grab attention from the get-go thanks to vibrant RGB lighting that extends all the way through each stalk. The lighting is highly customizable, and you'll find nearly 50 presets available out of the box. There's also the ability to change the look of the earbuds via add-on shells, and you'll find a lot of features here. The GPods fit comfortably and have decent sound, but they're not on par with more established brands in this area, and the battery life isn't particularly great either. Gesture controls are very finicky as well, and you miss out on high-res codecs. That said, the unique design and customization on offer make these earbuds very distinctive, and if that's what you're after, you'll find a lot to like in the GPods.
Pros
+

Vibrant RGB lighting

+

Highly customizable

+

Add-on shells change the look of the earbuds

+

ANC and transparency modes

+

Decent sound

+

IPX4 ingress protection
Cons
-

No AptX or other high-res codecs

-

Strictly average battery life

-

Needs more refinement when it comes to audio tuning

-

Unusable gesture controls
Why you can trust Android Central Our expert reviewers spend hours testing and comparing products and services so you can choose the best for you. Find out more about how we test.
I decided two years ago to add a bit of RGB lighting to my gaming rig, and in characteristic fashion, I went overboard. I now have RGB lighting on just about every product on my desk, including my keyboard, gaming mouse, the mouse surface, and gaming rig (Corsair's towering 5000T chassis). Even the DAC that I use — Fiio's K9 Pro — has an RGB light ring that changes based on the audio source material, and I have Corsair's light stands and Govee's desk lights that add vibrant RGB lighting across the front surface of my desk.
The one area where I've been lacking RGB is wireless audio, and thankfully, HHOGene is catering to that particular niche. The Chinese brand was established just two years ago, and its first product is the GPods, a $125 pair of wireless earbuds that have an RGB light bar running across the length of each stalk.
I was obviously intrigued when asked to take a look at the GPods, so here's what you need to know about these unique wireless earbuds.
HHOGene GPods: Pricing and availability
HHOGene launched the GPods at the end of 2022, and they're now available on Amazon for $125 (with a $15 coupon). You'll find a limited-time deal on HHOGene's website that lowers the cost to $112. The earbuds are available in white and black, and there's also a premium set that includes four add-on shells, retailing for $140.
HHOGene GPods: Design
Given that the GPods are marketed as the world's first earbuds with RGB lighting, I figured that would be as good a place to start as any. The lighting extends across the stalk, and it is vibrant and highly customizable — these earbuds are sure to turn heads when you're out in public.
The stalk itself is wide and tall, making the RGB lighting that much more prominent. You get full control over the colors, with the brand noting that there are 300,000 combinations that you can use. You can adjust the brightness of the light bar on each stalk, and HHOGene offers four lighting effects out of the box: Ripple sees the light moving from the center to both ends, and it adjusts dynamically to music. Similarly, the Pulse mode is a dynamic option that moves the light from the bottom to the top.
If you want to show off the earbuds, Bright is the mode that's ideal. This delivers a constant light across the surface of the stalks, and it isn't dynamic. Finally, there's a Breath mode that pulses the lights on or off. Even with the brightness set to medium, the lighting is bright enough that it is visible in daylight, and the vivid lighting is definitely the biggest differentiator here.
There's a lot to like about the GPods if you're into customization; you'll find 46 color options available as standard, and you can set up your own colors via a palette, launch the camera to take a photo and match the colors of the subject, or use an existing image.
The bundled colors are a lot of fun to explore, and you can easily switch between themes. But if you want to set up your own pattern, you'll want to turn to the color palette — there are six distinct LEDs on each stalk, and you can change the individual color of each LED.
Image 1 of 3
A unique feature on the GPods is the ability to customize the outer design by add-on shells; the outer casing is detachable, and HHOGene sells a wide variety of accessories that change the look of the earbuds. This gives the earbuds a level of customization that you just don't find anywhere else, and you can even add custom engraving to the shells. The shells cost an additional $20, and HHOGene also sells a bundle for $139 that includes the earbuds along with four custom shells.
Image 1 of 4
The rest of the design isn't quite as exciting, with the GPods featuring a plastic inner shell with the sound nozzle extending at an angle. The fit that you get with these is similar to that of the Nothing Ear (2), and while there's nothing wrong with the build quality, the glossy finish makes these feel more like budget wireless earbuds.
In a similar fashion, the design of the case is strictly utilitarian, and it doesn't look premium. That's forgivable when you look at the design of the earbuds, but it would have been nice to see a more cohesive aesthetic.
HHOGene GPods: Features and battery life
As for the hardware on offer, the GPods pair over Bluetooth 5.2, and I had these connected to the Xiaomi 13 Pro, Galaxy S23 Ultra, and the Pixel 7a, and didn't have any issues with connectivity. You get just the basic SBC and AAC codecs here — there's no AptX or LHDC.
Thankfully, there's ANC here, and it is effective with sounds of up to 25dB. It does a decent job tuning out the hum of an air conditioner or traffic noises, but it isn't quite as powerful as what you'll find on most wireless earbuds these days.
You'll also find IPX4 ingress protection, making these a suitable choice for workouts, and there's in-ear detection, with music automatically pausing when you take the GPods out of your ear. They weigh just 5.4g, so you don't necessarily feel any fatigue while wearing the earbuds, and the sound tube nuzzles into the inner ear and doesn't exert any pressure on the ear canal.
Now, there are a few annoyances with these earbuds, and key among them is that the HHOGene app asks for location access. I haven't seen this on other utilities designed to work with wireless earbuds, and what's bothersome is that the Ask every time setting that's been present in Android starting Android 12 doesn't do the trick; you'll need to choose Allow only while using the app option, and you should select precise location — approximate won't work. I'm not sure why this permission is needed at all, and it is worrisome.
Another bugbear is gesture control. Because the outer shell has a series of LEDs, it can't be used for controlling music playback. Instead, there's a small zone just tucked beneath the stalk that has a gesture zone, and you can take calls, switch between songs, turn off lighting effects, and more. The size of the zone and its location — next to the ridge of the outer ear — makes using gesture controls an exercise in futility, and they're just not worth the hassle.
As for battery life, each earbud houses a 50mAh battery, and the case has a 500mAh battery. HHOGene claims five hours of battery life between charges, but with the lighting effects turned up to high, I got just over four hours of music playback before I had to charge the buds. Obviously, the lighting takes a toll on battery life, and these aren't the earbuds to get if you want great battery life. On the plus side, there's fast charging, with a 10-minute charge delivering just over 75 minutes of music playback.
HHOGene GPods: Sound quality
Continuing the trend of battery life, the sound quality is strictly average. The GPods use a 11mm driver, and they aren't tuned particularly well, so you don't get the same tonal fidelity as other wireless earbuds in this category, like the Galaxy Buds 2 or Nothing Ear (2).
The low-end has a lot of energy and vigor, so you get a good rumble in bass-focused songs. The mid-range is decent as well, but it tends to get a bit muddled at times, and the treble lacks extension, so you miss out on some of the more intricate details.
There is an equalizer of sorts that lets you boost the bass, treble, or mids, and doing so makes a slight difference. Look, these earbuds sound decent enough in their own right, but they don't quite measure up to established audio brands.
HHOGene GPods: The competition
Nothing Ear (2) also has a unique design thanks to its see-through stalk, and while there's no RGB lighting (take note, Nothing), the earbuds look refined and they have a comfortable fit. Nothing did a great job with the sound tuning this generation, and the Ear (2) deliver a fabulous sound that's on par with the best wireless earbuds.
If you have a Samsung phone, it's hard not to suggest the Galaxy Buds 2. They have great battery life, a fun design that's available in exciting colors, and they sound great. You can also switch between various Samsung devices seamlessly, and they are a great value right now.
HHOGene GPods: Should you buy it?
You should buy these if:
You want wireless earbuds that will turn heads
You need earbuds with customizable outer shells
You want ANC and IPX4 water resistance for workouts
You've been waiting for earbuds with RGB lighting
You shouldn't buy these if:
You need the best sound quality in this category
You want great battery life
You need high-res wireless audio codecs
You want reliable gesture controls
Overall, the GPods are an interesting product that cater to a niche, and I like that. HHOGene nailed the design of the outer shell, and the RGB lighting really does make these earbuds stand out. The customizability is a huge differentiator as well, and the fact that you can change out the outer shells and add engraving will be an enticing option for many.
It also has a lot of table stakes features for earbuds in this category, and the sound quality itself is decent enough. That said, the earbuds lack overall polish when it comes to things like gesture controls, and the sound tuning isn't as refined as other brands. If you want wireless earbuds that will grab attention in public, I have no hesitation in recommending the GPods.
On a personal note, the fact that these have RGB lighting offsets some of the limitations for my own use case, and I quite like the idea of add-on shells to change the look of the earbuds. But if you want a polished sound, high-res codecs, and better battery life, there are plenty of alternatives available.
With a distinctive design and flashy RGB lighting, the GPods are sure to turn heads wherever you go. The high degree of customizability means you can tailor these earbuds to your liking, and it doesn't miss out on much. While the overall refinement isn't on par with other earbuds in this category, the uniqueness of the design combined with the RGB lighting makes these earbuds worthy of your attention.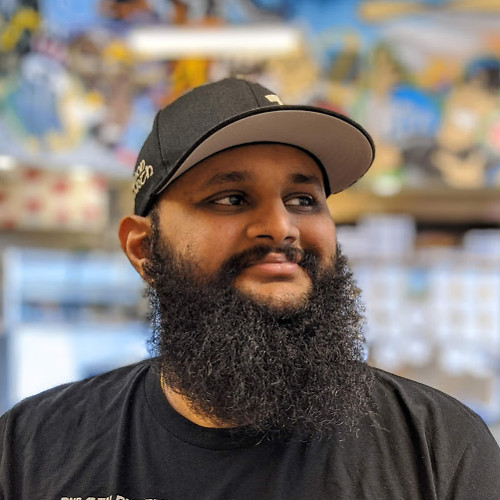 Harish Jonnalagadda is a Senior Editor overseeing Asia at Android Central. He leads the site's coverage of Chinese phone brands, contributing to reviews, features, and buying guides. He also writes about storage servers, audio products, and the semiconductor industry. Contact him on Twitter at @chunkynerd.