7 Unique Amazon Echo Dot Cases and Stands to Amp up Your Home Decor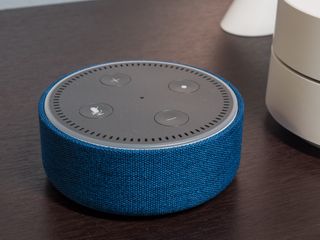 For all its great features and portability, the Amazon Echo Dot is rather uninspired when it comes to looks. The $50 smart speaker comes in two colors: black and white. It's a short, relatively small puck with four buttons, a tiny speaker system, microphones, and an LED light ring. Depending on your decor (and where you choose to place it), the Echo Dot may blend in… or it may stick out like a sore thumb (I'm still not entirely certain sore thumbs stick out, but please pardon the digression). Whether you want to turn your Echo Dot into more of a statement piece or have it blend in seamlessly with your particular style, you're going to need a case or stand to provide the proper camouflage. Without further ado, here are 7 unique Echo Dot cases and stands that'll help you achieve your interior design goals!
Amazon Echo Dot Cases
Amazon's Echo Dot cases don't necessarily fit the "unique" criteria because there's a chance many, many other people have picked up a few of these. That said, the $10 to $20 sleeve comes in six varieties — odds are you're going to find something that matches your style.
Designed and sold by Amazon, the case is a perfect fit for your Dot. You simply slide your Dot down into the sleeve, plug it in, and you're ready to go. The sleeve comes in three fabric styles ($10 apiece) — sandstone (a grayish white), charcoal (a dark gray), and indigo (a denim blue) — and three leather styles ($20 apiece) — merlot (a deep red), midnight (a deep black), and saddle tan (a medium brown).
With so many options to choose from, you could have a perfectly matching Echo Dot for every room of your house!
Bamboo Echo Dot Case
This bamboo Echo Dot case is not only a nice, natural look for your home, but it also serves as a light feature of sorts. Thanks to the fact that the Echo Dot sits down inside of the case, the Dot's light ring beautifully lights up the edges of the bamboo.
You can get this bamboo Echo Dot case for the same price as Amazon's fabric cases: $10. It's lightweight, it's simple, and it's shaped perfectly to hold your Echo in place — it's even got a hole in the back for plugging everything in.
If you want a splash of light brown, textured bamboo to accompany your Echo Dot, this case is the perfect choice!
Bamboo Echo Dot Stand
You can step things up a notch from a simple bamboo case to this cleverly crafted, bamboo Echo Dot stand!
The unique design lets you nestle your Dot in the top of the stand, leaving loads of space inside for the Dot's small speaker system to resonate and grow louder. You can even position the hole on the front of the stand to direct the sound depending on where you are in your home. It's designed to precisely hold your Dot in the top portion of the stand — you can route your cables through a hole in the back.
If you're looking to pump up the power of your Echo Dot's small speaker system while adding the natural, beautiful look of bamboo to your home, this $16 stand is for you!
Dot Genie Flush Mount
I must confess: I am absolutely in love with this contraption. The $20 Dot Genie Flush Mount won't add to your home decor, instead it serves to hide your Amazon Echo away while still giving you easy access to Alexa's voice commands.
So how does it work? Well, it's a rounded puck that's meant to sit flush against a wall or ceiling. You cut out a hole in your drywall, stick the mount into the hole, feed in the Amazon Echo Dot, and wire everything up (it comes with wiring, too). After it's installed, you can use your Dot the same way you normally would. This is a great way to get your Dot up off the counter or table and into a place that's free from furniture and other objects that might obstruct your voice. Plus, if you're a little self conscious about having a bunch of fu7ur3 73ch in your home, this'll hide it away!
If your idea of a smart speaker and in-home assistant is a disembodied voice that seems to communicate from the heavens (mine sure is), then you've got to pick up this flush mount. Oh, I should also mention it won't muffle your Dot's built in speakers — the mount features a unique design that channels the audio out into the room.
Fintie Echo Dot Sleeves
If you struggled with the numerous case options from Amazon, you're going to be stuck clicking between these sleeves from Fintie for the next couple hours. For about $12, Fintie offers a protective case that's made with a synthetic leather exterior and microfiber interior.
To put on the sleeve, you slide your Echo Dot into the pocket of the sleeve and fasten it with a small metal snap on the side. The case has cutouts for the ports on the back of your Echo, cutouts for the four buttons atop the device, and space for your speakers and mics to output sound and listen for your commands. The best part (or worst part if you have trouble making decisions) is the wide variety of colors and patterns available. From simple colors like black and blue to complex patterns like illustrated trees and stained glass, you're likely to find something that works for your home decor.
Whether you'd like to really make your Echo Dot stand out or just need something to add a bit of you to your Dot, Fintie's sleeves are a great choice!
NewRice Echo Dot Statues
Talk. About. Adorable! These Echo Dot statues from NewRice would look right at home in just about any home. Instead of buying a glass vase and filling it with those little wicker and twine balls or fake cherries, buy one of these statues! You'll be getting an interesting bit of home decor and a place to tuck away your Dot.
NewRice is offering both an owl and an elephant statue that retail for about $20 and $24, respectively. Much like the bamboo stand we mentioned before, these statues let you nestle your Dot into the top of the vessel. There's a hole on the back for routing your cables. It even features a non-slip coating on the bottom of the statue to keep you from knocking over your new decoration.
If you'd like to add a little statement piece to your home and hide away your Echo Dot, you've got to take a look at these NewRice statues. If you look closely, you can see the owl staring longingly at you, asking you to let it come hang out.
This Dottie Echo Dot Mount
Like the flush mount, the "This Dottie" mount is for those who feel the Dot is incompatible with their home decor. For about $20, you can get this mount in either white or black — whichever works better for your home and the color of your Dot.
The all-in-one design of the "This Dottie" mount makes it simple to keep your Echo Dot — and its cord — up and out of the way of your counters and tables. You connect your Dot, slide it into the mount, and plug it in! The mount works in two configurations: up and down, meaning you'll be able to choose the best option based on where your wall outlets are positioned.
If you want to get your Echo Dot out of the way and more out of sight, the "This Dottie" will help with that. I love the all-in-one design that eliminates the need for an unsightly wire hanging down and snaking across your countertops.
Thoughts? Ideas?
What do you think, are any of our choices calling out to you? Do you have a different case or stand that you absolutely adore? Be sure to share your thoughts in the comments and over on Twitter!
Get the Android Central Newsletter
Instant access to breaking news, the hottest reviews, great deals and helpful tips.
Mikah Sargent is Senior Editor at Mobile Nations. When he's not bothering his chihuahuas, Mikah spends entirely too much time and money on home automation products. You can follow him on Twitter at @mikahsargent if you're so inclined.