64-bit Chrome web browser for OS X to officially launch in November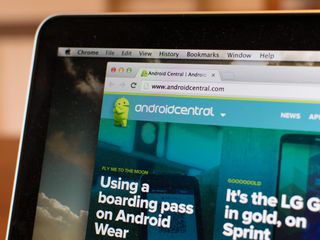 Google will launch the official, non-beta, 64-bit version of its Chrome web browser for OS X in November, a few months after an early build of the browser was made available on its Canary and Dev channels.
In a blog post, Google stated:
In theory, running the 64-bit build of Chrome on OS X should offer better performance for users compared to the 32-bit version. Almost all Mac PCs are able to run the 64-bit version of Chrome, so dumping the 32-bit build shouldn't be a huge issue. If you are an OS X user, are you planning to use the new version of Chrome when it comes out?
Source: Google
Get the Android Central Newsletter
Instant access to breaking news, the hottest reviews, great deals and helpful tips.
Yes, pity it wasn't available earlier. Posted via Android Central App

Chrome doesn't perform as well on my rMBP Posted via Android Central App

it performs well on mine. 32 bit chrome on mac would load 32 bit Mac binaries which takes a performance hit but with 64 bit this wont be necessary. hoping to get 64 bit

I think he means in comparison to Safari. Which is a fact. Especially when it comes to battery life

^This. I can easily get 9 hours out of my rMBP with Safari. With Chrome I get 5-6. Also I don't think Chrome does a very good job at implementing gestures like Safari does (and I know it can because Chrome on Chromebooks kicks ass). It's a shame, though, because Chrome definitely does more than Safari and is generally faster. The experience just sucks on Macs. Posted via the Android Central App

Would be great if they managed to allow 64-bit to see my 2013 iMac webcam on release. The beta seems blind to it. 32-bit finds it just fine.

Why Google, Why? Posted via my $10 a month Unlimited talk & text FreedomPop Galaxy S III

Any idea if this would improve the battery drain problem that Chrome has on OSX?

I've been running the 64bit beta since it was released. I haven't noticed any appreciable decrease in battery drain.

And this somehow is Android news... Maybe iMore should be reporting on this...

Its google news. Posted via Android Central App

Then lets rename the site to Google Central...

Android is a product of Googles. I don't see you complaining about Chrome OS articles. Posted via Android Central App

+9000 Posted via the Android Central App

Android is open source. Not necessarily for Google unless they have their services downloaded. Posted via Android Central App

Why waste time complaining on an article that obviously doesn't pertain to you? It's not like they're going to stop posting these articles here just because you don't approve, lol.

I've seen like five other people say that on this site in the comments section of similar articles. Way to be original. Posted via the Android Central App

Its news about Google. And did iMore post the same article. Posted via the Android Central App

Let me ask... What about the headline for this article says something about android to the effect that you feel you were lied to by the headline in such a way that you clicked the headline to read the story expecting android related news?

I see comments like this all the time. Honestly, who cares? Scroll past the article if it doesn't interest you. Many of the writers for this site own MacBooks, so it's not a mystery as to why they would find this interesting enough to write about. Posted via the Android Central App

I'm sorry, but the current beta build is somewhat dreadful and frustrating to use. It is slow and horribly laggy. Funniest thing is that Firefox, which demonstrated the same characteristics described above has made tremendous improvements with current build. I hope Google sorts things out by the time the 64-bit version is launched in November. Posted via Android Central App

I've had significant problems with the beta and developer builds (v38 and v39) on both my Mac and my Chromebook. Tabs locking up and having to be killed constantly, etc. I don't know what the problem is, but it's made those versions practically unusable.

It seems to be too much of a battery killer on my macbook so I'm back using Safari. I also get irritated with the way everything seems to open up a new tab. Even settings. Posted via the iMore App for Android http://www.guardiansofthegalaxyjacket.com/products/Guardians-of-the-Gala...

Will be using this on my Macbook Pro when it is available.

Of course they will. Their employees are required to use MacBooks for Petes sake. With that said, Chrome on my Mac literally sucks the most battery out of any program I have on. I hope Google fixes this. Posted via Android Central App

Yeah same here...mulling a switch to Safari for the time being. Posted via Android Central App

Yes, but hopefully this holiday season Santa or the wife or anyone gets me a pc or a chromebook cause this Mac book is a flaming piece of s****. Posted via Android Central App

Funny, that's what I say about my PC. Posted with my MotoX, no case needed.

What year is it? What type? Have you considered SSD and RAM upgrades? Posted via Android Central App

Why? I thought they "just worked". /s Posted via Android Central App

Ah, that guy on an Android website who is vehemently against any and all Apple products with absolutely no reasoning to back it up. The perfect stereotype. Posted via the Android Central App

About time. Not sure if I'll use it over Safari, but hopefully they improved it significantly over the 32-bit version.

Already using the 64-bit version through Chrome Beta. At the least there has been no issues so far. All my Windows PCs has been updated. Can't wait for the full mac version.

Can't wait for this to be released! Where I work:
~ http://www.clarifyclinic.com.au ~

Yes, Chrome runs the best on my MacBook. Posted via Android Central App