6 Reasons Why Lenovo Smart Display Is Better Than A Smart Speaker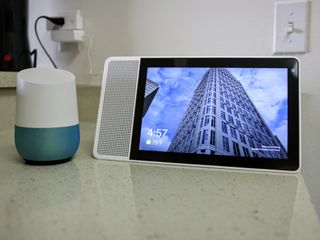 Although they were non-existent just a few short years ago, smart speakers have quickly become one of the most interesting gadgets in the consumer tech space. Amazon's got its Echo speakers, Google has its excellent Home lineup, and then there are all of the Alexa and Assistant-powered speakers from third-party brands.
In other words, the smart speaker market is getting more and more crowded with each day that passes.
The Lenovo Smart Display is the latest entry in this category, but it shakes things up by coming equipped with its own screen. That may not seem like a big difference on paper, but in day-to-day use, proves to be reason enough to buy the Smart Display over anything else.
Here are 6 reasons why the Lenovo Smart Display is better than a smart speaker!
You can watch YouTube videos and TV
For me, one of the biggest reasons the Smart Display takes the cake over regular smart speakers is the fact that you can watch videos on it. This certainly won't be replacing a proper TV anytime soon, but it's a great extra screen to have for watching stuff while making dinner, doing laundry, etc.
As it currently stands, you can ask the Smart Display to play videos from YouTube, YouTube TV, and HBO Now. Additionally, it can act as a Chromecast target for Hulu, PlayStation Vue, Google Play Movies, and more.
How to watch YouTube videos on the Lenovo Smart Display
Video calling with Google Duo
If you like to video chat with as a way to stay in touch with friends/family, the Smart Display works exceptionally well here, too.
Using Google Duo, you can make video calls to anyone else that has the app on their phone, tablet, or another Smart Display. The 5MP front-facing camera allows you to talk face-to-face with your loved ones without having to hold onto a phone, and thanks to the Smart Display's wedge design, you can position it in a horizontal or landscape position during Duo calls to make sure you're always in the frame.
When you're not chatting with anyone and would like a bit more privacy, you can move the Smart Display's physical camera shutter to cover it up until you're ready to use it again.
Thanks, Lenovo, for including a camera cover on your Smart Display
It's perfect for following recipes
I've found that the kitchen is the perfect room for the Lenovo Smart Display, particularly because the device is perfect for finding and following recipes.
After asking the Google Assistant to find a recipe, tap the one you'd like and you'll be guided through everything in an easy-to-follow step-by-step manner. You'll be told what ingredients you need one by one, and once you've got everything ready to go, the instructions will be displayed is large text and read aloud so you can follow along with ease.
You can move through the recipe by touching the display, using your voice, and smart suggestions at the bottom will appear if you need to set a timer during a certain step. The whole experience is fantastic and definitely one of the features that I use more than anything else.
On-screen music + smart home controls
There are a lot of instances in which the Smart Display's screen comes in handy, and along with recipes, another couple use cases I've found to be particularly helpful lie with music and smart home controls.
When listening to music on Spotify, you'll get great on-screen visuals for seeing the song's album artwork, how much time is left for the track, and controls for pausing or skipping to the next song in the playlist. While none of this is necessarily groundbreaking, it's great info to have that you simply can't get on a regular smart speaker.
Along with this, smart home controls are also a joy to use.
You can control smart bulbs, switches, thermostats and more just like you would with a Google Home, and while the voice commands work like you'd expect, the screen on the Lenovo Smart Display allows for even deeper controls.
For example, if you ask the Smart Display to change the temperature on your Nest Thermostat E, the Smart Display will show the current temperature in the middle of a slider. You can then use your finger to move this slider around to further adjust the temperature without having to issue another "Hey, Google" command.
Easily view Google Photos
Google Photos is the best and easiest way to manage all of your memories on any device, and with the Smart Display, you essentially have a digital picture frame for showcasing any pictures that are uploaded to the service.
When you aren't interacting with the Smart Display, you can choose to have it show a clock, an art gallery that displays "beautiful images and artwork", or any of your albums from Google Photos.
I've had my Smart Display running through a few of my Google Photos albums since I first got it, and it's been great to walk into the kitchen and see pictures from a recent mini-vacation or from me and my fiance's engagement shoot.
Visual updates for weather, calendar, etc.
Asking about the weather and upcoming calendar appointments is just about the most basic Google Assistant command around, but with the Smart Display, these sort of questions get new life thanks to the smart visuals that accompany them.
When you ask the Smart Display about the weather for the day, the Assistant does its usual job of reading aloud the current weather conditions and the high and low for the day. However, the Smart Display also shows this info in addition to a breakdown of the weather throughout various hours of the day and a small three-day forecast.
That's all information you could ask for with separate voice commands, but the fact that they're already there for you to see just makes everything so much easier.
What do you think?
Why do you think the Lenovo Smart Display is better than a regular smart speaker? What would you like to see added to make it even better? Sound off with your thoughts in the comments below!
Get the Android Central Newsletter
Instant access to breaking news, the hottest reviews, great deals and helpful tips.
Joe Maring was a Senior Editor for Android Central between 2017 and 2021. You can reach him on Twitter at @JoeMaring1.