5 things to look for in a budget Android phone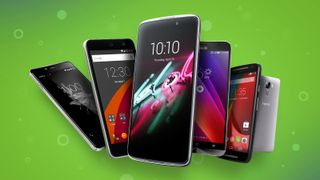 Android smartphones have never been cheaper, and that's mainly a good thing. There are some real bargains out there, making the mobile web, apps and photography more accessible than ever.
But just as there are some great deals out there, there are also plenty of duds — phones that just aren't worth your money at any price. Navigating this mess of cheap Android phones can be tricky, so we've assembled a quick checklist of things to watch out for. Read on.
1. At least a 720p display
Whatever screen size you're looking at, a 720p HD display (1280x720 pixels) should be the minimum. Anything less than that and some web pages (and even a few less forgiving apps) may be difficult to view, while photos and videos will appear grainy and unpleasant.
While 720p screens were once a luxury reserved for high-end smartphones, today that's the baseline of what you should expect even from a cheap Android handset. Don't settle for anything less.
2. At least 2GB of RAM and 16GB of storage
OK, it's not impossible to squeeze a decent Android experience out of less RAM or internal storage — case in point: many Android One phones. But the other side of that coin is phones like the Wileyfox Spark, which offer truly dismal performance on 1GB of RAM and 8GB of storage.
There are a few things at play here. First, you'll never actually get 8GB of usable space out of an 8GB phone. (The same is true of any computer — usable space is always less than the theoretical capacity of the disk.) On a typical 8GB phone you'll get maybe 3GB for your own stuff if you're lucky — even less once you've updated built-in apps, because app updates come out of your internal storage too. That might force you to move your apps to an SD card, or store use Android's Adoptable Storage feature to seamlessly expand your internal flash with a micro-SD. There's a big performance hit there, because SD storage is slower than internal storage.
And to add to your performance woes, 1GB of RAM, even on an extremely well-optimized Android phone, will mean you're constantly swapping things between RAM and that slow blob of internal and SD storage. In short, you're going to had a bad time. Aim for 2GB of RAM and 16GB of storage for much-needed breathing space.
3. micro-SD expandability
Even with 16GB of internal storage, you're going to want to offload some stuff — like music and photos — to expandable memory, keeping your valuable built-in storage clear for apps. The vast majority of low-priced Android phones come with a microSD slot, but it's worth double-checking which cards are supported. Some really cheap phones max out at a 32GB card.
4. Android 6.0 Marshmallow or better
Don't buy a phone with Lollipop (or, perish the thought, KitKat or Jelly Bean) in 2016. There's no excuse for cheap phones not to ship with at least Android 6.0 (double-check under Settings > About phone). Marshmallow brings performance and battery life improvements compared to earlier Android versions, as well as ensuring you won't be vulnerable to older Android exploits that might be unpatched in cheap Android 5.x handsets. (You'll also want to check the Android security patch level under Settings > About phone to see how up to date your security protection is.)
What's more, Marshmallow gives you adoptable storage, a new feature which lets you directly expand your internal memory using an SD card.
5. A screen with oleophobic glass
This one's a little harder to nail down. An oleophobic coating is included as standard in the overwhelming majority of Android phones, but some budget-level phones — notably the Wileyfox Spark, Honor 5X and Honor 5C — don't. Since this feature often isn't listed on spec sheets, you may want to track down a handset in person to check for yourself.
An oleophobic coating is the smudge and oil-resistant layer that stops the screens of more expensive handsets from getting gunked up with fingerprints. If the screen isn't oleophobic, it'll feel greasy to the touch, and it'll be difficult to clean off fingerprints. It may even make a squeaky sound when you rub the display with your finger.
While this coating can wear off with time, any phone is going to be much more pleasant to use if it's not constantly collecting fingerprints.
What do you look for in an inexpensive Android phone? Share your thoughts down in the comments!
Android Central Newsletter
Get instant access to breaking news, the hottest reviews, great deals and helpful tips
Alex was with Android Central for over a decade, producing written and video content for the site, and served as global Executive Editor from 2016 to 2022.
Great article Alex!! Thanks Posted via Android Central App

This is a good article. Thanks for the recommendations. The attached cheap phone article is good but I'd love it if you break them down by or at least list carrier compatibility for those of us tied to Sprint/Verizon. The top/middle tier phones all seem to be represented but the low end phones become more sporadic in availability.

??????? no wasteperson go do your own carrier research

They have a few articles regarding the best phones on each carrier. Posted via the Android Central App

oleophobic glass you can probably skip, by getting a good quality tempered glass screen protector. Posted via the Android Central App

Came here to say the same thing. $10 Posted via the Android Central App

My Blu vivo 5 will be here in a few days but my friend just offered to sell me his lightly used nexus 6. The specs on the thing seems pretty solid. He only wants 250 for it. I paid 200 for the vivo 5. The screen is pretty nice, not as vibrant as note 5 I used to own but not bad at all. I might just have to return that Blu phone because spec wise I don't see how the vivo 5 could offer an experience as good as the nexus 6. The size of the thing is extreme for my woman hands but I could definitely adjust.

You can get a brand new Nexus 6 for $220 from a few different sellers on ebay, just FYI.

Get the Nexus 6. Good performance, fast security updates and platform upgrades and front facing speakers. It's a great mini-tablet. Posted via the Android Central App

Finally, someone addressing how crappy 1gb of ram and 8gb storage phones are. I totally agree with him except for Kitkat. He got a point with the security patch but Kitkat to me was a very well done OS.
I've never tried an Android One handset but I sure know what a bad experience 1gb of ram can be for Android. Posted via the Android Central App on Moto G3 16/2 on $35 Cricket wireless plan.

Unfortunately, their are many phones that have not yet been upgraded to Android Marshmallow.

A decent CPU is also important. These quad 1.1 GHz CPUs are not enough to run social apps adequately. Let alone certain games. Great cell radio, mic, etc. Primary purpose is to make calls. RAM I agree.
A smaller screen 4.5-5.0 and 720p is fine.
A smaller battery is fine. Can always charge it.
The screen issue should be skipped. Everyone should get a screen protector anyway.
Marshmallow is fine (until N comes out). So if push came to shove, I'd rather have 8GB RAM w/microSD but a faster CPU (1.5+Ghz) so that once the app did start, it would actually run. I don't know why budget phones have to have 5.5in 1020p displays, which looks nice, but will run like crap due to crappy CPU.

8gb rom you mean. No low end phone will have 8gb ram lol.

Excellent article. Should be featured Posted via the Android Central App

A removable battery. You're more likely to find this in phones that aren't flagships, so take advantage of it while you can.

The new Moto G4 is coming out at $200. Easily one of the best midrange phones currently on the market. :D Posted via the Android Central App

You forgot at least Snapdragon 615 or equivalent and at least 2500 mah battery or more. Posted via the Android Central App on my Zuk Z1. Loving it.

Agreed on all points. I just picked up a OnePlus X on swappa, and I hope it should last me for several months, until I decide if this year's nexus devices will be worth the compromise (when they are announced). I'll be paying close attention to the reviews, to see if the smaller variant has lag like the 5X.

Alex: The Alcatel idol 3 4.7 inch smarphone is a great mid-range option that Android Central even recommended several times. It's snappy and fast, and very pretty imo. It only has 8gb of internal storage but it's expandable and only has 1.5gb of ram. It's still on 5.0.2 Lollipop but Marshmallow update should arrive at any moment now. It's a great phone which I recommend to 3 of my friends, all of them were quite happy with the purchase.
Are you saying it should be avoided!? What is the alternative for 169 euros at the moment then?

The phone is over a year old now so the standards of acceptability was bound to be higher.
Besides, 8GB of storage is tough sell

What's your alternative for that price range? I am truly asking so I can advise my friends in the future.

If you're fine with locked bootloader and Miui then the Redmi 3 is the best choice for that budget Posted via the Android Central App

There's no Redmi smartphones on physical stores here in Portugal so I can't recommend that. People like to try them in hand before buying. And yes, I truly hate Xiaomi and Huawei Android skin but that's personal taste of course. Even so, Thanks for the recommendation.

Moto G4? Posted via the Android Central App

Not available yet, at least here in Portugal, but it's going to cost 220 euros at least. And from what I've read, the software is not smooth and it was in previous Moto G generations.

If a phone ships without an oleaphobic coating on the glass (or once it wears off), is there some way to (re-)coat it? Like one of those sprays that create a lotus effect?

So...a Sony "flagship?" Google Nexus 6P

what is the name of the phone in the middle?

Honor 5X Posted via the Android Central App

I been using a LG stylo for 6 months now. 5.5 inch screen, removable 2900 rated battery, 16 gb storage of which I added a 128 gb external storage.. Best bang for Buck phone I have ever owned. Used to have a one plus one and HTC m8. Don't miss either of the latter one bit. Posted via the Android Central App
Android Central Newsletter
Get instant access to breaking news, the hottest reviews, great deals and helpful tips
Thank you for signing up to Android Central. You will receive a verification email shortly.
There was a problem. Please refresh the page and try again.