5 things to know about the Samsung Galaxy S8's DeX dock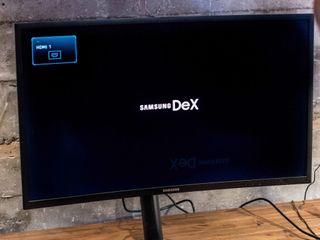 If you could hook up your Android smartphone to an external monitor to unlock a desktop mode, would you? Samsung is making a major play towards its truly mobile users with a desktop-style operating system embedded into the software of the Galaxy S8 and S8+. Here's what Samsung DeX is, and why it might make Samsung's new flagship appealing to those with bonafide on-the-go lifestyles.
You need the dock to use DeX
To even access Samsung DeX, you need the DeX dock, which is sold separately. The dock itself is cheaper than, say, an Asus Chromebook Flip, but you'd still have to adopt one of the Galaxy S8 smartphones for it to work.
But of course you need all of the other things to plug into the dock as well. Once the Galaxy S8 is plugged in, you can hook up peripherals as you please to start the computerization process. The DeX dock comes with an HDMI port, two USB ports, and Bluetooth connectivity. It also keeps the Galaxy S8 charged while it works, so you don't have to worry about running down the battery. And there's a built-in fan (don't worry, you won't even notice it's there) to keep the smartphone cool as you're operating in DeX mode.
It's (kind of) like a Mac or PC
Samsung's desktop experience isn't too different from what you're used to. There's a start button of sorts that offers quick access to compatible apps and you can minimize and maximize individual windows or close out of them like you would on a Mac or PC. Oft-used commands are available, too, and there's a dock where you can pin your favorite apps. The notifications and status bar from your phone appear along the bottom of the desktop, just where you'd expect them to be, so you always have access to your typical "phone" functions while in the DeX dock.
The Samsung DeX also features a lock screen — think of it as a screensaver. You can secure the DeX with a passcode or facial recognition to keep peering eyes out of your secret stuff.
But it doesn't run Windows or Mac apps
If you're thinking that the Samsung DeX sounds a bit like Microsoft's Continuum with Windows 10, you'd be on the right track. It's essentially the same concept, with the main appeal being that DeX offers a scaled-up desktop when the Galaxy S8's comparatively smaller display is simply not enough.
So because this is just Samsung's Android build scaled up to a larger screen, you can't use any Windows or Mac apps on this computer wannabe — but there are compatible Adobe and Microsoft apps, including Adobe Lightroom and Microsoft Word, that are designed specifically for the big screen. DeX also supports virtual desktops like Citrix, Amazon Workspace, and VMWare, so you can actually get some work done if you need to. And if you wanted access to any of your Android apps, those are also compatible.
It's unclear exactly how normal Android apps and the DeX apps will work in tandem, and how the system handles apps that aren't designed to run on a larger display or in a windowed environment — right now, Samsung is (understandably) only talking about its own apps.
DeX is not a laptop replacement
Samsung doesn't appear to be positioning the DeX dock towards those looking for a laptop replacement — and certainly not in the way that the Chromebook has been positioned.
Instead, it seems the DeX is something you'd bring with you on a business trip, particularly if you knew there was a monitor hookup already waiting where you're headed. It could also be a useful accessory for the frequent traveler — it can be hooked up to any television with HDMI — or exist as an on-the-go photo editor.
Sadly, this isn't a spiritual successor to the Motorola Atrix.
We still have a few questions
Is there more to the Samsung DeX than just a blown-up phone screen to a desktop interface? Well, software support from other apps will be extremely important for the experience. The existence of different docking options would be fantastic, and of course the general availability of the DeX dock in the places you want to work would be the key to unlocking the power of this platform.
We're not sure about many of the details, but Samsung is excited about the possibilities of DeX.
Get the Android Central Newsletter
Instant access to breaking news, the hottest reviews, great deals and helpful tips.
Florence Ion was formerly an editor and columnist at Android Central. She writes about Android-powered devices of all types and explores their usefulness in her everyday life. You can follow her on Twitter or watch her Tuesday nights on All About Android.
If Google Drive and Docs work, then this will be a good thing to have on the go for business, if you are using the Google Suite.

Besides the capability of adding a mouse and keyboard, this sounds very similar to the Chromecast.

Yes, but with a few extra perks. Big one for me is you don't have to worry about setting up Wifi if you're on the go, or in an area that just doesn't have any. Should be more reliable too since it's a straight HDMI connection, and not a wireless one. Screen cast works ok, but I've often had issues with audio syncing with video, or just lag in general. Lastly there's one big issue I can't believe Google hasn't updated for Chromecast, which is BT or wired Audio straight from the source. Sometimes I want video on a big screen, but need it to be silent for anyone else. My Roku, Apple TV, and Amazon Fire all support this.

Reminds me of the HD Dock (and also the Motorola Lapdock) for some of the older RAZR models. I liked the concept, however found them to have horrible lag that was pretty disappointing.

Same. Was a great idea, with horrible execution. Even sending a text was brutal at times because of lag, let alone web browsing. I actually still have a fully functional one. It now serves as a once expensive paperweight.

DeX looks like a neat feature (and Continuum with Windows 10 does as well). I'd like it if the Pixel or other OEMs included Chrome OS when docked.

Agreed, if Pixel 2 has this ability to bring up full Chrome OS while docked that would be awesome. If not, the Galaxy 8 will be on my short list.

So, how is it only "a bit like Continuum"? To me, it sure sounds a lot like it. Just need to install MS Remote Desktop and access a Windows computer, or similar for another OS.

And that is the reason why I am considering this phone as my next daily driver...

Continuum does a lot more. There's docks for continuum but those are optional. You can use a tiny wireless adapter instead or you can use the built in connect app in Windows 10 to connect to your phone, no wires, no adapters, and no docks needed. It also uses the keyboard and mouse already attached to your PC and leaves nothing behind. This makes it much more convenient to connect to any Win 10 PC.

As a windows fan, I get your point. But I'm not sure the use case as to why you would dock your mobile phone to a full fledged computer to use it as an almost full fledged computer. Wouldn't I just use my computer that is already connected to my keyboard and mouse, rather than attach my phone to the computer to use the keyboard and mouse? I guess a use case would be borrowing someone else's computer to use an app that you have that they don't, so you link up to their computer and run your stuff. So I guess there is a use case. Carry on.

Unfortunately, due to both the app gap and the (current) inability to resize or move windows, Continuum does less, not more. Or at least more useful things. Running a not really PC inside a fully functioning PC I don't consider useful. I know an updated version of Continuum is rumored to add side by side windows and floating windows, but then that's always the case with Windows mobile (and Windows in general) ... "just wait until the next release, THEN things will be great/you'll get all the features you really need. We promise, we promise!" Nope, I'm giving the current lead of phone-as-a-desktop-when-you-need it to Samsung and Dex. Probably the next round, Microsoft will catch up or take the lead. I am definitely glad to see that this is a thing in general and hope this continues to develop as a thing across all the major operating systems. I liked the suggestion of another poster to have a Pixel phone with Android and then Chrome OS when docked/connected to a monitor.

All I need on my desktop are a couple of terminal sessions and Chrome.
I could replace my work computer for sure, and at home I could retire my old system and put it in the closet for when I need to test build a few VMs.

Needs a laptop dock. I miss Motorola's Lapdock and my DROID Bionic.

I had the dock for Motorola Photon. It worked fine but very limited , so I had no use for it.

This should be a new standard on high end phones. The hardware can support it, and USB-C supports it, why not? I'm all for it. Not as a replacement for a desktop or laptop but as a viable option for those who dont need more than chromebook functions.

I have wanted this feature on phones for a long time and if Microsoft hadn't given up on its phones I would have got a phone with continuum. However i doubt most phone users will even give this a second look.

Forgot to mention, this looks exactly like the os on the Remix Box that I bought for around £69.00.

This seems to have very limited use cases-- if I'm using a Chromebook over a laptop, or have ditched the laptop in favor of tablet + keyboard case, then I can see the potential appeal of having this back in the dorm room or office. But for anyone that still needs MacOS or Windows, it's hard to see this being useful unless you were in a weird situation where it was being provided for you. For example, I could see a company standardizing on the S8, then providing the docks for employees who were in a hotelling situation- pick an open cube, plug in your phone, and you're off. I could also see it in hotel business centers or something like that. But I really can't see myself setting this up next to a real computer at home. I don't want to see SimCity on a big screen that badly.

Not bad. Hopefully, they don't price this thing too high. But this is Samsung, so it's going to be expensive. I'm sure it will be compatible with the Note 8, as well.

Remix OS are the only ones doing this right.

Its similar to Microsoft's Continuum. Always and forever samsung copies ideas from microsoft and other competitors and people thinks they are the first who had done it

But cortana is smarter than bixby, and can sing

Dex is intriguing to me. As people use dex and Samsung updates dex im sure it will end up being on par with continuum.and even surpassing it as it will have more users.

Would be great if the cellular data-connection could be shared out through the Ethernet port as WAN for a router.

I'm glad you mentioned the Motorola Atrix 4G (of which was my first Android device). The Lapdock had such potential, but man oh man did it run like a dog. Slow as slow can be (maybe that was just my experience). Here's hoping that Samsung can make this thing work.

What about using the DeX with a case?
Ex : Otterbox defender case
Would it work?