5 things to know about the Samsung Galaxy S8's DeX dock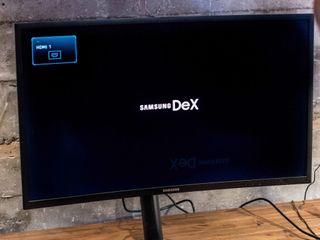 If you could hook up your Android smartphone to an external monitor to unlock a desktop mode, would you? Samsung is making a major play towards its truly mobile users with a desktop-style operating system embedded into the software of the Galaxy S8 and S8+. Here's what Samsung DeX is, and why it might make Samsung's new flagship appealing to those with bonafide on-the-go lifestyles.
You need the dock to use DeX
To even access Samsung DeX, you need the DeX dock, which is sold separately. The dock itself is cheaper than, say, an Asus Chromebook Flip, but you'd still have to adopt one of the Galaxy S8 smartphones for it to work.
But of course you need all of the other things to plug into the dock as well. Once the Galaxy S8 is plugged in, you can hook up peripherals as you please to start the computerization process. The DeX dock comes with an HDMI port, two USB ports, and Bluetooth connectivity. It also keeps the Galaxy S8 charged while it works, so you don't have to worry about running down the battery. And there's a built-in fan (don't worry, you won't even notice it's there) to keep the smartphone cool as you're operating in DeX mode.
It's (kind of) like a Mac or PC
Samsung's desktop experience isn't too different from what you're used to. There's a start button of sorts that offers quick access to compatible apps and you can minimize and maximize individual windows or close out of them like you would on a Mac or PC. Oft-used commands are available, too, and there's a dock where you can pin your favorite apps. The notifications and status bar from your phone appear along the bottom of the desktop, just where you'd expect them to be, so you always have access to your typical "phone" functions while in the DeX dock.
The Samsung DeX also features a lock screen — think of it as a screensaver. You can secure the DeX with a passcode or facial recognition to keep peering eyes out of your secret stuff.
But it doesn't run Windows or Mac apps
If you're thinking that the Samsung DeX sounds a bit like Microsoft's Continuum with Windows 10, you'd be on the right track. It's essentially the same concept, with the main appeal being that DeX offers a scaled-up desktop when the Galaxy S8's comparatively smaller display is simply not enough.
So because this is just Samsung's Android build scaled up to a larger screen, you can't use any Windows or Mac apps on this computer wannabe — but there are compatible Adobe and Microsoft apps, including Adobe Lightroom and Microsoft Word, that are designed specifically for the big screen. DeX also supports virtual desktops like Citrix, Amazon Workspace, and VMWare, so you can actually get some work done if you need to. And if you wanted access to any of your Android apps, those are also compatible.
It's unclear exactly how normal Android apps and the DeX apps will work in tandem, and how the system handles apps that aren't designed to run on a larger display or in a windowed environment — right now, Samsung is (understandably) only talking about its own apps.
DeX is not a laptop replacement
Samsung doesn't appear to be positioning the DeX dock towards those looking for a laptop replacement — and certainly not in the way that the Chromebook has been positioned.
Instead, it seems the DeX is something you'd bring with you on a business trip, particularly if you knew there was a monitor hookup already waiting where you're headed. It could also be a useful accessory for the frequent traveler — it can be hooked up to any television with HDMI — or exist as an on-the-go photo editor.
Sadly, this isn't a spiritual successor to the Motorola Atrix.
We still have a few questions
Is there more to the Samsung DeX than just a blown-up phone screen to a desktop interface? Well, software support from other apps will be extremely important for the experience. The existence of different docking options would be fantastic, and of course the general availability of the DeX dock in the places you want to work would be the key to unlocking the power of this platform.
We're not sure about many of the details, but Samsung is excited about the possibilities of DeX.
Be an expert in 5 minutes
Get the latest news from Android Central, your trusted companion in the world of Android
Florence Ion was formerly an editor and columnist at Android Central. She writes about Android-powered devices of all types and explores their usefulness in her everyday life. You can follow her on Twitter or watch her Tuesday nights on All About Android.