The best S Pen apps for the Galaxy Note 4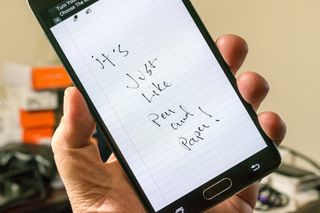 Steve Jobs said the best stylus is a finger. Samsung disagrees, and so do these apps
One of my favorite features of the Galaxy Note 4 (and one of the coolest things to happen to smartphones ever) is the S Pen. It's not a stylus. Instead think of it as a smart, pressure sensitive accessory that's paired with hardware and software on the Note 4 to make for a really good input device.
With the Note 4, we see huge improvements (and real life improvements, not just spec-sheet mumbo jumbo) in the sensitivity of the S Pen and how smooth it works. It's a great addition to any large-screen device, and one you really need to use to appreciate.
Here are some great apps to use it and see!
READ NOW: 5 apps to make the most of the Note 4's S Pen
Scribble Racer
We're going to start with a game, because Scribble Racer is a really cool and fun game that uses the S Pen — something we don't see a lot of just yet. It's delightfully simple, amazingly addictive, and incredibly fun. You use the S Pen to plot a course on a track as it scrolls by. Hit the wall and it's game over. Of course, there are bonuses strategically placed in areas where you'll hit the wall if you're not careful, shaming you for your greedy ways.
Scribble Racer is free, but extra tracks can be bought with in-app purchases. Give this one a try, and blame me for all the time that will be wasted!
Download: Scribble Racer (opens in new tab) (Free; in-app purchases)
Autodesk SketchBook
SketchBook is pretty much the ultimate drawing app for Android, and a special S Pen enhanced version is available for free on your Note 4.
You'll find all the non-destructive drawing tools you need, each with its own settings like width and stroke, and in-app purchases let you buy pro level tools like layers and selection tools to make creating your next masterpiece fun and easy. You've probably seen some of those videos where awesome people draw awesome things with the S Pen. This is the application most of them are using.
The download link below will get you a copy of SketchBook for any Android, but if you have a Note 4 you'll find a pre-installed stub in the Galaxy Apps section.
Download: Autodesk SketchBook (opens in new tab) (Free; in-app purchases)
S Pen Launcher
Pulling out the handy S Pen gives you a nifty little circular menu, filled with the things Samsung thinks you'll want to do, right on your screen. S Pen Launcher adds a custom menu where you can define which shortcuts and applications are shown. It looks like any other folder, but it's only shown when you pull out the S Pen. Once you see it, tap any icon to jump straight to the associated task.
Originally designed for the Note 2 and Note tablets, it works well on the Note 3 and Note 4, too. You will have to either enable some ads in the settings panel or spend $0.99 as an in-app purchase to enable unlimited additions to the menu. If you're looking for a way to jump right into certain apps when you remove the S Pen, this is the best way to do it.
Download: S Pen Launcher (opens in new tab) (Free; ad-supported or in-app purchases to unlock all features)
INKredible
Normally, I would never recommend an app that duplicates functions of an app that is already preinstalled on your phone. I have to make an exception for INKredible, though. It's a handwriting and freeform drawing app that makes the S Pen and glass screen experience almost as good as "real" pen and paper.
You have control over the virtual pen "nibs" (as well as a full selection of styles available through in-app purchases), deciding how thick or wet the writing will be. You also have precise controls for layouts and a full library feature. Best of all, things are saved as true vector graphics so they can be resized or printed.
This is the best app for people who want to get a little creative with their prose.
Download: INKcredible (opens in new tab) (Free; in-app purchases)
Adobe Photoshop Touch
The premier image editing software for both the PC and the Mac has been available for Android for quite some time. It really shines when paired with the Note 4's S Pen.
Full-scale image editing right on your phone, including things like layers and magic brushes that Photoshop is known for. There's a reason why all the pros use Photoshop.
While the experience isn't exactly the same — there's no way even the biggest and best phone could handle everything included in the desktop version of Photoshop — the mobile offering, especially when paired with the precision of the S Pen, is very similar. You're even tied into Adobe's image cloud, and can hand off images from full-blown photoshop to your phone. It's powerful, and designed for people who need a powerful image editor.
Download: Adobe Photoshop Touch (opens in new tab) ($4.99)
Senior Editor — Google Ecosystem
Jerry is an amateur woodworker and struggling shade tree mechanic. There's nothing he can't take apart, but many things he can't reassemble. You'll find him writing and speaking his loud opinion on Android Central and occasionally on Twitter.
I have to say I'm a fan of Art Flow over Sketchbook.

VirtualTablet is another great one. It turns the Note 4 into a digitizer for your PC, so you can use Sketchbook on your 24 inch display instead of the phone.
https://www.androidcentral.com/e?link=https2F2F...

Thanks for the recommendation. We keep working on VirtualTablet to improve it's quality.

One of the things I miss most about this device is the art one can accomplish. Great pass time. AC, you have convinced me to give the note 4 a try.

Honestly, using my Note for as a sketchpad is one of my favorite time killer activities.

Just wanted to say thanks for these types of articles. INKcredible is pretty good. Wouldn't have known about it if not for this article.

Hmmm... weird, Photoshop Touch shows up as non-compatible with the Note 4. How'd you get it to run?

Never mind, I found the 'for phone' version... You might want to adjust the link and info, though; the one referenced in the article is for Tablet, and the phone version is 4.99.

Sorry about that, should be all fixed up now.

Are their differences in the "for phone" and "for tablet" versions? I can get the for tablet version for $9.00 for my Samsung Tab 3, but I don't have a stylus for my Tab 3.

Us Note 4 people need more articles like this. There is so much missed potential with the note 4 from Samsung that i feel a little underwhelmed about the product. Applications such as these give us whats missing from the basic phone

They are getting devs to think of ways to use the pen, but it's not always up to the individual developer whether it's going to get adopted. There are apps on the Galaxy app store for the S Pen with great ideas that ought to be picked up by larger companies. Like the Significant app, that lets you sign pdf files with biometric-like properties like pace, pressure and angle... Rome wasn't built in a day, and the pen will need time to gain traction amongst the bigger software companies, too...

AC should have a new article every week about the Note 4 features the revolve around the S-Pen. Posted via the Android Central App

If they could make INKredible-like drawing in Lecture Notes happen, I would be sooo happy! Cant find any filter setting that comes close to S Note or INKredible...

I would throw MyScript Smart Note in the mix. While it works on any device with a finger, there is a setting for "hard" stylus only and it ignores your finger making writing on the Note series devices a charm. It has lots of bells and whistles too and can automatically transform hand written notes into text that can be cut and pasted into other programs. It's input engine is pretty good at reading my chicken scratch so much so that I also recommend getting their free MyScript Stylus "keyboard" because it works better than the Samsung handwriting input tool. This has become my only note taking app ignoring the stock ones in my Note 3.

I would add MyScript Calculator to that as well. Using the Spen to write down math problems has been a huge aid in helping me reinforce math lessons my kids struggle with. Posted via the Android Central App

Don't forget ArtRage. It has some impressive features. Keep in mind that it's exclusive to the Samsung app store for the time so you won't find it on the google play store. Plus, it's free.

Aaaactually, it just released on the Google Play Store this week :D (Also, it was only free with the Note 4, I think).

unless of course you got the apk early on from somewhere else, teehee :)

As a Note 10.1 user wanting to make more use of the S-Pen, this list makes a great starting point for us too!

Thanks for the article. I'm constantly looking for ways to use the S-pen on my Note 4 more often. Posted via the most excellent Samsung Galaxy Note 4

Yes! Keep articles like this coming.

Papyrus and OneNote for Android have recently received huge updates making them 2 of the best apps for the Note 4. Posted via the Android Central App
Android Central Newsletter
Thank you for signing up to Android Central. You will receive a verification email shortly.
There was a problem. Please refresh the page and try again.