4 Galaxy S9 and S9+ Cases If You Need a Belt or Holster Case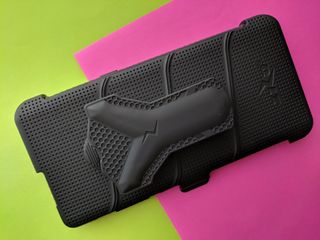 The Galaxy S9 is a fantastic phone that lets you get more stuff done when you're on the go. Whether you're an outdoorsman who wants something rugged and accessible with a pocket-free carry or your work involves you having quick access to answer phone calls or emails out in the field, a belt clip holster can be a great way to keep your phone stylishly secure and accessible at all times.
These are the best cases with a belt clip holster for the Galaxy S9 and S9+.
Zizo Bolt Series Case
Zizo specializes in creating rugged smartphone cases, and among those, few are as rugged as the Bolt case. The case itself features ridges and texture for grip and includes a screen protector, but most importantly for our purposes, it also includes a belt clip holster for wearing your phone at your hip.
The clip can be rotated with a firm twist that locks it into a new orientation, so you can always have your phone at the ready when you need it. Choose from 10 different color styles and get yourself a holstered phone case that matches your style for just $18. Also available for the Galaxy S9+ (opens in new tab) for $19.
See at Amazon (opens in new tab)
Encased Nova Series Slim Grip Case
Often times phone holsters are paired with heavy duty cases which can be bulky and awkward to use. That doesn't have to be the case with your Galaxy S9, so if that's held you back from buying a hip holster case in the past I present to you Encased's Nova series case.
The case itself is rugged yet slim, with a textured and rubberized backplate that helps with grip and cuts down on fingerprints. It's thin enough to support wireless charging but comes with a removable metal backplate if you'd prefer to magnetically mount your phone in your car.
The holster holds your S9 in place with support in the bottom corners while the quick-release clip up top gives you instant access to your phone when you need it.
Get yours for the Galaxy S9 or the Galaxy S9+ (opens in new tab) for just $16.
See at Amazon (opens in new tab)
Trianium Duranium Case
If a minimalist look is what you're after, consider the Trianium Duranium case. Available in Gunmetal or Black, this is an understated design that focuses on protection and usability.
This case combines three layers of protection that combine GXD impact gel and premium TPU for ultimate shock absorption with a hard polycarbonate shell offering support along the length of the phone. The holster clip itself is also a simple design, seemingly designed for horizontal carry with a swiveling at the clip so you can orientate the phone however you like.
Get yours for just $15 for the Galaxy S9, and $18 for the larger S9+ (opens in new tab).
See at Amazon (opens in new tab)
OtterBox Defender Series Case
OtterBox is a trusted premium accessory maker that charges big money for their products but backs it up with outstanding warranty policies and customer support. For the Galaxy S9, the OtterBox Defender Series is a great option — if you're wont to drop a ton of money on a quality phone case when there are other worthy options available for under $20.
With OtterBox, you'll be getting a tried and tested smartphone case design that's designed to keep your phones protected for all these years. While older Otterbox cases offered a front-plate protection for the display, the Galaxy S9 case is screenless up front to accommodate the curved edges of the display. Everywhere else is well-crafted protection for your device, reinforced in the places where phones typically land first.
Get yours in your choice of six color combinations for as low as $29. Also available for the Galaxy S9+ (opens in new tab) for $54.
See at Amazon (opens in new tab)
Do you rock your phone in a holster?
Is a phone holster a necessity in your line of work? Let us know why you love this style of the case in the comments!
Android Central Newsletter
Get instant access to breaking news, the hottest reviews, great deals and helpful tips
Marc Lagace was an Apps and Games Editor at Android Central between 2016 and 2020. You can reach out to him on Twitter [@spacelagace.
Roots makes an XL vertical leather holster that work great with a slim case (or naked) for the S9+ or S8+. I have one for occassions where I need my device completely secure.

I love my Otterbox, but I'd really love a holster compatible battery case with wireless charging. Haven't found one yet.

I have the Zizo Bolt case for my 9+ and I can charge wirelessly.

Be careful with the hip holster. The clip is frail. I broke mine within two months of usage on my S8+. Buddy broke his another month afterwards.

I used to buy the case and holster sets from the Platinum company for my S5 and S7. Those were fragile and would break all of the time. The Zizo holster locks in place when pushed out to far and is very strong. Plus they offer a warranty for their cases. I bought the holster and case through Amazon and have the warranty through Zizo.

I bought an encased case before I picked up my phone. The case broke as I was putting it on the phone.
Not really impressed with the QC.
Joe

I got the Zizo Bolt. It does the job well for the price. The little palstic dots on the back of case fell off after a week, but found they didn't matter. Case is good otherwise. Gonna try that other one ,Nova Series it looks interesting with the top release.
Android Central Newsletter
Get instant access to breaking news, the hottest reviews, great deals and helpful tips
Thank you for signing up to Android Central. You will receive a verification email shortly.
There was a problem. Please refresh the page and try again.