2016 Nexus: First live photos leak as Nougat release approaches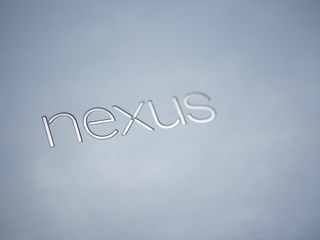 This year's Google-designed (and likely HTC-built) Nexus phones might not be arriving alongside Android 7.0 Nougat, but it's looking like we won't have to wait too much longer to wait for the new handsets to arrive. Shots surfacing on Android Police today claim to reveal (in heavily cropped form) the smaller of the two phones, known by its codename "Sailfish."
The 5-inch model (as opposed to the larger 5.5-inch "Marlin") sports an angular, chamfered metal design with a rear-mounted fingerprint scanner and a large glass section on the back. As expected, there's virtually no branding around the front, and the unit shown in these pictures — presumably a testing device — lacks any visible branding on the back as well. (Android Police reports that the final hardware will be branded with Google's "G" logo, fuelling recent speculation around the future of the Nexus brand.)
Aside from being an eye-catching design feature, the glass window on the back could serve as a larger target area for NFC — making Android Pay payments easier, among other things.
The images are broadly in line with shots that surfaced on Twitter recently showing a similar glass-backed design amid copious amounts of digital zoom.
That same account also claims there's a plastic Nexus on the way, however AC understands that both models on the cards this year are metal, and that any plastic model doing the rounds is likely some kind of dummy chassis.
Aside from shots of what appears to be a relatively standard smartphone chassis — aside from that big glass window on the back — the most interesting nugget to come from this spate of Nexus rumors has to do with the Nexus monicker itself, and how this year's "Google" phones will differ from previous Nexuses in terms of design and branding.
The source of this most recent leak has already shown images of a redesigned Settings app, with updated colors and a new "Support" tab. Weeks earlier, a redesigned "Nexus Launcher" believed to be from one of the new Google phones, also leaked out. Add that to reports that Google is redesigning Android's soft keys again, with colorful accents which animate to reveal Now on Tap, and you've got a highly differentiated UI that's a far cry from the "stock" Nougat we currently know.
AC understands that these images are indeed an accurate representation of the UI that'll appear on the upcoming HTC-built, Google-branded handsets. That being the case, perhaps it makes sense that the LG V20, not any new Nexus device, will be the first phone with Android 7.0. Just because Nougat is done, doesn't necessarily mean the extra Google software on these "Nexus" phones is complete.
Android 7.0 Nougat is expected to arrive later this month. Given that the LG V20 will launch as the "first" Nougat phone on Sept 6, we're probably looking at mid-to-late September before any new Google phones hit store shelves.
MORE: What LG having the first new phone with Nougat means for the Nexus program
Alex was with Android Central for over a decade, producing written and video content for the site, and served as global Executive Editor from 2016 to 2022.
Don't mind what it looks like as long as the camera is faster to take HDR pictures. Love my 6p but the camera slowness does let it down. Posted via the Android Central App

I just bought a 6p. The slow HDR is the only complaint that I can come up with, aside from missing my Moto Actions. Google needs to strike up a deal with Lenovo and make "Chop for Flashlight" stock on all Android phones.

And the Wrist Twist for camera as well. So much convenient.

Not really sure what's slow about the camera's HDR.... The only slowness I get is launching it from the power button not always working. Sure, it takes a few seconds to process an HDR image but you can still take the pictures while it's being done.

I second this. I can fire off multiple HDR photos in quick succession without issue. The processing does have to play catch up, but it is hardly a deal breaker. Due to it's size (I prefer something smaller since I use it when running, hiking, etc), I have looked for something better, but have thus far only been tempted by the regular S7. Since I already had the 6P, it wasn't enough to pull me away. A 5" Nexus with a great camera, or even a smaller framed 5.5" would make me move however.... even if I lose the fantastic speakers, as I typically connect to my system/speakers/headset via bluetooth anyway.

I'm not sure what your issue is with the HDR. The photos take in the same amount of time. Then there is a couple of seconds of post processing. What's the big deal?

I have had it freeze on me when trying to take close up shots of bees and of my relatives playing. Posted via the Android Central App

The big deal is that when you try to time someone jumping into a pool (just an example), you gotta practice first and press the button fraction of a second before the jump takes place.

Try taking a few pictures with YouTube Red playing in the background. It basically disables camera for like 10 seconds

My problem hasn't been so much the time to take HDR pictures (although it certainly isn't the fastest in that regard), but the time it takes to launch the camera app. Whether I launch it by tapping the icon or by double-pressing the power button, it often takes three or four seconds to get up and running. When you're trying to get a picture of say... a hyperactive puppy, that's the difference between getting a good shot and getting nothing at all.

It's odd how these things can vary on the same hardware. The camera never takes more than a second or so to open on my 6P Posted via the Android Central App

I agree, same thing was said about the 6. Never had a problem. I don't know, to many apps running? Posted from Nexus 6

I just think Android can be inconsistent overall when alot of apps and data are on the device and things like this happen because of it. It's highly stable at this point though so I don't think things like this happen too often on phones like the 6P. I've been so impressed with the 6p's performance. I was worried at launch because of all the issues some OEM's had with the 810 along with forced hardware encryption but the way Google developed for it has made that chipset perform flawlessly IMO. I'm just really impressed with the way this 6P I have runs. It really is the android equivalent of iPhone as far as smooth performance is concerned IMO (among other things) Posted via the Android Central App

I have a 6p and never get slow downs on my camera.

The HDR processing is very slow compared to the S6/S7 LG G5, etc but it has sped up a lot and moved to a background task with Nougat Preview 5. Posted via the Android Central App

I was about to say the same thing that my 6P takes pictures fast with HDR+ on and never have a problem with background tasks... It's just you have to wait a couple seconds to view the picture.... But I've also been running N since preview 4, and can't remember what it was like on M. Launching the camera is fast too and always works for me on N. Posted via the Android Central App

To me, that's an unforgivable flaw. I have used the V10 and Note 5 significantly. They have very little delay on opening or shooting.

HDR speed isn't the problem. It's Slow motion video that is the problem for me. Posted via the Android Central App

Second Posted via the Android Central App

Awesome! Can't wait for it.

You mean looking ****? Posted via the Android Central App

PHAT Posted via the Android Central App

Hopefully it has a reasonable size battery. I'd take millimeters all day for some battery life.

I guess they're adding more battery! Which is great! Posted with ❤Love❤

its just the way they cut the picture

Holly bottom bezel Batman. Posted from Nexus 6

Bezel doesn't bother me as I'll be looking at the screen when using it

I guess you could sit drinks on it or use it as a food tray while looking at the screen. That bezel is a beast! S7 edge...Soon to be Note 7!

I'm sorry, but I don't want an extra inch tall phone in my pocket for no reason.

Yep, there is just a bunch of empty space inside that phone.

Kind of is if it is not utilized right. This just shows bad engineering and bad design.

I agree when talking about a phone that has no capacitive keys, and no front facing speakers.
the bottom bezel shouldn't be bigger than the top bezel, in which you have to fit the earpiece, front facing camera, proximity and light sensors. All you have to make space for in the bottom is the driver for the display, 3.5 jack (well I guess that's optional now) and the usb-c port and maybe a speaker I don't want a phone that's extra tall just because of a big bezel at the bottom. If it's tall because of a feature, say a large screen or front facing speakers I can accept that much easier.

I couldn't agree more with you man, look at the Nexus 6!!! My nexus 6 has front facing speakers and yet the bezels are so thin to almost nothing. That's why i love the design of the nexus 6 (except the material they used for the back). The problem with this nexus (if it come up to be real) is the bottom bezel, it's massive and with nothing on it, not even front facing speakers. This is bad engineering at best.

Man this could possibly be bottom boomsound speakers. At the very end though assumption is the mother of failure if you know what I mean. Posted via the Android Central App

No reason? You don't even know the specs yet. Posted via the Android Central App

Could be a good thing considering HTC built it. This could very well mean boom sound.

Good point, hopefully there is something underneath or it is wasted space. Phone will be bigger than it needs to be otherwise. Posted from Nexus 6

I'm just glad the power button is above the volume rockers.... HTC One m9 broke me.. now I have to constantly rethink when I push buttons on my Nexus 5x

I have a 5x and honestly whether the power but is above or below I hate the design.
Put them on opposite sides of the phone like normal, it's so much less confusing.

Well I guess if you use the fingerprint sensor to wake the phone (like myself) then that's not really an issue but I do see your point.

Plus double tap to wake on new one. Posted from Nexus 6

I must have a bad unit... I don't have volume controls on my fingerprint sensor ... (/me waits for you realize your mistake)

Pleaseee let this be true....those bezels are to much, and I miss front facing stereo speakers (moto g doesn't actually have them ) , the size of the camera and the position also worries me...I know this is only an early leak, but it really gave me a bad impression Posted via the Android Central App

The pic is taken at an angle and distorts the dimensions of that bottom bezel. Does have large bezels top and bottom, but it's not going to stop me from buying. Currently have the Nexus 6, so any smaller form factor will make a difference. Posted via the Android Central App

Has more chin than Stan Smith

Man, that bezel. I'm still buying it. Posted via my G5

Same here Posted from Nexus 6

Yep I'm buying Posted via the Android Central App

+1 Posted via the Android Central App

Not a bad looking device. Let's hope this gets at least a 3000mah battery and it could be a winner.

Wonder why we aren't seeing marlin leaks?

We will. I think the way it works last year was one leaked, then a few days later the other leaked, if memory serves. Posted via my G5

I thought the chin and forehead on my 6p were bad. This thing is Frankenstein compared to the 6p. So glad I pulled the trigger on moving to a Note 7.

Jay Leno phone. Posted from Nexus 6

Stares enviously at the Nexus 6 who, having a 6 inch screen, has minimal front facing speakers that for whatever reason, my 5.7 inch Nexus 6P is TALLER than it with a SMALLER screen. Google/OEM designers designing these Nexii have really gone south

I've always thought the same thing. I have the Moto X Pure at the moment, it has the same size screen as the Nexus 6p and dual front facing speakers with way smaller bezels. This new Nexus will have a bottom firing speaker and the bezels are still enormous. I don't understand it. Posted via the Android Central App

Sexy! Anything but an iPhone

"The 5-inch model (as opposed to the larger 5.5-inch "Marlin") sports an angular, chamfered metal design" I think this is just the way the photo has been cropped. If you look carefully the phone has rounded corners and looks to be similar to HTC's A9.

He's referring to the chamfer and the way it's cut into an angle. Posted via the Android Central App on my Nexus 6P

They are talking about the edge of the phone but the corners. Posted via the Android Central App

Actually if you look at the front of the A9 and take away the fingerprint scanner than it looks just like this Nexus. Seems like HTC or Google got a little lazy and decided not to make the chin smaller without the fingerprint scanner.

Could have ff speakers or maybe even stereo speakers on the bottom. Or a massive battery. Who knows. Generally when HTC makes big bezels, it's for a reason. Posted via the Android Central App

I am not sure if I like the new design.
I was hoping to replace my Nexus 6 this year with the new one but It looks like I am going to start reading what Galaxy Note 7 has to offer

This may be the year I go with a Nexus instead of the Note so I'm hoping that extra thickness is to accommodate a big battery. Posted from my unlocked S7 Active on T-Mobile / iPad Pro 12.9 / or my peerless Note 4

Yep Posted via the Android Central App

omfg that bezel especially look at the bottom *puke*

Was to be expected. Being made my HTC Posted via the Android Central App

Great point I didn't even think about that I just got all disappointed.

The bezel honestly makes me sick at my stomach. There better be something incredible hiding in the bezel like boom sound, battery life, or an electric razor. That is just hideous if it is there for no reason.

Tequila does it to me. Phone bezels not so much. Posted from Nexus 6

You're sick at it? Like, you throw sickness in its general direction? Or do you mean sick as in wicked cool and you're saying you can do some really "sick" tricks with your stomach? I'm sick to my stomach wondering now. Posted via the Android Central App

Sorry, but that's fugly (in those pics anyway).... Posted via the Android Central App

This is the one that I am seriously watching this year. I love my 6P, but it's just too big for me. I want a powerful phone but unfortunately in the past that has also usually meant a very large phone. While I can acknowledge that there is definitely a place for large screen flagships, there are quite a few people (like myself) who would prefer a smaller phone. I have been waiting a long time for a small premium phone and if the rumors hold true, this might just be it. For what it's worth I agree right now the front definitely doesn't look very good, but hopefully it will look better once some higher quality images emerge. I think it is just the fact that it's not a very flattering picture and it's such a small phone that it's making the bezels look disproportionately large... at least that's what I hope.

I'm with you. I got a 6P at launch, knowing that it'd probably be too big for my taste, due to the lukewarm initial reviews of the 5X. My girlfriend has a 5X now, though, and I like using that a LOT more than my 6P. If the large and small models are reasonably close in terms of specs (I really, really hope that the smaller model doesn't have a lower-tier processor this year), I'll almost certainly go for the smaller model. And I'm sure it will look a lot better than this at release. Those images just do not look like production models to me.

I really miss my HTC M7 4.7" device it was the perfect size. Using the S6 5.1" now and it's slightly to big for comfortable use. dreaming of electric sheep

It is eh, alright looking. It would be cool if it is actually 5" though.

Nasty thing with horrid bezels! Have HTC/Google lost their minds with that design? Are we going back to 2010/11 designs or something? Tell us again WHY it did not have front facing speakers since it is so obvious there is plenty of room for them? Bad design, just outright poorly designed. Look towards the Moto X Pure Edition. A sexy 5.7 inch phone with minimal bezels, or the Nexus 6, a 6 inch phone with minimal bezels (6P is bigger though with is pathetic) both sporting front facing speakers! Moto knew their thing, (not with the Moto Z they don't). As with the 6P, I'll wait and see how this looks fully fledged, but this just looks bad. Really bad. A 5 inch phone as big as a 5.5 inch device. Makes absolute sense.

Tough to get a sense of the true design. I would not be surprised to see the Google name more prominent on these phones. Nerds know the Nexus name, but the average phone buyer is much more familiar with the google name. A google branded phone would certainly have more appeal in a retail setting than the Nexus name.

Hopefully, the glass back means wireless charging this time around. Posted via the Android Central App

Those bezels are a travesty. All that wasted screen space. I can't believe htc has done it again.

What's the ETA? Posted via the Android Central App

Did you read the article?

I'm guessing there will be no complaining about glass this time around. Looks sweet! Posted via the Android Central App

Lol, true. I'm a Nexus guy but very true. Glass is the best unless it's Samsung glass. Posted from Nexus 6

The camera physically looks really small. Do you think it'll be as good as last year's Nexii?

iPhone cameras always look super tiny and take great pics.

While the new phones look nice - I will wait a year or two to get another Nexus device. I just received my new Nexus 6p last week and I'm loving it. $399 for a 64GB Nexus 6p is pretty great. There is something to be said about waiting to get a phone a year after its release. I'm running the latest Android 7 preview and I have yet to encounter any issues with the phone at all - not even Bluetooth issues. I love the large 6p screen and its the perfect size for me. I do not like that they are going down in screen size for newer models.

These pics aren't showing the true or the full story. That bezel has got to be for a fingerprint scanner, a second speaker or at least off-screen capacitive controls.

None of the above. Looks like big bezels and that is it. If the top and the bottom are the same size no big deal. I don't like it when bottom is larger than top. I'm funny like that. Posted from Nexus 6

Take another look at the pic. Look at the odd shadowing angle in the bottom left corner of the bezel. It appears to me as though the lower bezel has been purposely obscured or blacked out in that pic.

I don't know, everything I read says scanner on back , no front facing speakers and I know Google will not go to hardware keys. We will have to wait for better pics. Posted from Nexus 6

They look identical to me when you factor in the picture angle. Posted via the Android Central App

I love how you all drool all over a fuzzy, cropped out image of a phone and say I'll but it. I'm thinking if I were to post a sheep with a nexus logo on it you would too.

These nexus "fanboys" are something else I tell you lmao Posted via the Android Central App

The Nexus 6 is still the best looking phone out of the 6p and whatever that hideous looking thing is... I'm honestly disappointed. Posted via the Android Central App

You just say it man, i love the Nexus 6 form factor. It's big i know, but the form factor is awesome and practically no bezel if it's not for the front facing speakers and camera. I'm still rocking a Nexus 6, still a great phone.

The Nexus 6 was a fantastic phone, a little big but still great. For this reason I purchased the Moto X Pure which IMO is the perfect size and awesome build quality. I do miss the Nexus updates though. Posted via the Android Central App

Nexus 6p, I said it was ugly and many people said the same thing. That was in the pics leaks from last year. It turned out that the 6p was a beautiful design. So far the leaks for the HTC Nexus look pretty bad but this time I'm gonna wait to see the final result before trashing the phone. Posted via the Android Central App on Moto G3 16/2 on $35 Cricket wireless plan.

6p is far from beautiful Posted via the Android Central App

Is that the Nexus 4? Posted via the Android Central App

Hopefully it's more like a Nexus 4. Posted via Techmology

I'm sticking with my Nexus 6P this cycle -- I love the larger form factor. What I really want is a new Nexus 7.

Can't wait for HTC metal.... The 6p be crap build quality. And if u think otherwise u have been duped... Posted via the Android Central App

Yours was crap build quality.

So were 3 I had. I gave up after the 3rd replacement. The aluminum bends like tobacco foil. Posted via the Android Central App

The Nexus 6p was most definitely crap build quality. Posted via the Android Central App

The one thing I hated about the 6p was the build. My co workers use to call my phone the "contraption". Posted via the Android Central App

I really hope this is just a prototype and not the final design. Fugly.

That bottom bezel is horrible. I'm sorry but I got too used to front facing speakers. HTC forgot a long time ago what symmetry is. If that bezel is there for no reason then they failed. We'll see how the final versions of both models turn out though.. Posted via the Android Central App on my Nexus 6P

If it's smaller than the 5X and has more than 2GB of RAM, I'll be getting it.

Surprised everyone hates the bezel and not the ugly back... Posted via the Android Central App

From the pic I like how the back looks different.

It's wait and see time. The 6P looked awful and turned out to be a great looking phone. I would also think if this would resemble a current HTC device if HTC and Google got lazy in design it would be the HTC 10. I would imagine this is an early prototype.

I think 5.2" is the perfect size and gotta use to that on my current 5x so I wish they stayed with that size. Looks like I'm going to get the 5" one with max storage after its been out awhile (reviews) Since I only got this phone just to try out Google Fi and got the 16gb version which is definitely not a good choice for a phone without sd storage so upgrading a must.

How will it compare to the DTEK50? Posted via the Android Central App

Well, for one, the processor would be much better than the SD617 in DTEK50. So, expect great performance. And hopefully, cameras would be as good as the 5X/6P (better than the DTEK50), if not better.

All I care about is an LED notification light. I don't care how it looks otherwise. The back reminds me of an EVO LTE from a few years ago (minus the cool kickstand of course) http://i-cdn.phonearena.com/images/reviews/115079-image/Samsung-Galaxy-S...

So they're revamping the HTC Evo? I don't have high expectations from Google anymore specially coming from HTC. From what it looks like it's gonna be thick af and huge bezels. And let me guess? slow camera, no wireless charging, LCD screen, none expandable storage SD card? Hmm no thank you. Posted via the Android Central App

I have to decide between Marlin and Note 7

All a bigger bottom bezel means to me is that I don't have to reach my thumb as far down to touch the bottom of the actual display. I think it's better. Posted via Xperia Z5

Definitely an HTC with those huge bezels. Giving apple a run for their money...

I thought the same thing. I guess at least the Nexus has changed over the years. The iPhone looks pretty much the same, save for size. Posted via my G5

I've been waiting for the timing to be right for me for a Nexus for a few years. Hopefully this one will look better in person than these leaks. With all due respect to David Ruddock who I almost always agree with, the bezels are unacceptable. Smaller bezel and Qi charging and I'm in.

I'm disappointed in these images,but I'm going to wait and pass final judgment when I can see decent real/official images.I hope they end up looking much better than this. Posted via the Android Central App

Looks like if I upgrade this year from my N6, it'll be to a 6P. Why HTC? Just so much no. Unlocked Marshmallow Nexus 6 on Verizon. I'm a happy guy.

Looks pretty much like every other smartphone today. A flat slab of black metal and glass. Boring.

All these commends are even more positive than 6p's back in rumor's days. Do not forget that the 'upcoming ugliest phone made its way to the best android one of the 2015-2016 back in the days Posted via the Android Central App

The glass back reminds me of the Nexus 4... and that is a beautiful thing!
Android Central Newsletter
Get the best of Android Central in in your inbox, every day!
Thank you for signing up to Android Central. You will receive a verification email shortly.
There was a problem. Please refresh the page and try again.