1SaleADay offering Acer ICONIA 7-Inch Tab for only $180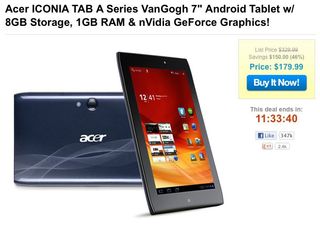 If you're looking to get into an Android tablet on the cheap then 1SaleADay may have just what you're looking for. Right now, you can pick a Acer ICONIA 7-Inch Tab for only $180. Spec wise, you're looking at a Android 3.2 tablet powered by a 1Ghz Tegra 2 processor with 1GB of RAM and 8GB of internal storage. A 5MP rear facing camera and 2MP front facing camera will help you fill up that 1024 x 600 display and if you're looking to share things, WiFi is on board to help. Need more space? There is a microSD card slot included and right now you can pick up a SanDisk 32GB Class 4 High-Speed MicroSD Card from the same spot for only $15. Any takers?
Great Price. I've had mine since Oct, and it's been great. For this price I'd deffinately recommend it. Acer has confirmed the official ICS OTA for April 27 as well, so this one is a winner.

Gets you thru the day. Its Wifi only so its not going far from an outlet. Still, too small for my tastes. Neighbors have both a 7 inch and a 10 inch, and the 7 never gets used.

Battery life is not so good. But I love my Iconia

Hey Android Central! https://www.androidcentral.com/e?link=https2F2Fcli... also has Two versions of the Dell streak up! Same price for the wifi/3g/4g version and less for the wifi only version. Just a heads up :)

I would have to recommend the Acer over the Dell...better resolution and will definitely get ICS while the streak was lucky to get honeycomb.

I had a Streak and the screen isn't great, got rid of it.

And they just lowered the prices for the 2nd time today. $179 for WiFi/3G and $139 for WiFi only. I'm guessing they've sold a grand total of 0 units today.

My wife has the A100 are really likes it. The 7" screen size is pretty good, and it definitely is not as heave as my 10.1" gTablet. Plus, the fact that it will be getting ICS in less than two weeks is a definite plus.

I just went for one of these -- I've been wanted to get a smaller tablet. I'm looking at available accessories -- do I need a screen protector for it? Also, it seems that the charging port is non-standard -- is that correct? TIA

I don't use a screen protector on mine. You shouldn't need it unless your rough with it. Good luck finding a variety of accessories...not much out specifically for this little guy. The charging point is a non-standard barrel type charger--which is a negative. But you will love this!

Tempting. Still don't know what I'd do with a tablet though.

Porn, read books, and porn.

Indeed. I'm all screened out between the phone, laptop, monitor, and TV. I can't really see the point of a tablet yet. I guess if I did more shoots, the superior battery life would be worthwhile but I think I'd get either an ultrabook or the transformer with dock instead.

I'd get one, but I have a Flyer.

Well, I decided to pick one up, since I've been looking for a 7" tablet to take with me on a road trip later this summer. If the Asus/Google SooperDooper 7" Nexxxus tab drops before my trip, I'll reevaluate my options. Until then, I'll mess with this one.

Grrr REALLY tempted to get this but I know if I do the Memo 370t will be released tomorrow.

Grrr REALLY tempted to get this but I know if I do the Memo 370t will be released tomorrow.

What does Van Gogh have to do with this product?

Thanks to this post I just ordered an A100. Unfortunately I missed the deal, but it lead me to find a great spec'd tablet. Bought a refurb from Amazon around the price of the deal.
Android Central Newsletter
Thank you for signing up to Android Central. You will receive a verification email shortly.
There was a problem. Please refresh the page and try again.