10 essential accessories for the Galaxy S6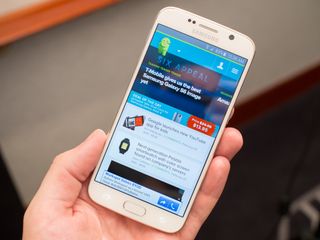 We love our toys; whether it's the latest quick charger, rugged case or backup battery — we've got to have them. While we haven't seen an abundance of accessories for the Galaxy S6 just yet, there are still plenty of choices that will quench your thirst for cool things.
This comprehensive list of Galaxy S6 accessories will help you stay ahead of the game in protecting against damage, keeping your battery alive and simply enjoying everything your device has to offer in the best way possible. Jump to the next slide to take a look at the first of our essential accessories for Galaxy S6.
READ MORE: 10 essential accessories for Galaxy S6
Samsung 2A Adaptive Fast Charging Micro-USB Car Charger
This Samsung Galaxy S6 car charger packs Quick Charge 2.0 technology and promises a 75% increase in charging speeds over your traditional charger. Both the charging adapter and 5ft. micro-USB cable sport a brilliant white color and work seamlessly with your Galaxy S6.
It's even backwards compatible with devices that don't have Quick Charge capabilities, still providing a steady 2A charge. A must-have car charger for any Galaxy S6 owner.
Buy the Samsung Quick Car Charger here!
Verus Thor Active Case
Becoming a favorite amongst the Android Central community, the Verus Thor Active Case has a unique look and an incredibly protective design that utilizes a shock absorbing core and a rubberized polycarbonate exterior shell. What's more is each corner of the case is reinforced with extra padding to protect the major impact points.
Included with the Galaxy S6 Thor Active Case is a durable holster that features a swivel clip and retractable kickstand that's been built-in — great for watching movies on the go. Did we mention it comes in up to 9 different colors?
Buy the Verus Thor Active Case here!
Samsung Wireless Charging Vehicle Dock
Wireless charging is a great commodity for your home of office, but why not bring that same convenience to your vehicle?
This Samsung Galaxy S6 wireless charging vehicle dock can be mounted to your windshield or dashboard and lets you power-up your device without having to mess with cables. It comes bundled with its own microUSB cable and car charging adapter for plugging into the base of the mount, as well as a 3M adhesive pad for dash mounting.
You can rotate your device vertically or horizontally in any position, depending on what's most comfortable for you while driving. From our experience, however, this mount works best with either a very thin case or no case at all; making it a more suitable choice for those who prefer their Galaxy S6 naked.
Buy the Samsung Wireless Charging Vehicle Dock here!
Spigen Crystal HD Screen Protector
Undoubtedly, you'll need a worthy screen protector for your Galaxy S6 that will hold up against common abrasives. Spigen's Crystal HD Protector is an excellent choice, providing not 1, but 2 front protectors and even a film for the back — uncommon with many aftermarket brands.
This Galaxy S6 screen protector comes with a 3H hardness rating and doesn't interfere with touch screen responsiveness or sensors. Best of all, it's dry apply — meaning there's no application gel to make a mess of.
Buy the Spigen Crystal HD Screen Protector here!
Samsung 2A Adaptive Fast Charging Micro-USB Wall Charger
Double-up on your quick chargers around the house with this Samsung Galaxy S6 wall charger featuring Quick Charge 2.0 technology. Just like its car charger relative, it provides a 75% increase in charging speeds and fits into a standard US outlet without hogging all the space.
The included 5ft microUSB cable plugs into the side of the adapter and straight into your Galaxy S6 for a quick and reliable charge. It's also backwards compatible with all other microUSB smartphones and tablets without QC 2.0, at a regular 2A rate.
Buy the Samsung 2A Adaptive Fast Charging Micro-USB Wall Charger here!
TYLT POWERPLANT 5200mAh Portable Battery Pack
A solid backup battery for your Galaxy S6 is a great idea. Those long trips when you don't have access to a charger or a weekend camping getaway where electricity isn't an option are where an accessory like the TYLT POWERPLANT can be your savior.
Its built-in 5200mAh lithium-ion battery provides enough juice for a couple charges when you need them and even features an attached micro-USB cable for connecting your Galaxy S6. On the POWERPLANT you'll also find LED's that indicate your remaining battery life along with a spare USB port for charging a second device if necessary.
Buy the TYLT POWERPLANT 5200mAh Portable Battery Pack here!
Spigen Neo Hybrid Case
This Galaxy S6 hybrid case is a home run for anyone looking for a slim cover that can withstand serious drops. Spigen is known for their quality and unique designs, showing that this Galaxy S6 Neo Hybrid case is no different.
Around the edges is an aluminum bumper, that doesn't interfere with your cell signal, followed up by a shock absorbing TPU core and durable polycarbonate exterior. As you would expect, there's complete access to your display, camera, ports and buttons while the case is on. It's an excellent choice for low-profile protection.
Buy the Spigen Neo Hybrid Case here!
Ventev Stylus Pro
Having a stylus for your Galaxy S6 gives you to ability to be more accurate with certain games, drawing and writing. It just makes sense to have one on hand. Ventev's Stylus Pro not only provides lightweight accuracy, but even doubles as a writing pen on the opposite end.
Available in 4 different colors, this Galaxy S6 stylus rocks a soft grip, a clip for attaching to your shirt pocket or bag, and a rounded tip that makes swype gestures a breeze.
Buy the Ventev Stylus Pro here!
Samsung Wireless Charging Pad
There's no way around it — the Samsung Wireless Charging Pad is a must-have for any Galaxy S6 owner.
This charging pad comes with everything you need to get started, including a 2A micro-USB charger to plug into the pad. There's even a charging LED on the top that keeps you informed of your battery's status. It's portable and great to have around the house or office. Best of all, it's compatible with any other Qi-compatible device!
Buy the Samsung Wireless Charging Pad here!
SOL REPUBLIC Jax Headphones
Finally, you'll want to pick up a new pair of headphones for your Galaxy S6 that will give you quality sound, both through the earbuds and microphone. SOL REPUBLIC's Jax headphones are our most popular choice here at ShopAndroid.
The powerful, high quality sound that these headphones provide make your hands-free calls and music listening experience truly pleasurable. They come in black, blue, white and lemon lime colors.
All seem to be very useful accessories. Awesome! Posted via the Android Central App

Really digging for the advertisement dollars here on this post huh? New page for each item, huge banner ad, etc etc

Go back to WebOS...oh wait... I guess you do not come here too often, they have been playing with the design of the pages lately and this format is on several articles.

Oh and it is not a new page for each item. It is one page.

WebOS? Also sure it's technically one page but you can see all the advertisements refresh, hence more $ in their pocket based on page views.

You have three comment posts, two are here. You have been a member forever and the only other thing on your profile is WebOS. Go back to it. As far as page views go, the same can be handled with a bit of AJAX/Java and a timer to rotate the ads on one page for the whole article. Get over the layout. Hit "view all" and your problems will be solved. Besides, would you rather them put up a paywall or have a premium section that costs? No I would think not.

Filler article, meh products.. I expect more..

Why are people upset? There aren't different ads for each page. Plus, you can view them all as one.

People just like to complain and troll. Posted via the Android Central App

Yep! Posted via the Android Central App

With the exception of number 6 and 7, i find none of the rest "essential".

Number 7 will result in a broken phone with that thin case, even their tough armor is a joke.

That Verus Thor case looks to be a great choice. Not planning to pay extra for charging accessories, though, just because Samsung made it. Cheaper options elsewhere. Posted via the Android Central App

Wow those cases look so ugly on such a beautiful phone. Only people using cases should be the ones having that ugly Verizon logo.

$32 is just way, way too much for a charger! Posted via the Android Central App

#11: External micro-SD slot. Yes im going there.

$90 for a Qi car dock.. FYI There's this big chinese online shopping company called aliexpress, you can buy them for like $30.

I too loathe the click bait turn this site has taken with its articles. That opinion aside, it's not shocking that a site with a store will push products from their attached store. However you are able to find cases and accessories much cheaper if you spend some time and are patient. Spigen s6 cases on amazon have been as low as a dollar. Qc quick chargers, aukip brand, are as low as $15 with many below $20. In fact I just got one yesterday from power partners for 19.99 that even provides up to 30w for when tablets are compatible with this technology. All of these are ul listed and on the Qualcomm website to prove compatibility. I wouldn't recommend any that aren't listed there for safety. As far as external batteries, I'm waiting for when they make qc 2.0 compatible models. As far as wireless charging, those prices seem awfully high.

Hey Guys, Just now I found an amazing accessories for new Samsung Galaxy S6 at just $15. Check it out at
https://www.kickstarter.com/projects/853175871/skiva-ultrahd-4k-hdmi-vid...

I have an S5 and I was at AT&T today looking at the S6 active. You cannot make changes to the battery saving mode like the S5.
Android Central Newsletter
Get the best of Android Central in in your inbox, every day!
Thank you for signing up to Android Central. You will receive a verification email shortly.
There was a problem. Please refresh the page and try again.