YouTube Music vs. Amazon Music Unlimited: Battle of the bundles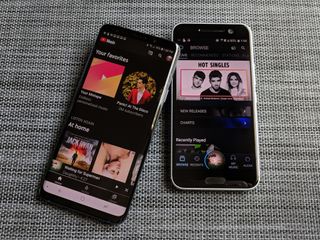 YouTube Music
YouTube Music is new, weird, and exciting, and if a song exists in the world, you can probably find it here. Built upon the backbone of the most popular video platform in the world, YouTube Music is still working out its kinks, but it makes YouTube Premium a worthwhile media subscription.
YouTube Music
Truly unrivaled music database powered by YouTube.
Easy controls and playlist sharing.
YouTube Premium unlocks features in six apps.
Still working out a lot of bugs.
Features needed before Google Play Music migration.
Amazon Music Unlimited
Amazon Music Unlimited is quite a decent music service, especially if you're an Amazon Echo user or you frequently buy music from Amazon's store. Amazon just makes the tiers of its music services more confusing than Google does, which is a feat in and of itself.
Amazon Music Unlimited
Solid, stable cross-platform music player.
Integrated music store for augmenting subscription catalog.
Works with Amazon Alexa, but not Google Assistant or Apple Siri.
Abounding confusion over tiers and features.
Availability, bugs, and compatibility
Amazon Music Unlimited has been around the block for a while, so it's a more polished service that's available a few places YouTube Music is not, including Android Auto and a dedicated desktop app. Amazon Music Unlimited isn't available on Google Assistant — and YouTube Music isn't available on Amazon Alexa — but Amazon Music Unlimited has a more stable Chromecasting experience than YouTube Music does. This is as odd as it is unfortunate since YouTube Music is one of the four music apps integrated with Google Assistant since day one.
YouTube Music just rolled out their improved audio quality controls, bringing their highest audio quality up to 256kbps AAC, which "is equivalent in audio quality to the 320kbps CBR mp3 that we had for GPM, but it uses less data" according to YouTube Music's product manager Brandon Bilinski. Amazon Music Unlimited is 256kbps, has slightly more lyric support than YouTube Music — which is again as odd as it is unfortunate since the lyrics pop up right below the YouTube video when you google most popular music.
| | YouTube Music | Amazon Music Unlimited |
| --- | --- | --- |
| Wear OS app | ❌ | ❌ |
| Android TV app | YouTube app | ❌ |
| Android Auto compatibility | ❌ | ✔️ |
| Web client | ✔️ | ✔️ |
| Desktop client | ❌ | ✔️ |
| Chromecast compatibility | Unstable | ✔️ |
| Google Assistant compatibility | ✔️ | ❌ |
| Amazon Alexa compatibility | ❌ | ✔️ |
| Overall stability | Buggy | Stable |
| Max audio quality | 256 kbps | 256 kbps |
| Lyrics | Lyric videos only (display on device and Chromecast) | Xray lyrics (only on phone) |
| Gapless playback | In the works | ❌ |
| Available countries | 20 | 46 |
Amazon Music Unlimited is a bit stale but stable. YouTube Music is shiny, "new," and weird, and that brings with it a lot of bugs, and YouTube Music's team is working to fix them, but they're outnumbered and it's been a slow process. In the meantime, though, YouTube Music is definitely still a viable, usable music app — I've been using it pretty consistently for five months now, and I wake up to it every morning — but the bugs are annoying and absolutely worth mentioning, especially in regards to casting and library management.
Bugs aside, features like algorithmic mixes and recommendations are already hitting it out of the park. Three days in, Your Mixtape played Play's self-titled album out of the blue. This 24-minute, 2001 album with a generic name — by a Swedish girl group with a generic name — is usually a bear to try finding anywhere, and YouTube Music dumped this grade school flashback in my lap less than a week into our relationship.
Even after months or years of listening history, no other music service has come as close to "getting me" as YouTube Music's Your Mixtape. Even today, it's still shocking me with songs I love that I didn't even know were in YouTube Music's seemingly endless database.
Going beyond: YouTube Music's unmatchable selection
It's hard to overstate just how ridiculously big the music selection is on YouTube Music because YouTube is the biggest video platform in the world and one of the most-turned to places for music and music videos. Granted, depending on what content is in a video and how a video is classified, it may only appear on YouTube, not YouTube Music, but user-uploaded content isn't all YouTube Music has.
YouTube Music also has content deals with various record labels for a selection similar to Google Play Music's 35 million+ song catalog. Between that more traditional catalog and the millions upon millions of music videos, lyric videos, mashups, remixes, fan covers, and uploaded music of every color and legality, YouTube Music's selection blows Amazon Music Unlimited out of the water.
| | YouTube Music | Amazon Music Unlimited |
| --- | --- | --- |
| Songs available | Unknown | "Tens of millions" |
| Library limit | Unlimited | 100,000 songs |
| Playlist size limits | 5,000 songs | Device-dependent (500 songs on some platforms) |
| Offline limits | 10 devices, unlimited songs | 10 devices, unlimited songs |
| Device limits | Only for offline (10 devices, 4/year automatic de-auth limit) | 10 devices |
When it comes to corralling that selection into a library, YouTube Music still has the advantage. While Amazon Music Unlimited's 100,000-song library limit is far higher than Spotify, Deezer, and Tidal, YouTube Music's library is unlimited. Individual YouTube Music playlists may be limited to 5,000 songs, but you can add as many playlists and albums to your library as you want.
Amazon Music can hold thousands of songs in a playlist, however on Android, there's a bug where you can't see or download past 500 songs, which is a bit of a downer. Both Amazon Music and YouTube Music have device limits of 10 authorized devices, but YouTube Music only authorizes a device when it's being used for offline content, whereas Amazon Music authorizes devices whether you're using offline or not.
While Amazon Music did have a music locker that would integrate with Amazon Music Unlimited in the past, that function has been retired and current users are being phased out of it. Meanwhile, YouTube Music doesn't have a music locker at the moment, but it's going to have one eventually as part of the eventual Google Play Music migration — and you can upload 50,000 songs to Google Play Music for free and listen to them there until they make the jump to YouTube Music down the line.
Bundles and bungled deals: finding the best deal
Before we get started, let's get one thing straight: if you're going to pay for YouTube Music, for the love of the gods of music, buy YouTube Premium instead of YouTube Music Premium. YouTube Music Premium is 83 percent the price of YouTube Premium with only 17 percent of the benefits. YouTube Premium is a phenomenally better value, especially once we get into family plans and the quagmire that is Amazon Prime bundling "discounts.
| | YouTube Premium | Amazon Music Unlimited |
| --- | --- | --- |
| Standard Price | $12/month | $8/month with Prime ($120/year) or $10/month without Prime |
| Yearly cost | $144 | $216 with Prime or $120 without Prime |
| Student Discount? | ❌ | No student discount on Unlimited, Prime Student ($60/year) |
| Student yearly cost | $144 (no discount) | $156 |
| Family plan? | $18/month | $150/year with Prime or $15/month without Prime |
| Family plan yearly cost | $216 | $300 with Prime or $180 without Prime |
Amazon Music Unlimited can sound like quite the bargain on its face: $8/month for Prime customers and $10/month for everyone else. That's $2 a month, or $24 a year in savings, but Amazon Prime is $120 a year, meaning that looking at Amazon Prime + Amazon Music Unlimited as a video/music bundle like YouTube Premium, YouTube is only two-thirds the price and comes with a second music subscription to Google Play Music as a bonus.
| | YouTube Premium | Amazon Music Unlimited |
| --- | --- | --- |
| Family/content settings | Restricted mode | Block Explicit Songs |
| Music offerings | YouTube Music, Google Play Music (with Google Play music store integration) | Amazon Music Store integration |
| Video offerings | YouTube Premium, YouTube Kids, YouTube Gaming, YouTube VR | Amazon Prime Video |
| Video purchase integration | YouTube/Google Play Movies & TV store integration, Movies Anywhere digital copy integration | Amazon Video store integration, Movies Anywhere digital copy integration |
Granted, there's a lot of features to take advantage of with Amazon Prime — free two-day shipping, unlimited photo backups, etc. — but a small discount on a streaming music subscription doesn't really rank up there with the other mainstay benefits. Comparing the selection and features of YouTube Music and Amazon Music Unlimited, a $24/year discount doesn't quite stack up to the almost overwhelming selection on YouTube Music, especially when paired with Google Play Music and YouTube proper through YouTube Premium.
Again, I really can't stress this enough: buy YouTube Premium instead of YouTube Music Premium.
Bigger (beta) Selection
YouTube Music
Jam out with just about any song ever made — and a fair few bugs.
YouTube Music marries the biggest video platform in the world with traditional label-contracted songs and a colorful, dynamic (and slightly buggy) experience. As part of YouTube Premium, you also get a two-for-one music subscription deal: YouTube Music and Google Play Music, which makes it the best value, best selection, and the best buy in music streaming today.
The Alexa choice
Amazon Music Unlimited
Amazon's music subscription alternative is built to compete.
It might not be quite the shiny new toy that YouTube Music is, but Amazon Music Unlimited is stable and easy to use. If you're a dedicated Amazon Echo user or Amazon Prime user, this subscription can fit well and keep your music flowing.
Ara Wagoner was a staff writer at Android Central. She themes phones and pokes YouTube Music with a stick. When she's not writing about cases, Chromebooks, or customization, she's wandering around Walt Disney World. If you see her without headphones, RUN. You can follow her on Twitter at @arawagco.
Android Central Newsletter
Get the best of Android Central in in your inbox, every day!
Thank you for signing up to Android Central. You will receive a verification email shortly.
There was a problem. Please refresh the page and try again.