YouTube app update brings HD quality to capable Froyo and Gingerbread devices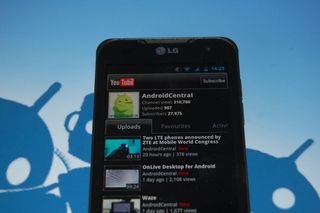 It seems that Google have gone and snuck another little YouTube update into the Android Market. This one is directed towards anyone on Android 2.2 and 2.3, and brings HD video streaming to anyone on those platforms with a capable device. That isn't going to be a good portion of you, but if you're one of the lucky ones then with this update you should see some better looking videos.
It seems to be a hit and miss update too. Not all devices have been showing it up -- which sounds very familiar. There are also reports that not all devices are able to install it via the Market either.You can find some handy download links can be found after the break.
HD videos look great on my Galaxy Note!

I envy you :P I'll be on my Fascinate for probably another year. Screen still looks great, but its not HD. My biggest beef with the phone is the RAM is low. Oh well, if the GS3 is on Verizon maybe I'll get that and be able to enjoy HD videos :)

HD Works great on the HTC Rezound! Been waiting for this!

So I got the update yesterday on the samsung infuse and I don't really notice any difference.

I guess I am confused. My YouTube app has always had hd. Since mytouch4g days. This was before the mytouch was updated to 2.3. Hell now that I think on it my nexus one had it too and that was 2.1

Yeah same here with my Charge, always had HD. Maybe it's more HD-ier now?

hmm, in 2010 i bought original Galaxy S with OS 2.1 and it had HD video playback on YT app so whats new about this update?

It wasn't hd. It was HQ. High quality is not full 720p hd video. And if you don't see a difference its because you don't have a galaxy note or HTC rezound which i'm pretty sure are the only pre 4.0 phones with a 720p screen.

I can't even download the update my epic 4g touch is not even compatible wtf Google.

Dude its not compatible because your screen isn't hd. There would be no difference to you.

Wow, I always see people saying it isn't going to make a difference on the Epic Touch because of its WVGA. They obviously have never watched a HD youtube clip on it. I stream 720p HTML5 Youtube videos all the time on it and its night and day. Either through Tubemate's app, or with the Ipad useragent in Dolphin HD's browser. And believe me, it's a big F***ing difference.

Must've updated last night, works great on Verizon Droid Razr.

Updated last night and watched some HD vids. Looks amazing on the Rezound!

Oh hell to the mother effing ya! It works awesome on the galaxy nexus! What a big differences from HQ to HD... HD looks so good on the super amoled screen.. Wow thanks Google!

I have a samsung galaxy SII. I havent got any update yet. How can this update be not available for Galaxy SII? it has FULL HD support :S

Whats the version number with this hd update?

Awesome, now we just need HD on the 4.0 version.
Android Central Newsletter
Thank you for signing up to Android Central. You will receive a verification email shortly.
There was a problem. Please refresh the page and try again.