Your public Google+ images might now show in Google Maps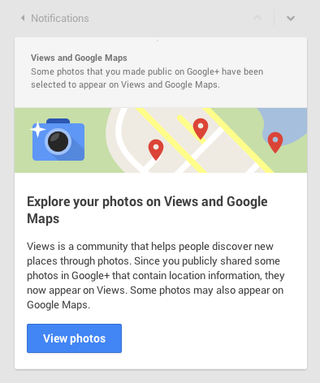 You absolutely still have control over your own stuff, but now's a good time to check what you've been sharing
Google recently started making some photos that you've posted publicly to Google+ visible in Google Maps as well, as evidenced by the notification we all got in Google+. That's not in and of itself a bad thing, nor is it an invasion of privacy. In order for an image to appear automatically in Google Maps, it has to meet four criteria as set by Google and enacted by you:
A photo must be public
A photo must have a location associated with it
A photo must be in a public album on your Google+, with the "Show location" setting checked
A photo must adhere to Google's content policies
So Google Maps is only getting pics that you shared publicly in the first place, with location attached. Not evil, even if it does raise eyebrows for at least a few seconds.
But it's also a good opportunity to remember that is absolutely possible to post pictures to Google+ and leave the location attached when you might otherwise not want it made public. Say, pictures taken at home. Or from someone else's home. And while it's easy to hide locations of photos you've posted to Google+ from website itself, currently there's no easy way to do it from the Google+ app. (If there is and I'm just missing it, please enlighten me.)
The good news is Google's actually made it sort-of easy to see which pictures you've shared to Google+ have locations attached to them, as well as which ones are now shared on Google Maps. Go to g.co/views, then click your name. (You'll need to be logged in, obviously.) Then use the overflow menu on the right and choose what you want to see. Click into the individual picture, then hit the overflow menu again, and you can mange the location sharing data.
OK, it's a few steps. And really, Google needs to make it as easy to unshare your location as it is to share it in the first place. But this is certainly better than nothing, and it's worth taking a few minutes to audit what you're sharing with whom.
Have you listened to this week's Android Central Podcast?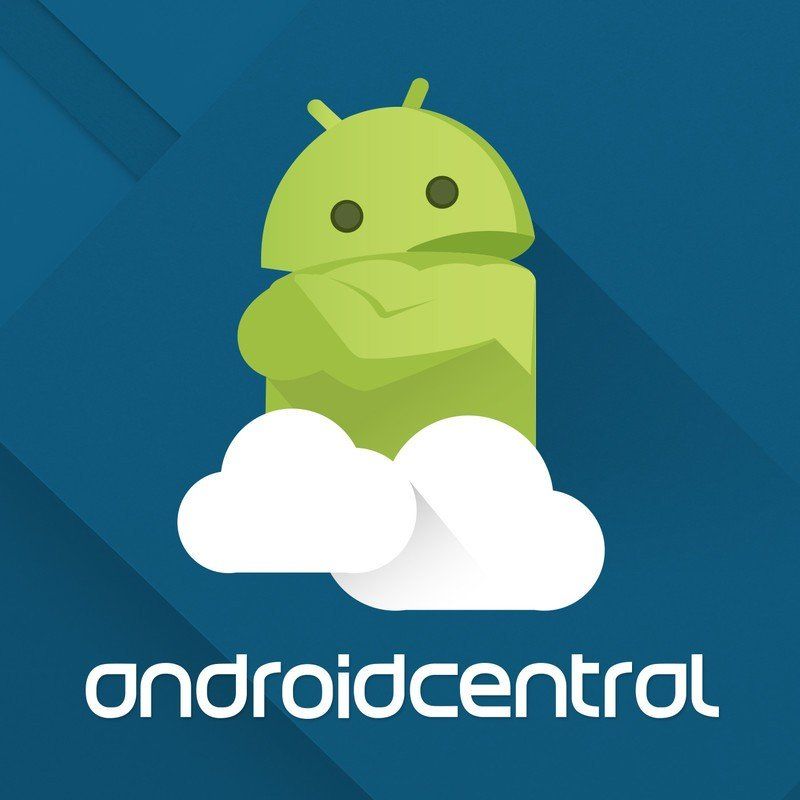 Every week, the Android Central Podcast brings you the latest tech news, analysis and hot takes, with familiar co-hosts and special guests.
Get the Android Central Newsletter
Instant access to breaking news, the hottest reviews, great deals and helpful tips.
I got a notification one of my pictures had been picked to appear on Google Maps but when I clicked on it there was nothing there.

I was at Photokina in Cologne earlier this week and Google Maps team was there promoting this feature.
I didn't have time to ask them, but I'm wondering if this means that Panoramio, which Google bought some time ago and offers similar thing, but with manual submissions, will now be merged with Google Views and eventually shut down. Kind of seems logical way forward.

Are you fucking joking me Google? Posted via Android Central App

Are you fukin joking?? you worry about a picture you publicly posted online

STFU Zig. Go pitch your fit in the corner like the rest of the 8yr olds.

Don't like Google? Don't use their products. Pretty damn simple. Posted via the Nexus 5

Not a big deal really. Just don't use Google+ to store family pictures, or anything else that is not meant for everyone. There are other photo services out there. Posted via Android Central App

No it's even easier. Just don't make anything that you don't want to make public public. Posted via Android Central App

Bingo. I've got hundreds, if not thousands of photos backed up to G+. The only ones anyone can see are the few I've shared specifically with them.

I don't have any, other than profile and cover pics. Still, cue internet outrage from idiots who don't understand what the word "public" means. Waiting for wall street journal "article"... Posted via Android Central App

Do they notify when one of your photos was selected?

There's a setting you can adjust to get an immediate notification. You can also get periodic reports.

Yeah, I received an email yesterday that they were using a few of my photos.

Like was already commented here, if you don't want your photos to show up in "Views", don't post them publicly. Post them to "Your Circles" or "Extended Circles" instead and you won't have to worry about it. Personally, since I'm an amateur landscape photographer, I like this feature and welcome my photos being shared on Google Maps. I think about 130 of mine were used.

Dang that's awesome! Posted via Android Central App

ya it says its using 2 of mine, but it doesnt show them anywhere.. screeny: https://dl.dropboxusercontent.com/u/11830812/Screens/2014-09-20_11-36-33...

Phil, thanks for posting this.

Google sent me a notice about this yesterday. Seems they picked a picture I took of the Gothic house in Iowa. A couple of a bridge that runs over the Mississippi into Illinois. And two of my back yard...
The last one has me a bit baffled.

I like it and find it flattering that they liked so many of my pictures. I approved almost 30 of them yesterday. Posted via Android Central App

I don't want my ugly mug showing up on a map. Posted via the Android Central App

They picked about 20 of my pictures as well, a few shots of the football stadium in my city, and a few landscape shots I took on holidays. Kinda neat.

Someone should seriously highlight the fact that you cannot stop google plus from uploading our photos. Try this: turn off google plus photo sync and backup (Backup needs to be turned off from within the google plus app). Then come back to the google photo sync settings a few days later and youll see that its been reactivated. I wrestled with this on two phones: Galaxy note three and a nexus 5. I even tried factory reset and the same test on both devices. The only way I was able to get google plus to stop doing this was to dissable the app itself.

Here is a whole troubleshooting forum on this issue: https://productforums.google.com/forum/m/#!topic/nexus/VXy7UzbwjKQ

I think this is great. I've been uploading photos to panoramio and this is much easier lol

You may remember that there was that story about an MH 370 passenger supposedly posting a pic taken in a military facility on Diego Garcia. The story claimed that you couldn't fake the GPS information in a photo, so to disprove it, I took a photo that was clearly me in my office, then changed the EXIF information to the coordinates of the West Wing. Guess what photo Google decided to make part of Maps?