Microsoft's Your Phone app can now manage Android notifications on your PC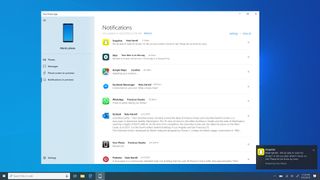 What you need to know
Microsoft's Your Phone app for Windows 10 can now mirror your Android notifications.
You'll be able to view and manage notifications as they come in, without picking up your phone.
The feature is rolling out broadly for all Your Phone users now.
After months of testing with Windows Insiders, Microsoft's Your Phone app can now mirror notifications from your Android phone. The feature is now rolling out broadly to all Your Phone users, allowing you to keep your phone firmly on your desk and deal with notifications on your PC.
Any notifications that you would normally receive on your phone will now live in the "Notifications" section of the Your Phone app on Windows 10. Whether the notification is from Twitter, Facebook, Messenger, or any other app, dismissing it from your PC will also dismiss it on your phone, and vice versa.
In order for the feature to work, you'll want to make sure you're using the Windows 10 April 2018 update or later. You'll also need to be running Your Phone version 1.19052.657.0 or later. Your Phone director of program management Vishnu Nath stated on Twitter that the rollout has currently reached about 50 percent of PCs, but it should be completed within a week.
It's worth noting that notifications don't yet support quick replies, but that should be coming soon. If you want to give it a shot for yourself, you can get started by linking your Android phone to the Your Phone app on Windows 10.
See at Microsoft (opens in new tab)
There is a type in the article, it should read .. "make sure you're using the Windows 10 May 2019 update or later. "

I don't see a 'type'... nor do i see a typo...

You should've capitalized that second 'I' in your post. 😦

oh, the irony! ... A typo while reporting a typo. Or, is it a type while reporting a typo? or a typo while reporting a type? it's all very confusing.

Hmm.. Any privacy or security gurus out there want to explain if any of the content of the notifications are passed through, stored or scanned by Microsoft or other third parties?

Thats what I was thinking too, I've been doing it for years with Pushbullet. Are there any particular benefits in moving across to Windows Phone instead of this?

From what I can tell from Pushbullet description, not really. I think it's just more about having their own app to perform these functions. Dell has a similar app, which I kind of like better than MS's version. Your Phone has been updated a few times since I last tried it. So, I don't know what improvements make it on par with Dell's version. I do like being able to answer my phone or make calls from my computer, when connected with Dell's app.

Gotta mention Join. https://joaoapps.com/join/ https://www.androidcentral.com/e?link=https2F2F...
It is a one time payment (unless you want to use the MS app and not the Chrome extension) and if you like Tasker, you will love Join.

But "MS Your Phone" is free. I thought Pushbullet was a pay to use app?
Android Central Newsletter
Get the best of Android Central in in your inbox, every day!
Thank you for signing up to Android Central. You will receive a verification email shortly.
There was a problem. Please refresh the page and try again.