Your Fitbit could help you detect COVID-19 symptoms early, study suggests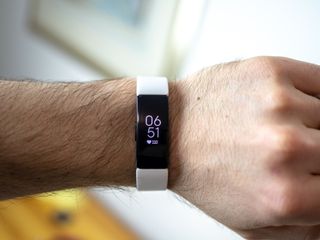 (Image credit: Daniel Bader / Android Central)
What you need to know
Your smartwatch may be an important health tool during the COVID-19 pandemic.
A new survey by Fitbit suggests that wearers of the company's health trackers may be able to catch COVID-19 early.
This is due to underlying changes in physiology that may not be immediately apparent to a casual observer but could be picked up by a health tracker.
Your Fitbit may be able to tell you if you have COVID-19 up to one day before symptoms start to present themselves, a new study suggests.
Writing on the Fitbit blog (opens in new tab), Conor Heneghan, Director of Research, Algorithms at Fitbit, said:
The study also found out which symptoms were likely to lead to hospitalization (shortness of breath and vomiting), while COVID-19 patients who reported sore throat and a stomach ache were less likely to need a trip to the emergency room. They also noted that fatigue and body aches were the most common COVI-19 symptoms, while a high temperature presented itself in just over 50% of sufferers.
Naturally, as many fitness trackers share the same sensors, the possibility of early detection through tech has been explored with other brands of fitness trackers in the recent past. Speaking to Reuters in July about a similar study, Professor Michael Snyder of Stanford University School of Medicine. said:
Fitbit Charge 4
The Fitbit Charge 4 has comprehensive sleep tracking, smartphone integration features, and most importantly for a smart band of any kind, long-lasting battery life. It's soon to be superseded by a new slate of products, but it's still worth a look at.
Android Central Newsletter
Get the best of Android Central in in your inbox, every day!
Thank you for signing up to Android Central. You will receive a verification email shortly.
There was a problem. Please refresh the page and try again.