The past few days have been absolutely crazy. We've seen a ton of deals come through, some of them sold out in just a few minutes, and others have lasted for a few days already. Cyber Monday will be here before we know it (if it's not already here by the time you're reading this), and that means that some of the deals that were still lingering around from Black Friday may be gone. You don't have to look very far to find something on sale, but after a weekend of looking through thousands of deals, there is one deal that really stands out to me.
It's the Instant Pot Ultra 6-quart 10-in-1 multicooker that dropped down to just $79 earlier today. We've seen a few Instant Pot deals, but this is one of the most fully-featured models in the Instant Pot lineup, and offers more functions than most of the others selling at this price. I think you'll regret it later if you don't pick one of these up right now.
Instant deal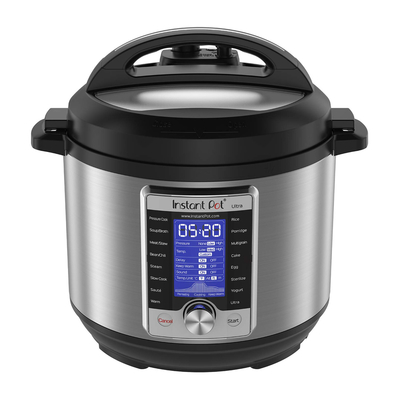 It's built for a family of four to six and can take the place of 10 kitchen appliances. There's a little microprocessor in there that monitors the pressure and temperature so you can always get it right. It's also UL-certified with safety features.
$79.00 $113.40 $34 off
This model has sold for as much as $150 in the recent past, which means that you're saving nearly 50% by purchasing it right now. It can replace up to 10 kitchen gadgets, including a pressure cooker, slow cooker, rice/porridge cooker, yogurt maker, cake maker, egg cooker, sauté/searing, steamer, warmer, and sterilizer. It's kind of crazy that you can fit all these different cooking modes inside just a single appliance. It has a rather small footprint, which means you can easily store it on your counter, in the closet, or in a cabinet if you wanted.
With this type of versatility in the kitchen, you can really get creative and try a lot of new things without worrying that you don't have the right tools to cook it. If you aren't sure where to find new recipes, or want to challenge yourself to cooking some new things with the new Instant Pot, I'd recomment picking up this cookbook with 140 recipes to help get you started. It's what we did at my house, and it worked like a charm. When planning menus for the week, we open to random pages, and order the groceries required to make that dish. It's worked out amazingly, and keeps us trying new things in our Instant Pot.
With over 3,800 reviews, this model maintains an impressive 4.4 out of 5 star rating. Just about everyone who owns one already is loving it, so why aren't you already clicking through to buy one instead of sitting around and potentially missing out?!
We may earn a commission for purchases using our links. Learn more.