You can now order an unlocked Moto Z2 Play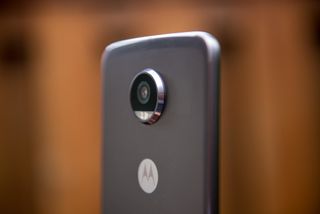 After nearly two months as a Verizon exclusive, the Moto Z2 Play is soon going to be available unlocked directly from Motorola for $499.
The version you'll soon be able to buy is $91 more expensive than the aforementioned Verizon variant, but it lacks bloatware and is compatible with all four major U.S. carriers — AT&T, T-Mobile, Sprint and, yes, Verizon — making it much more versatile. It also comes with an extra gigabyte of RAM, bringing it to 4GB altogether, along with double the storage at 64GB, making it considerably more future-proofed than the Verizon model.
Here's what I said about it back in early June:
I still feel that way, even with the announcement and impending release of the at-least-$750 Moto Z2 Force. The Moto Z2 Play is great value at $408 from Verizon, but at $499 it may be too expensive for many people to stomach, since it fits somewhere in the middle of the mid-range and the premium segment. That said, the bulked-up specs must count for something, and the phone shows no signs of slowing down after two months of solid use. It will also be compatible with the new Moto 360 Camera Mod, which is nice.
Interested? It's available in Lunar Gray and Fine Gold variants.
See at Motorola (opens in new tab)
Daniel Bader was a former Android Central Editor-in-Chief and Executive Editor for iMore and Windows Central.
Verizon-compatible? Nice!

idk if I'll buy it just for being "compatible". I've used my MXP side to side w Droid Z Play and saw how inferior it is when it comes to signal coverage. Verizon tries harder when it comes to fine tuning for their own devices. that combined with the price incentives, makes me wanna stick w the Droid line.

I see no difference on Verizon with my unlocked Moto X Pure Edition and my Moto Z Force Droid.

I switched from the Moto X Pure Edition to the Moto Z2 Play, a couple weeks ago and am using it on Verizon, in the Pacific Northwest. If anything, I think the Z2 has been getting stronger signal than the X Pure did.

This is a better phone than the Z2 Force, to me, but it is a $100.00 too high in price, especially given its chipset.

Agreed, Daniel. Too expensive. Especially (and this isn't exactly Motos fault) since you can now get the only other legit battery beast for LESS. And the mate 9 has superior specs in just about every way I think (though there is the UI to contend with). Still, I use a 2016 Z play.... Which I love. But if I was in the market for a new phone today I'd probably go for the mate 9.

Or an international LG G6 for $399

I'd just get the 2016 Z Play. It's similar in specs and has a bigger battery.

Not to mention mate 9 can be had for $400 or less on swappa.com. Bought mine for $260 in box.

Verizon has theirs on sale for $5/month right now after bill credits. I know some people hate bloat, but hard to justify unlocked when the carrier version can be had for $120 as long as you don't mind 24 months of payment.

Verizon phones aren't nearly as bloated as they used to be and nearly everything can be uninstalled or disabled.

True, but they still feel the need to add aps and bloat. Let the customer decide.

Um, you say "...the phone shows no signs...". Saying "...shows no signs..." then no signs must be something to be seen. Tell us, what is 'no signs', what does 'no signs' do, what does 'no signs' look like? Maybe you mean "...does not show signs..." perhaps.

Someone shows no sign of understanding English.

The original Moto Z Play was sold everywhere unlocked, from Amazon to Best Buy. The Z2 Play is only sold on Motorola's website unlocked.

I gladly paid the extra $91 for the US unlocked and ROOTABLE version. :-D
I'm digging it, so far. Two weeks with it, after replacing the Moto X Pure. The Z2 is more thin and lighter and does not get hot like the X so easily does. The Z2 gets much better battery life than the X, as well.
Android Central Newsletter
Get the best of Android Central in in your inbox, every day!
Thank you for signing up to Android Central. You will receive a verification email shortly.
There was a problem. Please refresh the page and try again.