Yi 4K+ action camera review: Powerful, and so simple to use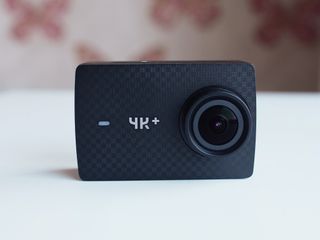 As smartphone cameras continue to improve, for many the need to carry a dedicated camera continues to disappear. But there are times you want something that isn't your phone.
Action cameras aren't what you take out with you to take high-quality landscape photos, or to cover a wedding. But they're really good if you're into mountain biking, or skydiving, or any number of other outdoorsy type activities.
You wouldn't (probably) strap your Pixel 2 to your helmet, but you certainly would an action camera. I've spent a bit of time playing around with the Yi 4K+, the company's most expensive, well-equipped action camera.
And it's really good.
See at Amazon (opens in new tab)
Rugged hardware, high specs
Swipe to scroll horizontally
Category
Spec
Lens
155-degree FOV, f/2.8
Sensor
12MP Sony IMX377
Video
Up to 4K resolution at 60 FPS
CPU
Quad-core Ambarella H2
Display
2.2-inch touchscreen
640x360, 330PPI
Connectivity
Dual-band Wi-Fi
Bluetooth 4.0, USB-C
Stabilization
EIS (3-axis gyro and accelerometer)
Battery
1200mAh
The market isn't exactly flooded with cameras, be they standalone or smartphone, that are capable of shooting 4K video at 60 frames per second (FPS). That's the party piece of the 4K+, and one of the biggest differentiators to other 4K action cameras from Yi.
It's pretty well equipped for such a little box.
It's not quite as simple as it looks on paper, though. There are tradeoffs you make when shooting at 4K60. The first is battery life, naturally, the second is stabilization. There's no OIS here, only EIS, but you can't even use that when shooting at 4K60. So you're completely destabilized.
Yi has just launched a new gimbal (opens in new tab) designed for use with its cameras, which is another $200, but probably essential if you want super-smooth, 60FPS high-resolution video.
The camera itself is a very nice piece of hardware. It's made from pretty tough plastic and trimmed in a not entirely necessary soft-touch finish. It's grippy, at least, if you're handling it. On the bottom you get a standard tripod mount, there's a flap covering the solitary USB-C port, while the microSD card lives behind the battery door. The USB-C port is used for charging, external microphones with the included adapter cable and AV out.
Controls are simple since there's only really one button. Everything else is done using the 2.2-inch touchscreen on the rear. It's not bad, either. It looks decent when you're trying to use it for shooting your photos and videos, and the touch response is really good.
The Yi 4K+ also has an "in-housing" mode that duplicates touch features for a combination of presses on the shutter button, so you can still navigate easily while the camera is in a waterproof housing.
The Yi Action app
The Yi action cameras all work with both Android and iOS thanks to the companion app which, as it happens, is pretty well done. Everything you can do on the camera you can also do in the app, from tweaking settings to altering your white balance, ISO etc., and of course, using it as a viewfinder and remote shutter.
There are a couple of moments of weirdness from time to time, like Chinese text appearing to tell you, well, something. While the camera supports Bluetooth 4.0, that's only for remote shutters, to connect to the app you have to use Wi-Fi.
There's a choice of using 2.4GHz or 5GHz and if you're using anything running a pre-Oreo version of Android connecting will be pretty seamless. You'll need to manually connect each time you want to use it, but it's fairly quick.
If you're using an Oreo powered phone you'll have to agree to connect to a wireless connection that has no Internet. On my Pixel 2 I kept missing the notification icon, but if you don't accept this then the camera won't connect.
Once you've taken your photos and video, the companion app can be used to wirelessly transfer these to your phone. You can either transfer a low-quality preview or the original file, but there's one very minor drawback. Nothing else drains the battery as quickly on the camera as transferring files wirelessly.
Performance
Besides the limitations on stabilization, shooting at anything up to 4K60 on this camera is a breeze. It gets a little toasty after a while when you're shooting at 4K, but nothing too horrendous, and you'll need to buy a spare battery or two (opens in new tab).
You're not even limited to having the wide-angle effect on everything. The camera has a mode that can suppress this, but wide-angle is one of the reasons I like this camera personally compared to just using a phone. To be clear though, photos are not as good as you can take on a good phone.
Here are a few sample photos shot with the wide-angle left on.
Image 1 of 5
Video quality is excellent, though there are things to bear in mind. The internal microphone is passable, but for the best results, you'll want to use an external one. And when you use an external microphone you must turn off the camera's Wi-Fi or you'll get a horrible interference on your audio. Which means you can't use your phone to control it while you're using an external microphone.
So there are some slight annoyances, but overall the quality speaks for itself. As far as this type of small camera goes I think it's very good. I'm no skydiver, but I'd be very happy to strap this camera to my body somewhere while doing extreme sporting.
You've also got a timelapse mode built in, though you'll perhaps want a battery pack hooked up if you're planning on using it for any long shots.
The bottom line
The GoPro is the default choice for action cameras but having tried out the Yi 4K+ I'm not entirely sure why that is. This is a very well put together piece of equipment with great specs, a nice companion app for your phone and a price that's not ridiculous.
It isn't perfect, and the external microphone interference drove me crazy for days, especially since no-one in the Yi forums had a definitive answer to the issue.
But there's so much to like. The quality of the footage, the excellent display, battery life that for the most part is pretty good considering its size and what you're able to shoot. To get the very best you'll need some extra accessories, like a cage with a cold shoe if you're using an external microphone.
It's also on offer on Amazon quite a lot. In the time I've been playing with this one it's been on a significant lightning deal three times, so there's always going to be a way to shave a good chunk off the $299 RRP. If you want a high-quality action camera that has a great companion app for your phone, you could do a lot worse.
See at Amazon (opens in new tab)
Android Central Newsletter
Get instant access to breaking news, the hottest reviews, great deals and helpful tips