Will my phone get Ice Cream Sandwich? Our predictions: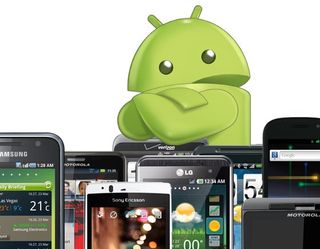 The wait is over -- Google has officially announced Android 4.0 Ice Cream Sandwich, and showed us a whole lot to like. Of course, the Samsung Galaxy Nexus is coming soon, and and many others will follow shortly thereafter with the latest and greatest that Android has to offer. But right now the big question is "When will my phone get the Ice Cream Sandwich update?"
With two-year contracts and $500-and-up off-contract prices, most of us will want to hold on to the phone we bought this year and milk it for every penny we can. That's the wise (and frugal) thing to do, and we're right there with ya when it comes to saving a few dollars.
So which phones do we believe will see an ICS udpate? Hit the break for our predictions.
Ice Cream Sandwich brings plenty of changes under the hood, but of more importance for this particular subject is the shift in the UI and the way things get done. It's likely that manufacturers -- the Samsungs and Motorolas and LGs and HTCs of the world -- are both excited to get to work with Android 4.0, as well as pissed about the number of changes in the ways things are done. To integrate any of the new UI elements (we're not talking Roboto fonts -- we mean things like the menu buttonless design and deep social integration) is going to mean a lot of work, and a lot of changes to the current crop of manufacturer skins.
They'll figure something out, 'cause that's what happens when you lock a bunch of smart guys in an office. But the timeline might not be pretty. There's a lot being said about Gabe Cohen and Matias Duarte saying that ICS "theoretically should work for any 2.3 device." The key word there is theoretically -- just because it can, does not mean it will happen, or happen quickly. Theoretically, Gingerbread runs better than Froyo on the Epic 4G, too.
Enough talk, let's have a look at my predictions.
Phones that will get Ice Cream Sandwich
I'm feeling good about all the phones here getting updated, and fairly quickly as well. For one reason or another, these have to get updated.
The Samsung Nexus S
Yep. The Nexus S (and its Nexus S 4G brother on Sprint) will get Ice Cream Sandwich, with all the features we drooled over from the Hong Kong event. Google's said as much. A few things will need tweaked (there are those pesky capacitive buttons to deal with), but this is the phone that was used to start building and testing ICS. It may take a few versions to get it running well, but it will happen -- just like a good, solid Gingerbread build happened for the Nexus One.
Of course, once the source code drops many won't care what Google does with the Nexus S. It will take a day or two, but AOSP ROMs will come -- hard and fast.
The Motorola Droid RAZR
I think the RAZR will be the first phone that isn't a Nexus to get the update, if only because Motorola's said so already. Motorola probably should have just held it back and released it with ICS, but they have people smarter than I making those decisions, and I'm just the Monday quarterback. The hardware is right -- it has the same guts as the Galaxy Nexus for the most part (minus the NFC of course) and Moto had to have ICS in mind when they built this puppy. There's a reason we started to see Motorola move towards OMAP processors.
The real question is how much Philblur is going to affect things. After we saw ICS in action, Blur is going to be an even bigger thorn in the side that it was before.
The Motorola Atrix 2
The Atrix 2 is another Motorola phone using OMAP innards. Motorola going from Tegra to OMAP right before we saw ICS was not coincidence, I'm sure of it. You just know that some lucky Motorola engineer is strutting around with a janky, early build of ICS on his Atrix 2 -- probably showing it off to his other engineering pals in the lunchroom. Geeks can be hipsters, too.
Again, Blur. How Motorola handles Blur with ICS is going to be the way their Android phones are defined from here on out. I hope they can pull off something that makes our toes curl.
The Motorola Droid Bionic
The Bionic is yet another Motorola phone that uses the OMAP chipset. It was frought with rumors and speculation as to just why it was changed from Tegra to OMAP, and we'll never know what was said behind closed doors -- but we know that LTE works just dandy with the Tegra 2 SoC now that Samsung has released the Galaxy Tab 10.1 on Verizon.
Again -- I'm pretty certain that Moto changed the CPU during the redesign with an eye on the future -- LTE and ICS weren't designed for the Galaxy Nexus in a secret bubble, and Moto either had a hand in it or was privy to some useful information. Unfortunately, I don't think there will be any rush to get ICS on the Bionic until after it's done for the RAZR (Moto's LTE proof-of-concept) and Atrix 2 (the HSPA+ proof-of-concept). Hopefully, I'm wrong.
Motorola Droid 3
The Droid 3 is another Motorola phone on the list, and Motorola's first to feature an OMAP 4 dual-core CPU. While any processor can probably work with ICS, the GPU will make a difference. We're not talking about power or speed, this speculation is based purely on the CPU and GPU assembly being in the same family as the ICS reference phone -- the Galaxy Nexus.
Verizon has a new flagship Droid in the RAZR, but I think Motorola will make it too easy for them to update this one for them to ignore it.
Samsung Galaxy S II (all four of them)
Samsung knows that about 20 million people around the globe woke up Wednesday morning, looked at their Galaxy S II, and started thinking "never again," in reference to the original Galaxy S update debacle (at least here in the United States). They have their work cut out for them -- ICS isn't optimized for the Exynos or Mali, so they will have to do a lot of the work to get things playing nicely and smoothly themselves. The only thing worse than not having ICS on the Galaxy S II would be if ICS made these great phones worse.
Besides the chore of re-defining how TouchWiz will work with ICS, Sammy has another hurdle here -- the Epic 4G Touch and Hercules (T-Mobile and Telus). The Epic has Wimax to worry about, and the Hercules has a whole different architecture to work with. It will happen, but not nearly as fast as we would like.
The HTC EVO 3D
Oh, dear. Of all the manufacturers that skin their phones, HTC has to be the favorite, and also the one in the biggest pickle now. If they ignore many of the cool new features in ICS in favor of their own customizations with Sense, you guys will be pissed (that's how you are). Normal folks won't know or care, but you guys are pretty darn vocal when you need to be. HTC takes pride in their update process and track record, so they are already hard at work, I'm sure. Whatever they figure out, the EVO 3D (both the Sprint and world versions) will see it -- if for no other reason due to fear of your repercussions.
I worry that Wimax will hold the Sprint version back a little longer, but that's just a guess -- for all we know the Wimax stack and customizations can drop right in on top of ICS and be ready to roll. We'll see sometime in 2012.
The HTC Sensation family
This includes the Sensation, the Sensation XE, and the Sensation XL. These phones are more than capable, and will probably run ICS very well. There are no set-in-stone hardware requirements for ICS, and even if there were, there's a lot of beef in these bad boys.
Again -- HTC has to figure out their update strategy and how Sense fits into it, then make sure that enough engineers are working on it. HTC has released other Sense/Gingerbread phones, but I have a feeling the OG Sensation is the one they will focus on first. There's no fancy camera hardware to fool with, and GSM with HSPA+ is old hat to them by now.
The HTC Amaze 4G
Here is HTC's chance to shine. A big upgrade in ICS is in the new camera software. HTC has pretty decent camera software themselves, and the Amaze 4G has a killer bit of hardware to go with it. Imagine a mix of what HTC has done, combined with what Google showed us, and put it in a package with high-quality optics and you have the makings of a real winner.
Having said that, HTC will take its time with this. There's no sense in fouling things up by rushing out something half-baked, so we may be waiting a good while to see it. I certainly hope HTC proves me wrong here, because this hardware with ICS is something I want to play with.
The Xperia family
Sony Ericsson has learned a lot about Android, writing and building their own OS, and how rabid users can be. They really turned things around in 2011, and we love them for it. I'm pretty sure if you have one of the 2011 Xperia phones (sorry about that X10), you'll be getting some Ice Cream Sandwich love. And hopefully Sony carries on with the openness that Ericsson brought to the table and they continue to support independent developers.
On the other hand, sometimes things write themselves -- S.E. just announced that yes, their 2011 phones will get updated.
Phones that might (and should) get Ice Cream Sandwich
Here I'm going to list some phones that should get the Ice Cream Sandwich update -- they would run better, be more secure, and provide a better experience -- but I'm skeptical for one reason or another. This one's a pure judgment call, influenced by years of reading and writing about phone hardware and OS updates. If your phone is on this list, and I see you complaining in the forums, I'll probably join you.
LG Optimus 3D/Thrill
LG struggles with Android updates. I'm a huge fan of its hardware, especially the top-notch build quality of its high-end Android phones, but they are still learning how to deal with Android's rapid release cycle. HTC went through it, Samsung went through it, and Motorola went through it. Like the rest, LG will get it worked out eventually, and start with the Thrill/O3D. I'm sure the folks at LG want to deliver ICS for their U.S. flagship phone, and they are hard at it already.
I just can't say I'm very optimistic that we'll see it in a timely manner, which is a shame. This phone will scream with ICS.
Motorola Photon 4G
While probably not as easy an update as the Bionic or Atrix 2, Motorola surely wants the Photon to see Ice Cream Sandwich. We do, too -- we think it's one of the best phones on Sprint's 4G network. Whatever Motorola figures out with Blur, whether it stays the same or gets some of ICS's features integrated in, the Photon will be able to handle it.
Again, there's the Wimax wildcard. How much money and how many resources is Motorola willing to spend to update a phone that uses a dying standard remains to be seen. We can only hope it's not very labor intensive, and we see it sooner rather than later -- or not at all.
Motorola Atrix 4G
Another Tegra offering from Motorola that we know would be able to run ICS beautifully. The Tegra 2 may be getting old in the tooth in Android terms, but it's a solid performer and with a little work would run ICS's hardware accelerated UI like butter. We're sure NVIDIA will lend a hand if needed, but Motorola's time and money isn't going to be focused on a last-generation handset.
Part of me is skeptical about including the OG Atrix in this section, but I want to believe. Make me glad I did, Motorola -- please.
Samsung Droid Charge
If the Nexus S can get updated, and LTE is working well in the Galaxy Nexus with ICS, there's no reason for the Charge not to see ICS. Samsung will figure out whatever they plan to do with TouchWiz, then they need to start rolling those changes out to their early adopters in the LTE space. Luckily, Samsung is in a pretty unique position once again -- they are building the Nexus Galaxy and have worked closely with Google during the process. The Charge is still what most of us would call a "new" phone and taking time to get it updated is a wise move. Whatever Samsung and Verizon decide to do here will be remembered by tech nerds on the Internet forever.
The myTouch 4G Slide
It's got a lot of things pointing to getting the ICS update. It's new. It's got basically the same internals as the EVO 3D or Sensation. It's got that kick-ass camera like the Amaze 4G. But the myTouch 4G Slide also has T-Mobile carrier customizations as part of the OS. this means not only does HTC have to work it all out, but so does T-Mobile.
T-Mobile isn't in the business of writing phone operating systems, or updating them. A big one like the ICS update, which must have new features from AOSP built into Sense to be worth a damn, is going to be tricky. Let's hope HTC does the brunt of the work (I think they will).
The original HTC Snapdragon phones
This means the EVO 4G, the Droid Incredible, the Desire, and the Nexus One. Google worked hard with Froyo and the Nexus One, and HTC took advantage of it by releasing a trio of amazing phones that were ahead of their time. Sadly, their time has come and gone. I think Google will try hard to get a build of ICS for the Nexus One, depending on how well the GPU can handle the new operating system. The real question is if will HTC spend the time and money to update phones that are about 18 months old, and either at, or near end-of-life.
I don't think so.
My phone is not on either list!
Some of the phones released in 2011 will get updated, some won't. There are pros and cons from the OEM point of view for updating phones like the Droid Incredible 2 or the Motorola Droid X2. I just don't have a clue how things might end up for those. Focus will be on the newest phones first of course, and some -- like the original Galaxy S line (including the Galaxy S 4G and Infuse 4G) probably wont see it, at least from the manufacturer. We don't like it any more than you do, but we're not the one's making the financial decisions. Specifically, phones with the second gen Snapdragon, like the HTC Thunderbolt, would run ICS awfully well, but carriers and manufacturers aren't going to be in any hurry to spend money on them. Root them. Just do it.
Not all phones should get updated. We don't like it, and you don't like it (especially if you just bought one and won't ever see an update), but that's the nature of the beast. Some phones (like the Wildfire) just wouldn't run Ice Cream Sandwich very well because of their hardware. Others, like the Kyocera Echo, are a bit to "oddball" to imagine manufacturers spending money and time to get them updated. And some, like the Optimus One line, are just too old and low-end to worry about. There's no sense in getting angry -- your phone will still work as well tomorrow as it did today. Updates of the entire OS aren't a given, and you should never buy a smartphone based on what might come in the future.
Android is taking away the feature phone market, with phones like the Samsung Replenish. Who would buy a "dumbphone" when they could get the Replenish for the same monthly cost? People don't get up in arms when BREW (that java based OS we all used on messaging phones five years ago) doesn't get a major update for their flip phones, and people buying the new breed of messaging phones that run some flavor of Android shouldn;t either. You've still got one hell of a fine phone in your pocket, so use it until you break it.
Android Central Newsletter
Get instant access to breaking news, the hottest reviews, great deals and helpful tips
Senior Editor — Google Ecosystem
Jerry is an amateur woodworker and struggling shade tree mechanic. There's nothing he can't take apart, but many things he can't reassemble. You'll find him writing and speaking his loud opinion on Android Central and occasionally on Twitter.
Would have been pretty hilarious if you said "Here are our update predictions...... NO"

I would have both laughed and cried at the same time.

I actually expected the same thing!!

you watch Father Ted, don't you.

There's no reason in the world the Incredible 2 should not get any and every ICS update the Thunderbolt would receive, and sooner as well. Spec wise it's a 3G Thunderbolt with a 4" screen.

Actually no it isn't. The Incredible 2 is still running a first gen snapdragon processor while the TBolt is second gen.

Has the Droid Charge even been updated to 2.3 yet?

naw , i have the charge , not really looking forward to gingerbread anyways, ive heard too many problems with other phones thats been updated with it

I've got a Charge, too, and I'm running the latest Gingerbread leak, and it's turned the phone from being a slow, buggy beast (with a nice screen) to a responsive, functional beast (with a nice screen). Quadrant scores with the stock Froyo build were in the 900 range; with this GB version, they hit the 1600's. You can really tell the difference in how responsive the phone is, too. The first few leaks I'd have agreed with you--I tried some, and they weren't much of an improvement, and maybe even a step backward. This current one, however, makes it a useable phone (I was seriously thinking about going back to my OG Droid, which beat the Charge in too many respects, especially running CM7 with mild overclocking). I don't understand why vzw/samsung haven't pushed it out yet.

What needs to be considered is that there are a ton of Tegra-based tablets that have to get ICS and soon. This could be very good news for phones like the Atrix 1 and the Photon. I think you underestimate the chances for these Tegra phones.

You bring up a very good point there. ASUS said just yesterday that the Transformer 1 will be running ICS by the end of the year, and Motorola already said that ICS will be coming to the Xoom, the only question will be whether or not GPU acceleration will be enabled. Here's hoping, because as I type this on my Transformer, GPU acceleration is definitely a needed addition to these great tablets.

Where was the question about GPU acceleration raised? I'd thought that Honeycomb already had some GPU acceleration, and so that wouldn't seem to be an issue with Tegra 2...

But since the tablets are from different manufacturers than moto it doesn't really mean if certain phones will get updated.

you mean my blackberry 8330, which was Alltel before Verizon isn't getting this update? wtf

Does the 'original HTC snapdragon phones' category include the Desire HD?

Nope. The DHD and Inspire use second-gen Snapdragons, which have faster GPUs.

So do you think the Desire HD will get ICS then Alex?

Yeah, he seemed to have skipped right over those models. Somewhere between Yes and Maybe. Do I hear a probably? I, personally, am holding out for cyanogenmod.

Really hoping the OG Atrix does, have to live with it for another 16 months.

You're safe, particularly if rooted.

Seeing as how my Evo 3D is rooted, I hope to be seeing some ICS love before the end of November....

me too, i'll hold out until february (warranty is up) and then it's off the cm9 (hopefully) for me

while I don't really expect the Thunderbolt to be upgraded, I'm surprised it isn't even mentioned...

Yeah, I'm sad about that. I'm sure the Cyanogenmod team will take care of us though, even if it is unofficially.

I am too considering I believe it's in the picture with Lloyd!

No reason the Thunderbolt shouldn't receive the update, plenty of ram, more then the experia line has. I would bet the Thunderbolt gets the update. Damn well better. That's why mine is S-Off, rooted and running a overclocked rom. This thing is faster then my Sensation which is also S-Off, rooted and running an overclocked rom. Figure that one out. I just love the screen on the Thunderbolt and not to mention my great data plan from Verizon which I do not take advantage of.

I think the issue the Thunderbolt will have is going to be the GPU. The Adreno line really hasn't gained anyground support wise. Although, if the GPU acceleration is implemented via standard API's, then hopefully all that will be required is drivers to allow the hardware to work. That would be the ideal situation, and I would imagine that this is exactly what has been done.

The T-bolt (and the MT4G, Desire HD, Inspire, etc. etc) are part of those 2011 phones that i have no clue about. they could run ICS I'm sure, but will HTC and carriers wanna spend money on them? Doubtful. We have to remember that these are phones with 2010 tech inside them. Yeah, nobody is gonna like it, but what can we do? I'll add it for posterity in the last section, cause i love you guys :p

"Specifically, phones with the second gen Snapdragon, like the HTC Thunderbolt, would run ICS awfully well, but carriers and manufacturers aren't going to be in any hurry to spend money on them. Root them. Just do it." There you have it.

Verizon is still selling Thunderbolts, Charges, and Revolutions and will press the OEM's to update them. Early upgrading pissed off customers costs them money. The Thunderbolt in particular has such a huge install base and is so high profile I would expect that they will exert a great deal of pressure on HTC to get it upgraded, probably not right away but sooner or later.

If the buttons stop doing anything on my phone I wouldn't really want to upgrade to this OS. It just means more screen space would be used than previously.

Pretty sure you wont have software buttons if there are hardware ones.... Check the leaked ICS on NExus S vid

Cool, thanks. I admit I don't know much about ICS but I have seen people throw around buttonless a lot. I'll check out the vid.

I would imagine that enabling the hardware buttons and subsequently disabling the software buttons is a very easy edit to a config file. Remember that development of ICS began on the Nexus S, and considering Google committed to supporting phones for a minimum of 18 months this is something they took into consideration. It will probably be similar to enabling or disabling the gesture area for apps on WebOS for the Touchpad, which was missing a gesture area. I can't remember exactly what the call was, but it resembled this:
GestureAreaPresent=1 or 0 There was a little bit more required, but that was about it. In ICS it could be as simple as defining that there are physical buttons present, the number of buttons, and the arrangement.

I didn't think my Epic 4G would see an "official" ICS update. This is just a little bit more confirmation. I'll be watching the forums, waiting impatiently for our devs to cook up a nice ROM. :)

Contrary to all the fretting in the blogosphere about Real Buttons vs on screen buttons, I just can't see Google being dumb enough to over look this issue. Dollars to donuts there is a simple switch in the OS setup somewhere that says this device has buttons. I seriously doubt this is an issue for manufacturers. Google is not that stupid.

Glad to see the HTC EVO 3D listed. But, I would have to wait sometime after the update came out to decide if I even would want to update. This thing is the best phone I have ever had (not a single reboot, lockup, force close or anything!). Not sure I would want to mess with.

Yep- but that continuous voice recognition thing ALONE is worth the risk to want to upgrade.

I bet a lot of rooted guys will go to Cyanogenmod for pure ICS experience.

You know... I got the D2G hoping that it was the Latest and Greatest in the Droid Line (Before the D3 came out), and then was hit with (until recently) lack of GB update, a phone that ate through battery, and crapware that is lame. On top of this I am hoping that moto/verizon actually pull for us (standard)Droid Owners who helped them through their "Feature" phase. That takes me back to the OG Droid... What days those were... the gold buttons, the sleak black frame...

You mean my OG Droid won't get it!? Say it isn't so! lol.

My OG Droid can't even handle CM7 without serious lag. It would probably explode if I load ICS on to it. I REALLY need Verizon to step up and get the Prime. I want it so badly! Upgrade coming in one month.

Verizon is pretty much a lock on the Galaxy Nexus and it should hit just in time for your upgrade.

Do you have a prediction for the Nexus S ICS official update? Days, weeks, months from now?

I believe Rubin or someone from Google said it would be a couple of weeks or so after the G-Nex was released.

If you're gonna make a comment like that, please substantiate... Where did you hear it? Link?

Not sure what was said but I doubt they said a couple weeks. A popular phrase usually thrown around where release timetables are concerned (especially for Google w/ Android) is a "few weeks". That covers them in case 3 weeks turns to 5 or 6. A couple means 2 and there's no way they'd give themselves a deadline.

The HTC HD2 will probably get an upgrade to ICS, just to prove a point. The folks at XDA are like that! ;-)

I agree with you up to the first generation snapdragons getting updates but maybe not the second generation. though I'm sure teams like CM will bring ICS to the DInc and Nexus One, I'd think HTC would rather put effort into updating the DInc 2 and such. same with Moto, I'd bet the X2 would get it but not the X. I'm sure it'll be way later in the game though because HTC themselves has already shown signs of "hmmm... how can we get SenseUI on here?..." if I was an average consumer and got a OTA notification and suddenly my phone looked nothing like before I'd flip out. the way I see it going down is the manufacturers are going to have to back off the core/framework tweaks and go with more of a themed, launcher, icons, widgets and apps approach to how they do things.. which really would be a good thing and speed up updates. imagine if all HTC/Moto/LG and Sammy had to do was install their apps into the system folder! A launcher, some apps (maybe just themed), widgets and call it an update. maybe I'm stretching but even crazy talk dreams can come true!

OMG yes! I wish they would do this from now on! Leave it fairly stock and just theme it a bit and put their stupid useless apps on so we can "freeze" and move on with life. This way we wouldn't be waiting 6+ months for updates!

Wow! You just forgot about the thunderbolt. Even put it in the pics

"Specifically, phones with the second gen Snapdragon, like the HTC Thunderbolt, would run ICS awfully well, but carriers and manufacturers aren't going to be in any hurry to spend money on them. Root them. Just do it."

My iPhone 4S won't get ICS?! wtf

I'm not holding my breath on my MT4G (that recently JUST got GB). lol. Therefore, the G Nexus will be mine! Bwahahahaaa!

That was my exact thought process. I'll root and wait, or just get the galaxy nexus.

Some people still don't have gingerbread on MT4G. For this reason I don't think MT4G will get ICS. The phone has been out a year already and it's taken over a year for some folks to get 2.3. At this pace they would be getting ICS in 2013!

If they dont put that TouchSense crap on it then the Mytouch 4g should get it a hell of a lot quicker, especially if the Evo 4g gets it when its got a "lesser" Snapdragon in it and Sense.

Most won't get update because they want to sell phones. The OS should update for all, but frankly, its a reason for manufacturers to sell phones

Despite my telling it an ICS update was probably a no-go, my poor Evo4G is crying now. Thanks a lot.

This list shows the value of a Nexus phone to those who like latest and greatest OS. Some top of the line phones from only a few months back, the Thunderbolt and Droid X2 to name a few, are just now getting GB. I don't want to wait a year to get the latest OS, so it's either a Nexus or root and ROM. I've done the rooting and Rom on several phones, it was often a time consuming PITA. It's Nexus for me.

G2X? Not that it matters. CM9 on the G2X will be far better than anything LG would release anyway! ;)

Yeah right......We G2X owners are not even get a whiff of ICS. LG can't even get some features on the G2X to function properly with it's GB update and we believe we are going to see this OS. Kind of regretting get an LG smartphone. God they are soo slow pushing these out.

Meh if you wait for LG that's your mistake. CM, EB, MIUI, etc.. on the G2X are FAR superior to anything that LG could ever push out from a feature, usability and stability standpoint. Also note they are based on the latest GB AOSP so you get all the goodness that Google has to offer. My hats off to the devs for doing what LG failed to and that is making the G2X the powerhouse it is.

Amen to that brother!! absolutely lovin CM7.1 on my G2X... our phone got alot of disrespect... or maybe just no respect... it's laser fast, and very sexy... so ya, CM9 will be great.. no thanks to LG/Tmobile (who would seem have turned their backs on our phone)... but much love and props to the CM dev team!

Isn't this where us poor, poor Droid X users say, CyanogenMod, take us away?

Naaah. MIUI already twitted, that they are going to build their ROM on ICS as soon as the AOSP's released. So even having a "18 months old" "dying" Desire I'm not worried :)

Nexus S Sucka's!!!! Everytime there's new tech, the price tag of the nexus s on tmobile sans contract = priceless! Still have the nexus 1 ($hits + giggles i guess), nexus s is being passed onto my mom (finally a screen she shouldn't be able to break - myt4g x 2 ughh!!) and of course for me.... Nexus Prime. don't care if that's the name, that's what i'm calling it 24/7 lol! "Can't Wait!!!"

yeah if the Atrix does not get an update I will feel pretty burned. The phone will be less than a year old at release.
Sadly it would turn me kind of against Android. Big time considering even older phones like the Nexus S is getting updated.
Unlock the bootloader for us easily and make it a cake walk for us to install it on our own.

im hoping the Nexus S 4g gets it quick im dying foe some ICS, but if it is out on sprint the Galaxy Nexus will be mine :D

With google buying Moto, you would have to believe their latest offerings will be on the fast track to ICS. Heck, Im hoping its the end of Blur all together.

Fast track? Yes. End of Blur? not a chance. Their customizations are how they make their phones distinct, and they cant remove those features in updates because people do use them. I do think Blur will continue to be less and less intrusive. As it is now it is an almost stock launcher with custom widgets. Would love to see Google put the stock launcher, widgets, and apps that some OEM's replace in the market for those who want them to download though.

Great article jerry good stuff guys

I will be sincerely impressed if Google updates the Nexus One with ICS.

I think all handset developers that use their own interface for Android should give people a choice. Let people upgrade to Ice Cream Sandwich if they want to in its original form or wait until the overlay interface is ready. Also give the option that if you have the vanilla version on your system you can download and install the overlay interface later. Doing it this way would make things nice and simple, every handset that can handle Ice Cream Sandwich could get it and reap the rewards of having it, and when their interface is finished then they can let people have it. You'd get fewer people complaining (only the people who really like the overlay...there are probably far more people who will complain if they have to wait months to get it or worse they don't get it).

What??? no Sprint Hero???

LOL I was about to ask the same thing! My little Hero is still going strong!!

The issue with the Nexus One and the Desire (my current phone btw) is the miniscule internal storage with only 512 MB available. The ROM and apps have to share this space which gets filled up FAST. Move to SD card only goes so far, and all of those pretty "magazine style" core apps have to be fully on the internal storage since they're baked into the ROM. I just don't think ICS in stock form will fit. Cyanogen and Oxygen will probably make it work.

Wondering of my good old HTC Legend will be supported by CM9? Cus CM7 is running really good. At least i'm good with my Transformer :-)

Every body should already know as soon as ICS comes newer phones with ICS will be made will more memory, speed and all that and were going to buy the new phones. So Idk why everybody wondering if there phone will get the new ICS because by the time that happens your phone will be out dated lol!

VZW saw a pic of Phil's Thunderbolt and said "Look! Our customers don't take care of their phones so I guess we don't have to either?" ...Thanks Phil :-P

Special.... sale..... New style of fishing lure.
Can also be used as a fishing line weight,has GPS.
Vibrates to attract large game fish.
Flashlight built in you can get a app to have strobe light effect. Also takes pic's of the one that got away. Get the NEW DroidX fishing gizzmo.

Is it safe to assume the HTC Vigor/Rezound will get the update? I'm almost shocked they're not releasing ICS out of the box on the (probably) best phone of the year. I was torn between Amaze and Vigor, but the specs on the Vigor are beastly, even compared to the Nexus.

I bought the Bionic (My first android phone ever) on launch day. I had the VZW iPhone and tried to sell it but so many other people were doing the same so I traded it in at VZW for a $250.00 Gift card and using it toward the purchase of the Bionic @ Full retail price. I had a feeling that something cool would be around the corner so I declined to use my upgrade, and as of Oct. 24th I will be eligible for my New-Every-Two (The last one since VZW discontinued the program). I would assume that ICS would eventually get to the Bionic but I'm glad I don't have to wait and can just go out and upgrade to the Galaxy Nexus. I will just either attempt to sell my Bionic and if i get no one to bite, I'll just tarde it in back to Verizon albeit way below (80%) purchase price.

When Motorola says the RAZR will get the update in early 2012, it pretty much means around Oct. There's no way the RAZR gets it before the Nexus S. And custom rom's will be out before then.

If HTC's first gen Snapdragon based phones ie: Nexus 1, Evo, etc. then their 2nd gen Snapdragons should get it too like the Mytouch 4g and the G2.

I am holding out hope for the G2 but I am an eternal optimist.

Of those phones you listed the only one I see with a real chance at an update is the Nexus One. Even then its a very VERY slim chance. I can't see HTC, Sprint, or T Mobile spending the time and money to update. If I recall the G2 was Vanilla so I guess it'd only be up to T Mobile.

In the last 3 years, HTC was the phone of choice because they are good at updating their phones, I only heard bad things about Samsung. Now when the Samsung Epic 4G Touch was released and played with it along side with the HTC Evo 3D and I had to give the Samsung a shot with hopes Samsung will get it together. Now after a year I don't see the ICS on my Epic Touch then for sure my next phone will only be a Nexus. I'll just go pure Google from that point.

The Infuse still hasn't received Gingerbread (which AT&T promised before the end of August) so I'm not holding my breath.

Easy, i say anything that had released Above the HTC EVO 3D will get the update. Anything running a duel core processor will, the EVO 3D, Moto Photon, GS2, Droid x2 and up, And many more

On my Samsung nexus s, will the buttons at the bottom go away and just Become on screen keys?

When the smoke clears, I'm sure we EVO Shift folks will, once again, be the red-headed step-children.

Really hoping the EVO gets it, my husband has it and I have the shift and he cannot do half of the stuff I can on my phone. As for me (EVO shift) I finally got my phone working decent after the GB launch so I'll wait.

My Thunderbolt will get ICS if I have to root the damm thing. I'm not waiting on HTC and I can't for the life of me think that Sense will look good on top of ICS.

I don't get the comment from the Jerry Hildenbrand saying the Atrix is getting long in the tooth because of the Tegra 2 is old? The Atrix just came out in March and Tegra 2 is still being put in Tablets. On top that Tegra 3 (Kal-El) won't even be out in phones until late February 2012. Also the phone is more powerful than some of the devices listed in his top list. 1GHz A9, 1GB DDR2 (some single channel DDR listed in his list), QHD (800x480 in most phones listed), 4-Core Tegra 2 (2-core GPU in Galaxy S2 and others listed), 1900Mah battery (bigger than all listed). Not to mention other features like fingerprint reader, lapdock, webdock, etc.

DDR2 <> dual channel. These are independent technologies.

You can have dual channel in DDR1 and DDR2 wtf are you talking about?

Well I'll be shocked if the Echo does get it, but since we have development moving at least it we have a chance.

I haven't looked at video of ice cream sandwich yet, but I heard that it will have advanced geatures like webOS. Coming from a Palm Pre to the evo 3d, I would gladly give up the buttons on the bottom for the simple gestures that webOS incorporated. It didn't take up much screen real estate either. I'd love to see the button area turn into their gesture area. I'd think they could easily come up with a way to do that. Throw in the card interface with gestures, the incredible HTC hardware, all the benefits of Android and its bazillion apps and i'll be one happy camper.

I am very happy knowing that YES my EVO 3D will recieve ICE CREAM sooner rather than later. HTC has an impeccable track record so they will be on there A game trust me. Meanwhile my GALAXY NEXUS will have ICE CREAM and it will be my very first PURE GOOGLE EXPERIENCE and I am STOKED about that. No VERIZON CARRIER BLOATWARE and no need to worry about verizon and there LOUSY TRACK RECORD FOR UPDATES for the GALAXY NEXUS...I AM IN HEAVEN.....The best of both worlds with MY BELOVED EVO 3D and soon to be GALAXY NEXUS...What a world to be in...

I really think someone's smoking crack if they think Google hasn't taken WiMax into consideration. I mean seriously, do you really think They're going to leave the Nexus S 4G out in the cold??? Not gonna happen.

I hope the Evo 3D is on HTC's list (since my girlfriend and I have one), but I'm concerned for three reasons. One, Google is touting the new ICS camera app, and if HTC can't adapt that to the dual camera setup easily, they may use this as an excuse to pass the phone over on the update. Two, if they haven't bothered to release a bugfix update for something as glaring as not being able to snooze calendar events (it dismisses them instead), why would they be willing to completely rewrite the OS? Three, I don't know that the 3D met Sprint's sales expectations so it may not be worth the programming cost. Half the people out there seem to think you're stuck with 3D all the time, not realizing that you could go the life of the phone without ever enabling the feature. I hope I'm wrong. But I owned a launch day Palm Pre minus so I am all too used to having a phone perfectly capable and deserving of an OS update, but getting passed over despite every indication that it's coming soon.

Great observations! I brought up these very same points over on sprintusers.com and was basically told where I could put them. The dual-camera thing and total sales of the device have me worried the EVO 3D will be the odd man out for the ICS update. I could be wrong, but I have a feeling this will come true. Luckily, I saw this issue clearly when the 3D dropped. I refused to buy it then/now for that reason.

I hope Google gets it onto the Nexus One. I plan to get the Galaxy Nexus if it's on T-Mobile but if not, I want to play with ICS. If it comes down to it, I may have to root and use a custom ROM for the first time.

LOL! no Sprint Optimus S....didn't think so....Sprint and LG messed up the Gingerbread update so ICS would never be available to the OPTIMUS line of cell phones....

So Jerry, that 18 month OS updates that Google/Moto/Verizon/Sprint/ATT/LG/Samsung/HTC agreed on isn't gonna REALLY happen eh? The Droid X2 is 4, count that FOUR, 4, IV, months old. And is a Tegra 2 powered device. Yeah I think it's pretty safe to say you can add the X2 to your list of phones that will, or most likely will get ICS list. That or you might as well stop posting things on Android Centrals blog stating one thing, then a few months down the line tossing it out the window. What amuses me most is the fact you added the Droid 3 to the will get list. Your speculation is most certainly flawed.

Is the HTC rezound getting ICS because its the best hardware to date but HTC sound like there not in a hurry to put it on the phone.

Remember, these are just Jerry's predictions. I think he's wrong on a couple pretty salient points regarding Sprint. I'm not as well versed in the other carriers, but I'm sure this will be looked back on like those "What will technology look like in 2000" state fair things from the 50's that predicted we'd have robot servants and flying cars... (I respect Jerry, he's well versed in this stuff, but I just think he's wrong on this one)

I have little doubt SGS2 (euro version) will get ICS pretty soon. Way to much is made of the fact that ICS 'isnt optimized for Exynos or Mali'. Its just drivers folks, thats all. The Exynos/Mali package is superior to the Ti OMAP in the Galaxy Nexus and doesnt miss anything critical. Interestingly Mali allows for 'free' 4x AA, no performance hit. I bet that will work well with ICS hardware acceleration. As for touchwiz, well i dont use it anyway, but Sammy may well simply abandon it, or simply create a 'skin' that roughly emulates it to give a more corporate front end to distinguish their phones from the other manufacturers. Im willing to bet work is already well underway on the first ROMs. Samsung have a head start.

Yea the Droid 3 and Droid X2 are essentially the same phones. Yea yea you can make the argument that the 3 uses the OMAP and dx2 the tegra, and that ics was optimized for OMAP. Still, no reason why the dx2 shouldn't get ics...

What about tablets ... will my XOOM get ICS?
(Sadly, I'm also still waiting for LTE on it ... grr.)

I believe the Galaxy S1 will get ICS too. Maybe not in the states (because your carriers suck ass), but the international one. Those devices just sold extremely well until just recently, when the plus variant was introduced. Plus, Samsung continued to update the SGS constantly with leaked releases, just recently up to 2.3.5. Why would they do that if the not plan to release ICS? A official update from 2.3.3 to 2.3.5 wouldn't give them the positive press that they desire, so that work (for the leaked 2.3.4 and 2.3.5 releases) would be unprofitable.

Nope, Samsung has said that the GS1 wont get Gingerbread and thus that means that the us variants wont either.

I guess like our ATT-Samaung Infuse we F----ed again. Not that they care but ATT & Samsung should be ashamed of them selfs. It's just so annoying that they don't care about the long term customers they have. Just a thought. Go Sandwich.....

The Infuse has better hardware than the original GS and the other US GS variants, I am actually wondering if they are gonna skip Gingerbread altogether and to straight to ICS.

I'm still rocking my HTC Droid Incredible with CM 7.1 and love it. I'm due for an upgrade in January, and I'll more than likely snag a Galaxy Nexus, but if I decide to hold off and wait to see what Q1 2012 brings for new phones, I'll update my Incredible to the latest CM build and do mule kicks and fist pumps. All hail Cyanogenmod!

Damn that Droid razr is sexy!! I wish sprint would have gotten it, because I hate Verizon with a passion!

Firmly agreed. I want one...NOW!

Keeping my fingers crossed for an update on my MoPho

HTC has a knack for abandoning their products at 12 months. I would not expect them to even spend time thinking about updating anything older than that. I'm very curious to see what Google does for the N1, because that will likely set the expectations for all future Nexus models. Of course, there are CPU and ROM size considerations... and if anything I'm afraid the N1's limited ROM/RAM capacity may be the first nail in the coffin.

Well let's see the DInc was launched with Eclair, got Froyo a few months later and then just this fall got Gingerbread... by my count that's about a year and a half of support... doesn't seem neglected to me at all...

Since Phil is predicting Sprint's getting the Nexus Galaxy, and Jerry is saying WiMax isn't likely to get ICS, can we have a geek fight? :D

It is amazing how no one at Google is smart enough to use device drivers. Android is a lame operating system which requires each manufacturer to patch and test everything before issuing upgrades. With MS Windows, Microsoft just ensures that new versions work with the device drivers. It means that Microsoft can update the operating system daily without crashing their customers' systems. With Android, the horse-and-buggy operating system, we have to beg and plead for hardware manufacturers to grace us with a crumb from their Android update table. The only thing worse than this farce is the Android see-no-evil, hear-no-evil, do-no-evil media which allows the Android cell phone manufacturers to get away with this. Android development team! Get a clue! Android media including Androidcentral! wake up!

What about the HTC Inspire 4G? Released only 7 months ago, so I would think maybe... I hope...

It'll probably get it, but not until after the dual-core devices do. I wouldn't worry, though, since it's officially supported by CM.

Inspire (and Thunderbolt which are almost the same phone) will get it but probably not till summer. They are older devices on even older hardware and as the article says odds are that the newer devices will get it first.

Just a quicky. The XPeria Play presumably falls into this category, but as I've already rooted my phone, will the ICS update require a new root install again?

Am I a bad person to say that I love my Epic 4G Touch exactly the way it is running now and so am apprehensive at best as to whether I even want or need ICS? I just don't see any killer features in ICS that I am drooling to get, that I don't already have? Perhaps someone can enlighten me. I do agree if I were going to buy new hardware I would wait for new hardware released running ICS, it's just that I have ZERO plans to move on past my Epic 4G Touch I am not so jazzed about the whole "Is my phone getting ICS?" conversation....

if you always want a phone to be up to date, ALWAYS stick with a nexus,
either the nexus s or the galaxy nexus./
you will always be running the latest and greatest,
its worth it all in itself.

I hope my LG thrill gets ICS!!!!

I'm sure it will, though I would not expect it for a while.

As soon as Possible,...
Please forward Ice Cream Sandwich to the folks over at "Titanium Backup"
I won't be upgrading, unless I can Keep my Titanium.

I second that! Best and only backup app I've used so far

Oddball or not, the kyocera echo recieved gingerbread before most of the phones listed. No reason to believe ICS would be too far fetched an idea. Well, except that it was eol'd only after 6 months. There's still hope.

That's exactly why it did get it when it did it was just in development at the right time to get the fresh new code. The fact that it is EOL and not a lot of them around are exactly why they won't spend the money and effort to upgrade it. I'm a huge believer that all the devices that are capable should be but honestly if I were Sprint and Kyocera I would have a hard time justifying it.

This sounds insane... but the Samsung Continuum has softkeys already.

Inc 2 will get an official release, but I will get the rooted version.

As an Echo user i would love to see ICS on it just as a sample maybe but I like the idea of it.

Looks like it would be safe to assume that the Kiocera/Sanyo Zio will not be in contention for this upgrade now or ever. Anyone care to confirm that so I can stop dreaming? Thanks.

Huh, my Evo 4G is not on the list...should have known. Oh, well, I've been running CyanogenMod for a year or so, and that gives me the features I needed anyway, like free tethering for my iPad. All my fellow Evo users, that aren't feeling the HTC love should just come on over to CyanogenMod. Don't cost nothin'.

Just remember this is just guesswork on Jerry's part but in this case I agree with him the Evo 4G wont get upgraded and neither will my beloved DInc.
Android Central Newsletter
Get instant access to breaking news, the hottest reviews, great deals and helpful tips
Thank you for signing up to Android Central. You will receive a verification email shortly.
There was a problem. Please refresh the page and try again.