Will Galaxy S8 cases fit the Galaxy S9?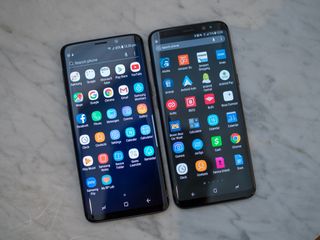 The Galaxy S9 and S9+ haven't changed much from the Galaxy S8 and S8+ that preceded them, with an extremely similar design and materials. That'd lead you to a totally realistic expectation: that a Galaxy S8 case would fit on the Galaxy S9, and a Galaxy S8+ case would fit a Galaxy S9+. Right? Wrong.
The Galaxy S8 measures in at 148.9 x 68.1 x 8mm. Compare that to the Galaxy S9 at 147.7 x 68.7 x 8.5mm. 1.2mm shorter, 0.6mm wider and 0.5mm thicker. The Galaxy S8+ is 159.5 x 73.4 x 8.1mm, and Galaxy S9+ is 158.1 x 73.8 x 8.5mm. 1.4 mm shorter, 0.4mm wider and 0.4mm thicker.
Samsung Galaxy S9 vs. Galaxy S8: Should you upgrade?
At first glance the size differences are so close that the Galaxy S9 or S9+ will actually "fit" in the old case, and the ports and buttons are all close enough to work with cutouts. But then you'd flip the phones over and notice that on the Galaxy S9+ the second camera was covered. On the Galaxy S9, the fingerprint sensor would be obscured.
If you have a Galaxy S8 or S8+ and make the upgrade to an S9 or S9+ you could use your case on the new phone for a few days while you wait for a new purpose-made case to arrive for the new phone. But don't do it for longer than that. An ill-fitting case is just about as bad as not having one at all — it's not going to provide the protection you need.
Android Central Newsletter
Get instant access to breaking news, the hottest reviews, great deals and helpful tips
Andrew was an Executive Editor, U.S. at Android Central between 2012 and 2020.
What a strange article. Who would ever think they would fit when the camera and fingerprint layout has changed?!

A lot of people actually. Not everyone knows the exact dimensions. I've seen questions similar. Will my iPhone 5 case fit the 6. Will my Moto case fit my LG. These articles are good for people who are not obsessed with phones and do a basic web search.

And have zero common sense. It's a bit more understandable with the iPhone given the design was almost entirely unchanged for so long, but Moto to LG?

You'd be surprised... the world would be a much better place if people had more common sense... sadly that's never going to be the case... lol plus, I think he was just exaggerating to get his point across...

Actually I wasn't. The phones were almost the same and it might have fit but the buttons were wrong and the Moto was about 1/8" smaller. Common sense comes with prior experience. When you have no experience you have nothing to compare to. That is why there are forums.

Can't we all just get along? LOL!

I'm not falling for that, Mudd 😛

I'm still using my S6 case on my S7 right now while I wait for the S9. Lol. The camera cutout is off a bit but doesn't actually cover the lens. It works.

At least they didn't use the Apple upgrade method to screw over the consumers by making a new phone the exact same size, but move a button or switch 2mm so that everyone buying the new phone would have to buy a new case....
Android Central Newsletter
Get instant access to breaking news, the hottest reviews, great deals and helpful tips
Thank you for signing up to Android Central. You will receive a verification email shortly.
There was a problem. Please refresh the page and try again.