Samsung Galaxy S9 vs. Galaxy S8: Should you upgrade?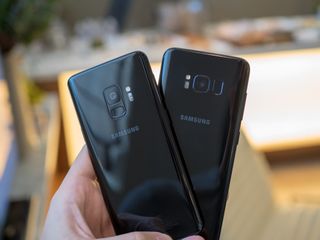 It doesn't take long to realize the Galaxy S9 is very similar to its predecessor. Hand the two phones to an average person, and they wouldn't likely know which one is the "newer" device. They have extremely similar designs, the software is near-identical and the insides haven't dramatically changed either.
Nevertheless, people who love their Galaxy S8 are likely to be interested in anything Samsung has to offer, and will want to know whether the next flagship is worth their time and money. Here's what you can expect when looking to upgrade from the Galaxy S8 to the Galaxy S9.
What's the same
Image 1 of 5
Samsung seems happy with its current design language because it kept things nearly identical for its 2018 flagship. The Galaxy S9 is almost the exact same physically as the outgoing Galaxy S8, with only a 1.2 mm reduction in height and 8-gram increase in weight separating the two. The metal and glass are both thicker, but you'd be hard-pressed to tell if someone didn't let you in on the secret. You may notice the subtle change from a glossy to lightly textured finish on the metal — but the actual feel of it isn't much different.
That means that the screen size remains the same at 5.8-inches in the Samsung standard 18.5:9 aspect ratio, with the same resolution, curved sides, rounded corners, and Gorilla Glass covering. The buttons all remain in near-identical positions, including the Bixby button on that left side underneath the volume rocker. Inside you have the same 64GB storage (plus SD card slot), 4GB of RAM, wireless charging, fast charging and all of the other Samsung standards. It also notably did not improve charging speeds, leaving things at Quick Charge 2.0 levels.
The important thing to note here is that nothing has gotten worse or less capable for 2018 — Samsung only built upon and improved from the Galaxy S8. In a way that's a feature of this release, as so many times we see companies try to push the envelope year-over-year in a way that ends up leaving behind well-liked features from previous versions. So, look on the bright side.
What's different
Image 1 of 2
The most substantial change in the Galaxy S9 is an all-new camera setup, comprised of a new "Super Speed" Dual Pixel sensor and a lens with a physically variable aperture. The sensor offers dramatically reduced grain and improved fine edge processing, which was a sore spot of the Galaxy S8 in low-light scenes. Speaking of, the move to an f/1.5 aperture also lets in more light in badly lit scenes, giving that improved sensor even more to work with. The result is notably improved low-light photography that's among the best in the industry. The new sensor also gives the Galaxy S9 a 960 fps super slow-motion mode, going well beyond the Galaxy S8 for a super dramatic effect.
Even though the battery hasn't gotten any larger, the Galaxy S9 has more efficient processor that can help a little with overall longevity. Whether you get the Snapdragon 845 or Exynos 9 version, both processors are more frugal with power for normal tasks, which in the end will save you battery (though the Snapdragon model seems to be the better of the two this year). Just how much is really going to depend on how you use the phone, but considering the rest of the experience has remained effectively constant, don't expect this to be a massive improvement.
Samsung's only claimed improvement with the 5.8-inch display for 2018 is a bump in brightness, but at a 15% increase that's pretty substantial. That puts the GS9's display roughly on par with the Galaxy Note 8 in overall brightness, and that's noticeable over the Galaxy S8. The Galaxy S9 bests the S8 and the Note 8 with audio, though, firing up a second speaker above the screen for stereo sound that's louder and has crucial stereo separation.
And it's a relatively small thing, but the one real change to the usability of the Galaxy S9 is its fingerprint sensor, which is far easier to reach and use than on the Galaxy S8. It makes the swipe-down gesture for the notification shade useful, and generally reduces frustration when you're trying to unlock your phone — something you do hundreds of times a day.
Should you upgrade?
I'll say it right away: most people who have a Galaxy S8 shouldn't expect to upgrade to a Galaxy S9. And with all of Samsung's product decisions and messaging around the Galaxy S9 launch, it doesn't expect many people to make the one-year upgrade either. There's a massive base of Galaxy S6 and Galaxy S7 owners out there that are being targeted here, getting a refreshed and improved Galaxy S8 that'll still look fantastic compared to those older phones.
If you bought your Galaxy S8 on Day 1 last year and have had it for well over a year now, you may be willing to sell off your phone to a third party and pay up the difference, but even in that case you're looking at hundreds of dollars of outlay to get this newer phone that isn't that much better. The one thing you could say for upgrading is that the Galaxy S9 does everything the S8 does, plus more — you don't lose anything in the upgrade process. Even with that in mind, it's tough to argue that a new camera system, moved fingerprint sensor, slightly faster processor and brighter screen is worth the hundreds of dollars it'll cost to make the jump.
Update July 2018: Updated to reflect the Galaxy S8's age and new pricing.
Be an expert in 5 minutes
Get the latest news from Android Central, your trusted companion in the world of Android
Andrew was an Executive Editor, U.S. at Android Central between 2012 and 2020.