Samsung Galaxy S9 vs. Galaxy S8: Should you upgrade?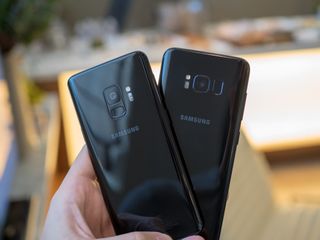 It doesn't take long to realize the Galaxy S9 is very similar to its predecessor. Hand the two phones to an average person, and they wouldn't likely know which one is the "newer" device. They have extremely similar designs, the software is near-identical and the insides haven't dramatically changed either.
Nevertheless, people who love their Galaxy S8 are likely to be interested in anything Samsung has to offer, and will want to know whether the next flagship is worth their time and money. Here's what you can expect when looking to upgrade from the Galaxy S8 to the Galaxy S9.
What's the same
Samsung seems happy with its current design language because it kept things nearly identical for its 2018 flagship. The Galaxy S9 is almost the exact same physically as the outgoing Galaxy S8, with only a 1.2 mm reduction in height and 8-gram increase in weight separating the two. The metal and glass are both thicker, but you'd be hard-pressed to tell if someone didn't let you in on the secret. You may notice the subtle change from a glossy to lightly textured finish on the metal — but the actual feel of it isn't much different.
That means that the screen size remains the same at 5.8-inches in the Samsung standard 18.5:9 aspect ratio, with the same resolution, curved sides, rounded corners, and Gorilla Glass covering. The buttons all remain in near-identical positions, including the Bixby button on that left side underneath the volume rocker. Inside you have the same 64GB storage (plus SD card slot), 4GB of RAM, wireless charging, fast charging and all of the other Samsung standards. It also notably did not improve charging speeds, leaving things at Quick Charge 2.0 levels.
The important thing to note here is that nothing has gotten worse or less capable for 2018 — Samsung only built upon and improved from the Galaxy S8. In a way that's a feature of this release, as so many times we see companies try to push the envelope year-over-year in a way that ends up leaving behind well-liked features from previous versions. So, look on the bright side.
What's different
The most substantial change in the Galaxy S9 is an all-new camera setup, comprised of a new "Super Speed" Dual Pixel sensor and a lens with a physically variable aperture. The sensor offers dramatically reduced grain and improved fine edge processing, which was a sore spot of the Galaxy S8 in low-light scenes. Speaking of, the move to an f/1.5 aperture also lets in more light in badly lit scenes, giving that improved sensor even more to work with. The result is notably improved low-light photography that's among the best in the industry. The new sensor also gives the Galaxy S9 a 960 fps super slow-motion mode, going well beyond the Galaxy S8 for a super dramatic effect.
Even though the battery hasn't gotten any larger, the Galaxy S9 has more efficient processor that can help a little with overall longevity. Whether you get the Snapdragon 845 or Exynos 9 version, both processors are more frugal with power for normal tasks, which in the end will save you battery (though the Snapdragon model seems to be the better of the two this year). Just how much is really going to depend on how you use the phone, but considering the rest of the experience has remained effectively constant, don't expect this to be a massive improvement.
Samsung's only claimed improvement with the 5.8-inch display for 2018 is a bump in brightness, but at a 15% increase that's pretty substantial. That puts the GS9's display roughly on par with the Galaxy Note 8 in overall brightness, and that's noticeable over the Galaxy S8. The Galaxy S9 bests the S8 and the Note 8 with audio, though, firing up a second speaker above the screen for stereo sound that's louder and has crucial stereo separation.
And it's a relatively small thing, but the one real change to the usability of the Galaxy S9 is its fingerprint sensor, which is far easier to reach and use than on the Galaxy S8. It makes the swipe-down gesture for the notification shade useful, and generally reduces frustration when you're trying to unlock your phone — something you do hundreds of times a day.
Should you upgrade?
I'll say it right away: most people who have a Galaxy S8 shouldn't expect to upgrade to a Galaxy S9. And with all of Samsung's product decisions and messaging around the Galaxy S9 launch, it doesn't expect many people to make the one-year upgrade either. There's a massive base of Galaxy S6 and Galaxy S7 owners out there that are being targeted here, getting a refreshed and improved Galaxy S8 that'll still look fantastic compared to those older phones.
If you bought your Galaxy S8 on Day 1 last year and have had it for well over a year now, you may be willing to sell off your phone to a third party and pay up the difference, but even in that case you're looking at hundreds of dollars of outlay to get this newer phone that isn't that much better. The one thing you could say for upgrading is that the Galaxy S9 does everything the S8 does, plus more — you don't lose anything in the upgrade process. Even with that in mind, it's tough to argue that a new camera system, moved fingerprint sensor, slightly faster processor and brighter screen is worth the hundreds of dollars it'll cost to make the jump.
Update July 2018: Updated to reflect the Galaxy S8's age and new pricing.
Andrew was an Executive Editor, U.S. at Android Central between 2012 and 2020.
Samsung copying Apple with very subtle upgrades and call it a day. This should be the S9s. No thanks.

Yeah not to mention after adding a regular and + model with S8 and S8+ they are NOW differentiating that + model with the dual camera option and more ram from the regular model.

Samsung had a plus model before apple did. Do some research...

My bad, you're right this should be called the S8 S. I really like Samsung but why they keep trying to be Apple so hard??? Hopefully the Note 9 is a better upgrade over the Note 8 which is an already awesome handset. Don't know maybe they should take a little more time to update models maybe?

Cause Apple is very successful in its advertising, selling, designing strategies. They ve been trying to keep up with Apple's features and designs and beating them to some which has kept them very successful and profitable compared to their other rivals. Now they want to copy Apple's strategy in how they differentiate the + model from the regular model by giving the + model the dual camera and more ram options.

You haven't been around cellphones very long I take it. 4 year old Android features are just now coming to the iPhone

I for one don't mind the minor upgrades every other year. This design was/is fantastic. No need to rock the boat in the Note 9 either.

As a fan of the S8+, I'm actually pretty glad that they didn't give me a reason to update. It's been a while since I actually kept a phone for 2 years.

Me too, I have the s8+ and to me it is a minimal upgrade. I'm waiting to see what the note9 has to offer. Their talking about a larger battery, so yes I'm hoping for that. My 8+ has been holding up very well & approaching a yr old. Not one performance issue & probably the best phone I've ever used!

The evolution is not extraordinary, the screen is the same, a processor that gains 10/15% power is insignificant on this kind of material, the fingerprint reader that moves 3cm, good speaker change ok but not enough... frankly it's not stunning !! Only interesting thing in my opinion is the opening of the camera should allow photos in low light because the flash on a smartphone is always to ****.
Go from S8 to S9 for me it's not worth it.

Emojis? Nahh. I'll keep my s7 for now. Didn't catch my attention or maybe apple knows better how to sell a product, how do a better presentation, s9's presentation was really boring.

Same here. Not a significant difference in usability compared to my S6 except for the battery size for which I have a battery case that does wonders.
2550 + 4200 = 6750mah!!! Will upgrade to S10 when it comes out :)

There's definitely a strong case to update from a S6. The camera, SD slot, more RAM and internal storage, faster processor, IP68, stereo speakers, USB C and the infinity display to name a few

I jumped from the S7 to the S8 and have been pleased with that decision. I have been more satisfied with my S8 than about any other phone I have had. I enjoy having the "latest and greatest" and the S9 is so tempting. For now, however, I'm going to keep my S8 and consider upgrading after the S9 has been out for a while. After the S9 has been out for a while and I can read some reviews, I may revisit looking at the S9. If I were coming from an S7 or earlier, the decision would be much easier.

Thanks for The opinion I have a gs7 edge. I have been seeing plenty of should you go to so from s8 but hardly any about S7 to s9.

waiting for FPR in the display before I upgrade, thanks.

Am I the only S8 owner that has no problem with the fingerprint scanner location on the S8?

You're just used to it but the location is awful specially on the S8 plus and Note 8.

Nope, it's perfect. As you pull out your phone it unlocks

Again you're used to its location that's all. Still the placement of it just makes no sense to be off center.

But...um...if you can get used to it to the point where you learn to like it, where's the problem?

I think the vertical sensor is the most annoying part of it. I normally don't have a problem with it unless I'm using the phone horizontally and have to use the sensor.

No you're. The location of the scanner is so blown out of proportion it's not even funny. I like the location, I never miss it and it works all the time.

No, it's placement is okay, now that I'm used to it, but it's not ideal, which is what most people are complaining about. Ideally it would be placed somewhere near the middle, so it's most accommodating for both Lefty's and Righty's (As opposed to political Lefties and Righties). That being said, I have large hands and do tend to "phone" right-handed, despite being a Lefty, so like wlonsdale it unlocks for me naturally as I pull it out of my pocket, whereas people with smaller hands, or Lefty's might struggle a bit more with it.

I'm not upgrading, wast of money, I'll wait for either the note 9 to see if there is more storage and bigger battery. Or go to a different company Al together. I'm sick and tierd of the Samsung string along. I'm paying close to 1000 dollars for a ******* phone for ***** sake. It better be much better than the priveous version. Or I will take my 1000 dollars and get a phone just as equiped and probably save 3-4 hundred dollars doing so. The so called S8 "flagship" isn't a flagship, it failed to have that piece of **** "bixby" ready on its launch date. It failed to have Oreo 8.0 update on it. And now all of a sudden the big selling point of the S8 was it's low light camera feachers, it's super great camera, the same as the S7s , the same bullshit on the smaller S9. No upgrades here. Crock of ****, same storage on the S9 as the S8. Same battery size, ******* ripoff. Keep your bullshit non upgraded expensive phone. Time for something other than Samsung.

I use the s8+ & honestly it's the best phone I have ever used. Upgrade to the 9+, nah I do like the 6gb's, the 845, stereo speaker's, the camera's but it appears to be a minimal upgrade. I'm gonna wait & see what the note9 has to offer. Besides, I've never owned a note before. I just might consider it in the fall!

i have a verizon s7 which has horrible battery life and I have to charge it at least 2 to 3 times a day. my upgrade is available in may and i was wondering if I should get the s9 or get a different android phone. I have had the s5 and s3 which has also had Major battery problems and lagging but luckily my s7 has not had any lagging at all. I want the s9 but I am tried of having a phone where the battery won't last me a full day. I don't want to be a tied to a charger and I don't know what I should do as I can't take this anymore.

I used to have a S7 on T Mobile and after a year it started showing worse battery life, it could barely make it to the evening. I found one of my apps combined with Always on display consumed about 30% of my battery life so I disabled those and improved a bit. Now I have a Note 8 and I should say Im impressed with the battery life despite the gigantic screen. It was definitely better than the S7 and don't need to disable AOD anymore. Having said so, processor andpower management has come a long way since last year. You should do fine if you upgrade to the S9 but I think the S9+ is more suited for you due to better battery life. You may also get a case with embedded battery if you go for the S9

Waiting for the Note 9 and hoping they don't just copy the S9+ and add an S-pen. Would be great to make it more premium with quad DAC, more mp for zoom lens (12mp is not enough), a much bigger battery (3300 will not cut it in the next Note)

It's crazy how tech reviewers are making it sound like the S9 Plus isn't a big deal.

I think the s9 & plus are a big deal. They will be the phones to beat in 2018. Big deal, the design didn't change. They are still the best designed phones on the market. Then the specs, the 845, variable aperture camera, 6gb's, stereo speaker's, no NOTCH, ip68, wireless etc,etc. Let me know when they make something better!

No. Facebook, Snapchat, Instagram, Android Central, messaging and browsing the web will all look exactly the same on the S8 as on the S9. Well maybe not messaging as I don't think the S8 will get VR emojis, but who cares.

I always wait a min of 2 years to upgrade. Save a bunch of $$...don't waste my time(in wondering if I should or not). There's almost never a feature that's with upgrading just after 1 year. Went from Note 3 to Note 7, then back to N3(obvious reasons) and had to wait for Note 8-no prob what so ever, N3 was a great hold-me-over. 4 years on 1 phone sucked because I got use to the features of the N7, but showed me I don't need to jump right away to the next greatest(not that I really do anyway). Will look at the N10(just because it will be #10) but may hold off till #11 overall.

Samsung's software is the reason why I will never buy their phones it's not true Android, Pixel phones are true Android flagships with the best Android experience, no bloat and stutter, it's what Android shows be and Samsung should stick to hardware and let Google handle the software because they are better at it than Samsung are, as Samsung make great hardware and beautiful looking phones in the S9 and S9+ and the S8 series before them but until Samsung cuts down on the bloat and gimmicks, I'll never buy their phones, because I care about updates, fast, bloat free and clean Android, which is how Android is meant to be.

beno, I feel as you do only I prefer Samsung. I love having the headphone jack, micro s/d & wireless. With the asking price of the 128gb model XL 950.00 I desire those 3 features. I can't sit here & knock the pixal because it is an excellent phone especially the camera & updates. So these are both 2 of the best I just prefer Samsung!

Google couldn't create a good version of Android if their lives depended on it.
Which is why they leave it to Samsung to define what Android can do and then simply copy the features a couple of years later. Stock Android is sh*t. And the majority thinks the same which is why Samsung phones sell by the millions and the iPixels are a sales flop.

The question is s9+ or wait for the note 9

I saw the S9/S9 plus at Costco today and I absolutely will not upgrade. The phones are great just like the previous models but it's so similar that it just makes no sense.

Ya know Apple kept the same design for how long! Why change a 1yr old design. Still the best design of any. To me, a two yr old design is no big deal, and has the specs to match!

I went from the S8 plus to S9 Plus and very glad I did. The form factor on the 9 isn't the same..it's easier to hold and use. The phone performance as expected is much better than the 8. For me at least it was worth the upgrade.

I agree. I'm surprised to see so much negativity toward such a great phone on this site. I see less bashing over on the Apple site I'm usually on. With the S9+ I'm finally able to get beautiful photos of the full moon over the ocean that I never could get before. I have a Pixel 2 and even that excellent and highly praised camera can't get the photos I have managed to get this spring break. I might have had a less than stellar early production S8+ that isn't as good as that of other people on this site. Whatever the case, I found that phone disappointing over all and stayed with iPhones as my main phone. The subtle but numerous small changes found in my S9+ were welcome refinements that finally have me contemplating taking on the laborious task of switching fully out of iOS and iMessage to Android.

So I currently have both the note8 and the S9+. I have about 2 weeks to decide which one to keep. The one thing I was worrying about losing with getting the S9+ is smart select, but the S9+ has that already built in. Also the stereo speakers are amazing on the S9+, especially when I'm gaming and watching videos. It's going to be a hard decision:/

I jumped from an S7 edge to an S9 Plus and while I don't tout myself as a "Power User," I do run a lot of apps and share pictures and videos between them via the share option, and the dramatically faster SD 845 and 50% increase in RAM from 4GB to 6GB has made it a much smoother and snappier experience. I know that I am pushing the memory limits of my phones as I would usually have 500-700 MB of RAM "free" on my S7 edge, but on the S9 Plus I still only have 800-1.3 GB RAM free, which to me confirms that I was actually oversubscribed on memory on the S7 edge, resulting in sluggish performance. That said, I think even S8/+ users would find an appreciable performance boost thanks to the increased amount of RAM.

I upgraded to the 9+ from an 8+ 6 gigs of ram a fantastic camera new cpu was enough for me to upgrade and the honey moon phase has passed now that I've been using it two weeks now. I couldn't be happier in my decision. This device hasn't lagged on me lets see over time. Stock android is plain and boring prefer Samsung's features over stock Android any day.

I respect your choice to burn cash. Having a Note 8.... You are right... 6GB RAM is a very good thing. Enjoy sir.

No, of course not. Next question? Your next phone should have a 5G LTE modem... If your current phone is a S8

Got a Note 4.
I don't need anything more. Most of us don't upgrade every couple of years you know...

The Note 4 has many loyal enthusiasts still using it. It must be a remarkable phone. I'm sorry I missed out on it. I was firmly entrenched in iOS until the Note 7 drew me to try Android and then broke my heart.

Impressive.... You know... If it's still on Kit Kat... Then maybe still only having 3GB of RAM is ok. You have a micro SD slot, a great display... I agree, it has held up very well. Have you at least had a local guy in the mall replace your battery? I will be in your shoes... I hope... In four years time when the Note 12 arrives. I can't imagine wanting my Note 8 to do any more... Granted... 5G LTE will be wide spread in 3 years. I don't see it coming as fast as some predict because the band used is so horrible going through walls & all... It requires a tonne of hardware... Including in building a and possibly homes. Uh... Yeah, 6GB of RAM is nice... But awesome bud.... Congrats

Yes, to me it's worth it . I did and don't regret it .it may look the same and on paper there isn't much of a change but in real world use and experience its so much better than the s8+. It handles everything much better and the camera is out of this world especially in low light . The only thing I found to be worse is the battery life by 2 hours

I had the S8+ and then the V30 I'm currently using an S9+ I like the S9+ better than the other two phones except for the battery which is my only real complaint.

On paper, it may appear that the S9+ is just a bit of a bump up in specs, but all the "subtle" changes make for an improved experience over the S8+. The improved camera was more than worth the upgrade for me, given that I'm an amateur photographer. The faster lens (F1.5 vs. 1.7) allows for better low light shots, even in sports mode, and the additional longer lens (2x zoom) provides more options when you can't get very close to the subject. Hope the longer lens can be used in pro mode in the S10+. That would be a worthy upgrade!

No upgrade for me. My S8 does what I want just fine. Besides, the thought of setting up another phone from scratch is a huge deterrent from getting a new phone. If I could do a full unrooted image backup and restore I'd actually consider the upgrade.

The evolution is not extraordinary, the screen is the same, a processor that gains 10/15% power is insignificant on this kind of material, the fingerprint reader that moves 3cm, good speaker change ok but not enough... frankly it's not stunning !! Only interesting thing in my opinion is the opening of the camera should allow photos in low light because the flash on a smartphone is always to ****.
Go from S8 to S9 for me it's not worth it. ____________________________________________________
https://dltutuapp.com/
https://kodi.software/
https://luckypatcher.pro/

iPhone is the same for years (new colors haha). Just keeping features, Samsung, is doing a good job.

Call me frugal but $600-$700 for a personal cell phone is a bit overkill. A quality $350-$400 phone can do all u ask..just a couple seconds slower for really heavy lifting...which isn't too often in most cases.

It's more than just raw speed that matters. It's the things that can be done with that speed/ power that matters. Then you also have flagship exclusive features like Samsung pay and the gear vr.

Ok I've read through all of this. I have a 6s. Should I jump to the 9 or save myself some bucks and get an s8?

If you can't wait for the s10 I would go with s9+ so you can get the ultimate Samsung experience.

I currently have the s8+ and love everything about it. While the s9+ has many of the things I would have liked to see on the s8+ in the first place. I am perfectly content on waiting for the s10 mainly because of the in display fingerprint sensor and hopefully many other awesome features they might be saving for their 10th galaxy phone.

No. I just got my S8+ a month or so ago. Will keep. It till it ceases to function properly or till the apps I use regularly stop supporting the version of android it is running. Then get whatever Samsung device is out at the time.

Actually I could tell immediately the S9 was slightly thicker than the S8. I don't own either, but after handling both I asked the sales person about differences, He said there were none, but I didn't believe it, hence my google search that led me to this comparison. S8 wins for feel in the hand in my opinion.
Android Central Newsletter
Get the best of Android Central in in your inbox, every day!
Thank you for signing up to Android Central. You will receive a verification email shortly.
There was a problem. Please refresh the page and try again.