Why you should risk using Chrome Beta for Android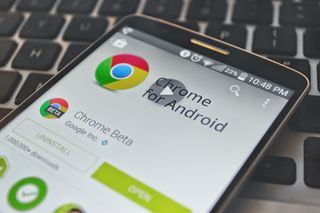 Chrome is quickly becoming one of the most popular web browsers in the entire world on most platforms. (And by many accounts, it already is.) When adding new features, testing functionality, or considering changing the way the browser looks and works, Google builds a completely separate version of Chrome. On the desktop Google has a "Canary" build of Chrome and on mobile Google has packaged Chrome Beta for developers and early users who want to "get on the bleeding edge of the web."
Back in 2013 Google gave developers the ability to roll out beta versions of their applications. All the developers would have to do is create a Google Plus page or Google Group for users to join and link it to their application. When developers pushed out beta updates to test new things in their applications, they could monitor what worked and what broke without having it affecting most of their users. Unlike most developers who are using Google Play's beta channel functionality, Google built a separate beta application which they use to test new features that might make it to the stable build of Chrome.
The question is should you download and use Chrome Beta?
There are plenty of benefits and drawbacks to using beta software especially with Google's browser. To start, one of the main reasons to download this is for quicker and more frequent updates. Since it is beta, Google will be testing different things and with each update they can add functionality, fix issues with previously added features, or take out faulty aspects of the application completely. The second reason to use Chrome Beta is to get your hands on the newest and greatest before everybody else. In the the latest beta build, build 37, Google released an update to the application that gave the application's logo and user interface a Material Design redesign along with some bug fixes. This is a huge thing for most users because the stable Chrome build for Android will most likely not get the new look until we get closer to the official release of Android L.
There are not many drawbacks to running Chrome Beta on your Android phone or tablet. The biggest is something that is seen in any software beta: bugs and other issues that can make the application function incorrectly. When running the stable build of Chrome, you can expect peace of mind as you browse the web and use the browser to its full capacity. When using Chrome Beta, there is always a chance the the app will force close on you randomly, not load something correctly, or just have aspects of the application not work at all.
The other issue is that it'll put one more browser on your phone. Depending on what you're using, that could very quickly give you three choices — and then you'll need to worry about setting a default app. That's not a big deal for many of us. But it could be a thing for novices.
So should you use Chrome Beta? The choice is yours. Google promotes the beta build of Chrome to developers who can use it to make sure their websites and web based applications work correctly when the update it rolled out to the masses. Google also wants average users to use Chrome Beta so that they can provide feedback when the app crashes on them or if they find a bug in the application. Luckily, you can always run the stable build of Chrome right along side of the Beta so that if you do find something broken and are no longer able to use the beta app, you will not be without a web browser.
Sign up for Black Friday email alerts!
Get the hottest deals available in your inbox plus news, reviews, opinion, analysis and more from the Android Central team.