Why did you buy the Galaxy S21?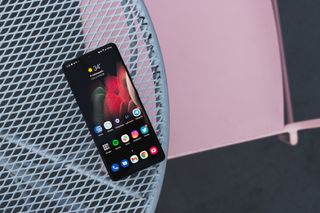 (Image credit: Hayato Huseman / Android Central)
Galaxy S21 launch day is almost upon us. We have one more day of pre-orders to go, and as of tomorrow, the new flagship series will officially have landed.
The S21 lineup brings a lot of good to the table, but compared to last year's S20 family, there are also some notable compromises that potential shoppers need to consider. With that in mind, we're interested in knowing why people decided to go out and buy any of the S21 models as their next smartphone of choice.
A few of our AC forum members recently started talking about this, saying:
Now, we want to hear from you — Why did you buy the Galaxy S21?
Get the Android Central Newsletter
Instant access to breaking news, the hottest reviews, great deals and helpful tips.
Joe Maring was a Senior Editor for Android Central between 2017 and 2021. You can reach him on Twitter at @JoeMaring1.
I had no intentions of buying the S21+ but I was paying my bill at my local Verizon store. The manager offered me a deal I couldn't refuse. 384.00 buck-a-roos & 16.00 a month. I said what? Hell yeah, the 6hundred deal is real & I was pleasantly 😲shocked? S21+, here I come!

I bought mine cause I wanted something different and the price of the S21 plus the solid trade in program of samsung made me wanna try it. Im trading in my iphone 12 which I love but so far this S21 its the better phone. I'll keep using it for a week and decide which one stays and which one goes

Because my wife wanted a newnphone and I got it for $250!

I wish Samsung would offer deals like this in the UK

The article doesn't mention any deals?

I'm getting the s21 ultra because my front Glass is cracked, also I love the s pen and it looks like this is the only way I'll be able to keep one.

Getting the S21 Ultra was a complicated decision, because I really didn't want to give up the SD card. In the end, it was: Camera features, hope for better battery life, and WiFi 6e, added to the massive trade-in and the accessory credit. It took all of that to overcome the SD card thing. I've had it 18 hours and part of me wants to return it. I'm sure after I get it and take some photos and video today that I'll be fine.

Going directly to Samsung and their aggressive trade In value, S21 cost $330 to own my phone. Plus the money I get for moving this line over to VZ in Verizon Gift Card will help payoff the Note20 Ultra I moved to VZ when it came out last year. This will be the first time in about 5 years I have owned all my new phones.

Please bring a s10e variant. I know you can do it Samsung....

The question should be Why would you buy an S21? S21 is an expensive S20 FE and the S20 Plus is a better phone than this year's S21 Plus. As always the Ultra will be forgotten in only a few months when the Note comes.

Because TMo offered $800 off (instant bill credit and 24 balance monthly bill credits) for trading in my old S9, which was replaced by my new S20FE. Wife didn't want to give up her S8 to get the S20FE, so I just got a cheap S7 (oldest phone to get $500 off the FE) from Facebook and used that and kept the FE for me. But since $800 is $800, and only paying taxes, and $50 (over 24 months) for the 256GB model, AND getting the $100 credit from Samsung, that is a no brainer. So for $12/mo for 24 months between both of the 256GB upgrade and my portion of the FE combined, I'll take that. Still will have the S8 to give to my daughter as I'm forcing the S21 on my wife. I will keep the FE for the SD card and larger screen, although I prefer holding the S21 than the FE due to the size.

IF the Note comes.
Also, this Ultra won't be forgotten.

Why get the S21 Ultra when the Note 20 Ultra is available, new? Also, for the people claiming atrocious battery life in the Note 9, why don't you just replace the battery, or is that just a purchase justification? I replaced the battery on my Note 8 3 times, because when you crack the glass, if you get the official Samsung Repair, they also replace your battery. Only reason I upgraded to the Note 20 Ultra was to play Xbox Streaming. Note 8 was still tip top, beside that.

Why? Newer processor. Better cameras. Better photo/video features. More camera features. Better screen.

i like samsung phones. the pixel 4a was garbage that i return after using for 4 hours.
i have been wanting a new toy.
i have had my unlocked S21 for 2 days and i am in love with it.
it's the first time i've enjoyed an android phone since OG moto X back 1000 years ago
New Note is So Far away.... august (usually)

My Note 9 was getting a little long in the tooth...battery just starting to lose some of its capacity and a tad bit os slowness from time to time. S21+ comes along, and AT&T offering $800 on a trade-in, which is likely the last offer that size for my Note, given prior years' models topped out at $350 for the trade, so I decided to take advantage of it. Went for the Plus model for two reasons: screen size and battery. Didn't feel the need for the Ultra, but the significant bump in screen real estate and battery over the base model made the plus a no-brainer for me.