Which storage size should you buy for your Google Pixel: 32GB or 128GB?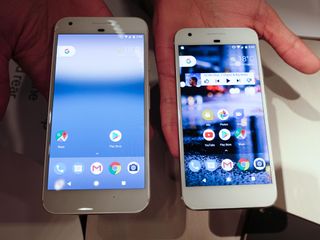 One of the biggest decisions to make when ordering your new Pixel or Pixel XL is how much internal storage you want, and your options are 32GB and 128GB. Neither the Pixel or the Pixel XL support microSD expandable memory, so you're locked into whichever size you decide on.
There are a number of factors to consider before pressing that buy button, so let's break it down.
What 32GB actually gets you
It wasn't too long ago that 32GB of internal storage in a smartphone was a maxed-out spec. In just a few short years we've now reached the point where it's considered the "budget" option.
On paper, 32GB might seem like more than enough space for installing all of your favourite apps and games, with ample room left over to fill with photos, video and all other types of media. But as AC's own Alex Dobie points out, you may want to know just how much of that space is taken up by disk formatting and core system files. Dobie figures you should expect to have 23GB of storage available to you after initial set up.
If you love filling your phone with your favorite media, or enjoy playing high performance games with sharp graphics and steep storage requirements, your storage space might run out rather quickly with the 32GB model, especially since the phone doesn't have a microSD slot. If you typically use music streaming services such as Spotify or Google Music, and video streaming services such as Netflix or Hulu (and really who doesn't these days?), 23GB of usable storage may well accommodate your needs just fine be enough.
Then again, if Google's Daydream VR platform has you drooling, you'll probably want to future proof your phone by going with the 128GB model to ensure you've got ample space to store and try out every VR experience.
Photo/Video Storage
Google is claiming the Pixel's camera is second to none, which is exciting news for any budding smartphone photographer. With the camera quality so highly touted, you'll definitely want to turn every settings knob to 11 just to see what it can do. Storing high-quality photos and videos on your phone is notorious for gobbling up all your available storage.
But Google is offering an amazing reprieve for those who love to snap and shoot the world around them. Pixel owners will be able to upload an unlimited number of photos and videos at the highest quality — including 4K video — Google Photos. That means you can take all the photos and videos you want, keep the best ones on your phone, and back everything else up to the cloud. This will help ease the storage crunch for the 32GB, but obsessive photographers might still want to opt for the 128GB option to allow more space for editing and storage right on the device, as well as shoot in RAW.
Price
For most people the decision is ultimately going to come down to what fits best into their budget. If you opt to buy an unlocked Pixel, it starts at $649 for the 32GB model, while the Pixel XL starts at $769. Upgrading to the 128GB model from either phone will add $100 to the price. Looking at the difference between a $649 32GB Pixel and an $869 128GB Pixel XL could mean the difference between meeting your budget and shooting way past it.
There are different financing and carrier deals available depending on where you live. In the U.S., there are decent financing options via Google and Project Fi, but we recommend not getting your Pixel through Verizon.
In Canada, buying a 32GB Pixel through Google starts at $899, and a 32GB Pixel XL starts at a whopping $1049 — that's before taxes — so needless to say it's a pretty major purchase especially if you're considering adding another $130 to upgrade to the 128GB variant. Multiple Canadian carriers are offering contract deals on the Pixel and Pixel XL, but the two of the three — Bell and Telus — are all only offering the 32GB option. Rogers and its subsidiary Fido are offering the larger 128GB model.
In the UK, you can buy an unlocked version of the 32GB Pixel from Google starting at £599 and a 32GB Pixel XL starting at £719, with an extra £100 to upgrade to the 128GB model both ways. There are a couple financing options available for UK residents through the official network partner for the Pixel, EE, and through Carphone Warehouse.
Speed
While we can't say with any certainty until we have both phones in hand, devices with smaller storage densities typically perform more slowly than those with larger ones. It's unlikely to make a substantive difference in the performance of your Pixel or Pixel XL, but if you're trying to eke as much value as possible from your latest smartphone, it may be a good idea to opt for the 128GB model.
Bottom Line
Whether or not you upgrade to the 128GB Pixel or Pixel XL will depend largely on your own smartphone usage habits, whether your wallet is prepared to take a hit, and the availability in your region or through your preferred carrier in some cases.
More: Which color Pixel should you buy?
Given the purported camera advancements and compatibility with Google's Daydream VR, we'd recommend opting for the 128GB option where possible because bigger is better and it will help future-proof your phone so you're not reaching your storage capacity only a few months down the line. Unlimited backups for all your photos and videos via Google Photos will be a lifesaver if you end up settling for the 32GB model.
Which size did you order, and how did you justify your decision? Let us know in the comments!
Get the Android Central Newsletter
Instant access to breaking news, the hottest reviews, great deals and helpful tips.
Marc Lagace was an Apps and Games Editor at Android Central between 2016 and 2020. You can reach out to him on Twitter [@spacelagace.