Which storage size should you buy for your Google Pixel: 32GB or 128GB?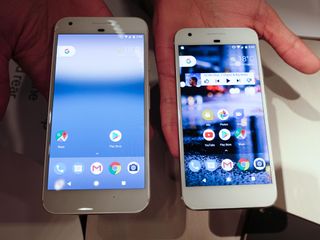 One of the biggest decisions to make when ordering your new Pixel or Pixel XL is how much internal storage you want, and your options are 32GB and 128GB. Neither the Pixel or the Pixel XL support microSD expandable memory, so you're locked into whichever size you decide on.
There are a number of factors to consider before pressing that buy button, so let's break it down.
What 32GB actually gets you
It wasn't too long ago that 32GB of internal storage in a smartphone was a maxed-out spec. In just a few short years we've now reached the point where it's considered the "budget" option.
On paper, 32GB might seem like more than enough space for installing all of your favourite apps and games, with ample room left over to fill with photos, video and all other types of media. But as AC's own Alex Dobie points out, you may want to know just how much of that space is taken up by disk formatting and core system files. Dobie figures you should expect to have 23GB of storage available to you after initial set up.
If you love filling your phone with your favorite media, or enjoy playing high performance games with sharp graphics and steep storage requirements, your storage space might run out rather quickly with the 32GB model, especially since the phone doesn't have a microSD slot. If you typically use music streaming services such as Spotify or Google Music, and video streaming services such as Netflix or Hulu (and really who doesn't these days?), 23GB of usable storage may well accommodate your needs just fine be enough.
Then again, if Google's Daydream VR platform has you drooling, you'll probably want to future proof your phone by going with the 128GB model to ensure you've got ample space to store and try out every VR experience.
Photo/Video Storage
Google is claiming the Pixel's camera is second to none, which is exciting news for any budding smartphone photographer. With the camera quality so highly touted, you'll definitely want to turn every settings knob to 11 just to see what it can do. Storing high-quality photos and videos on your phone is notorious for gobbling up all your available storage.
But Google is offering an amazing reprieve for those who love to snap and shoot the world around them. Pixel owners will be able to upload an unlimited number of photos and videos at the highest quality — including 4K video — Google Photos. That means you can take all the photos and videos you want, keep the best ones on your phone, and back everything else up to the cloud. This will help ease the storage crunch for the 32GB, but obsessive photographers might still want to opt for the 128GB option to allow more space for editing and storage right on the device, as well as shoot in RAW.
Price
For most people the decision is ultimately going to come down to what fits best into their budget. If you opt to buy an unlocked Pixel, it starts at $649 for the 32GB model, while the Pixel XL starts at $769. Upgrading to the 128GB model from either phone will add $100 to the price. Looking at the difference between a $649 32GB Pixel and an $869 128GB Pixel XL could mean the difference between meeting your budget and shooting way past it.
There are different financing and carrier deals available depending on where you live. In the U.S., there are decent financing options via Google and Project Fi, but we recommend not getting your Pixel through Verizon.
In Canada, buying a 32GB Pixel through Google starts at $899, and a 32GB Pixel XL starts at a whopping $1049 — that's before taxes — so needless to say it's a pretty major purchase especially if you're considering adding another $130 to upgrade to the 128GB variant. Multiple Canadian carriers are offering contract deals on the Pixel and Pixel XL, but the two of the three — Bell and Telus — are all only offering the 32GB option. Rogers and its subsidiary Fido are offering the larger 128GB model.
In the UK, you can buy an unlocked version of the 32GB Pixel from Google starting at £599 and a 32GB Pixel XL starting at £719, with an extra £100 to upgrade to the 128GB model both ways. There are a couple financing options available for UK residents through the official network partner for the Pixel, EE, and through Carphone Warehouse.
Speed
While we can't say with any certainty until we have both phones in hand, devices with smaller storage densities typically perform more slowly than those with larger ones. It's unlikely to make a substantive difference in the performance of your Pixel or Pixel XL, but if you're trying to eke as much value as possible from your latest smartphone, it may be a good idea to opt for the 128GB model.
Bottom Line
Whether or not you upgrade to the 128GB Pixel or Pixel XL will depend largely on your own smartphone usage habits, whether your wallet is prepared to take a hit, and the availability in your region or through your preferred carrier in some cases.
More: Which color Pixel should you buy?
Given the purported camera advancements and compatibility with Google's Daydream VR, we'd recommend opting for the 128GB option where possible because bigger is better and it will help future-proof your phone so you're not reaching your storage capacity only a few months down the line. Unlimited backups for all your photos and videos via Google Photos will be a lifesaver if you end up settling for the 32GB model.
Which size did you order, and how did you justify your decision? Let us know in the comments!
Android Central Newsletter
Get instant access to breaking news, the hottest reviews, great deals and helpful tips
Marc Lagace was an Apps and Games Editor at Android Central between 2016 and 2020. You can reach out to him on Twitter [@spacelagace.
128gb of course, Google doesn't do expandable storage.

I feel like they're milking us a bit hard here on the storage tho, I actually find the pricing on that much more offensive than the base price of the phone... Which is just standard high end phone pricing. Alas, I still paid up for 128GB. If there were a 64GB option for $50 I would've gone that route, but I feel like they should've offered 128GB for $50. The cost for the NAND solution is well under that either way so it's definitely a case of maximizing profits over pricing it more aggressively for extra sales, but oh well... Full blown 256GB desktop SSD cost like $75 (and that already includes a profit margin), just saying, whether it's eMMC or UHS based the storage here is overpriced. I could've gotten by with 32GB just like I did on my N5 but I want to have space for VR stuff and for offloading photos from my larger camera via OTG. I can feel just fine with non removable tho, I rarely removed my SD cards and I'd rather have more/faster internal storage if it's either/or, it's the pricing that bothers me some.

I totally agree. I feel like Google is trying to suck as much money as they can out their consumers & it doesn't sit well with me. If Google wants to make the perfect phone, give us expandable storage and stop trying to force us to choose between 32gb or 128gb & pay an extra $100. I was really excited for the new phone, but their price point sucks.

I got the really blue XL which only comes in 32 GB. This is fine since I use Google Play Music and back every thing else up to my one drive.

Like you, I bought the Really Blu. I opted for the smaller Pixel. I stream everything anyway and the first thing I am going to do is set pictures and videos to be kept in the cloud and not on my phone. I would have liked a larger storage option for the Blue. But on my 6p I still have 5 GB open on my 32 GB.

I use Google Play Music but like to download it for offline use. I've recently had to upgrade to a 128gb card as filled a 64gb one. As much as I'm tempted by a Pixel XL, the lack of expandable storage means its not a viable option.

Entry level storage is for peasants.

That's all this peasant can afford

Or people clever enough to manage it so they don't have to overpay for what they don't need :)

Too smart for these type of threads. Now bugger-off you!

Lol, I guess I don't use my phone right. I almost always have about 10 to 11g of storage left on my 32g 6p. I don't keep any pictures on my phone. And, although I stream with Tidal and download 2 of my playlists, I still have all that storage available. But, I admit I should have got the 128g pixel based on demand when I resell the phone through eBay.

I wish they had a 256GB option, or god forbid expandable storage. I like the phone but 128GB isn't doing it

I wish they had 512 GB and don't like expandable storage.

Pfft, 10 Exabytes or gtfo.

Come to Florida. You'll have 10 exabytes of mosquito bites in an hour!!

Baseline should have been 64GB. Would have made them look a little but less Appley in my eyes. With 32GB for these prices in today's day and age is highway robbery.

I agree completely. My £300 Oneplus 3 had 64 GB but the £600 pixel has 32 GB? No.

The people making the storage are making 64GB hard to buy and extremely expensive because they want to keep much of it for themselves. They should have been able to recognize that this would happen in advance and buy excess when it was easier to buy it, but they didn't. And they can;t make it themselves, so no 64 option.

So we're back to the days of RAM hoarding and price gouging, just now with the storage memory. :(

Kind of. It's a matter of scale, too. As many smartphones have been made, sold and put in use in the last 5 years as Computers have in the last 47 years. (A little more, actually). This pattern is only going to continue. I would not be surprised if the biggest reason Samsung isn't selling 64GB ram modules in huge numbers is because they can barely make enough for their own 2017 phones.

Agreed, a baseline 64GB option OR 128GB for only $50 more would've gotten zero complaints from me and I doubt either would massively impact the bottom line of a product line that's still pretty niche-y.

I wish they had a 256GB, or go forbid expandable storage. I like the phone but 128GB isn't doing it

Zenphone 3 deluxe special edition comes with 256 internal storage and SD821!

ZenWHAT?? Ain't tryna have a knock off Android device in the day that Google makes their own. Sorry, I'm one of those Android fans that think like Apple fans.

I think you're being sarcastic, but you should know it's not clear.

I'm still bitter about the price.. I guess I'll buy a decent unlocked phone with similar specs and CyanogenMod it with fewer $$$ or something.

With the camera on this thing, 128GB seems like a no brainer. However, I wanted the blue, so I got stuck with 32GB. Guess I'll be taking advantage of that unlimited full res cloud storage

Why is it a no brainer? Google are offering free cloud storage.

Because in 3 months after you update to 7.1 and all the apps, your baseline will be <20GB. After installing all the apps you need and their cache (Google Photos eats approx 2GB in persistent cache) you will be down to 15GB. Install a few games and you're now in the <10GB zone. Play Music/Spotify? Give away another 2-3GB in cached data. Now you're just playing in the danger-zone at <8GB. WhatsApp? Drop another 4-6GB if you're not from the US. Within the 2-3GB range you're now just ******* with yourself if you even try to record in 4K/Slo-mo video or take vacation pictures over a week, say. And we have not even talked about installing some VR apps if you have Google cardboard because they all eat on average 500MB to 1GB for the higher quality ones.

Anyone with phone use like that would never consider a 32g phone and be considered smart. We buy based on what we need. If you have that many demands on storage then, by all means, you should not be purchasing a 32g phone.

People talk about cloud storage as be all end all. Why is it so hard to say it - Google is full of $hit.32gb (26gb available) is there only to make you spend extra 100$ for a piece of mind or make you feed Google with even more data. And no, it's not more convenient,to deal with uploading files than just storing them on your sd card -Just trying to imagine road trips without wifi access and with capped data on one's account.
Thanks but not thanks.
Looking at all policies done by Google recently, another strong player in industry is desperately needed, but might be too late.Even giant like Microsoft can't catch up at this point, so how to expect others to come and shake things up.
Consumers will only get screwed if the iOS and Android remain unchallenged.And when it comes to privacy, let's just forget about it

I'm waiting for a 512GB option. I like to walk around with every piece of media I've ever come across. But seriously, the 32 is more than sufficient for me. But I'm not getting one until there's some good cases. I contacted Nillkin to build a wireless charging case. They said they'll forward the request to their product manager. So that's promising. They make an awesome wireless charging case for iPhone.

I'm waiting for a 512GB option. I like to walk around with every piece of media I've ever come across. This is pretty funny, I know there are people that do a lot of traveling or like to keep high quality local copies of their music but I generally assume that most of the people moaning about removable storage could easily get along without it. Still stuck in the days when people bragged about how many songs they had on their iPod.

For those who use more than 32GB storage - what on earth is on your phones?!

Movies, Pictures, backup apps!

4K video, large racing games and playlists pinned from Google Play Music. I also use the app, Fastburst Camera every now and then which can easily take 500 photos in a few seconds. I also download entire video courses from Udemy.

Must curious, do you have a home internet, or is your mobile device your sole internet? And, is your mobile device your primary computer?

Home Internet and no it's not my primary device, but for the offline video stuff it's usually because I'm watching it somewhere where WiFi is slow, limited or non-existent.

How do we define a "primary computer"? I have a pretty powerful gaming PC, but I would consider my phone my primary computer because I use it orders of magnitude more.

Some of us work, play, travel where there is no WiFi or Cell service. I typically pin my entire music collection to my phone. My desk at work is a cellular dead zone and we have no WiFi for BOYD. If I want to listen to music at work, I have no other choice. My music collection will take most of the free space on the 32GB model.

You must be the guy that says - who needs more than 640K - ever? From another comment:
Because in 3 months after you update to 7.1 and all the apps, your baseline will be <20GB. After installing all the apps you need and their cache (Google Photos eats approx 2GB in persistent cache) you will be down to 15GB. Install a few games and you're now in the <10GB zone. Play Music/Spotify? Give away another 2-3GB in cached data. Now you're just playing in the danger-zone at <8GB. WhatsApp? Drop another 4-6GB if you're not from the US. Within the 2-3GB range you're now just ******* with yourself if you even try to record in 4K/Slo-mo video or take vacation pictures over a week, say. And we have not even talked about installing some VR apps if you have Google cardboard because they all eat on average 500MB to 1GB for the higher quality ones.

Didn't Bill Gates say that? Haha.

Just over 20GB usable really isn't that much space, my grandma could fill that with photos alone in a year (and neophytes are the worst at actually deleting anything even when it's backed up). What aren't you doing with the phone that you can't find a reason for the extra space to be valuable?

32gb storage equals a flawed, gimped unacceptable device to me. I can't even fathom buying something like that.

Apps, mostly.
Then pictures.
And then other media. You cede a good 9-12GB for "system memory" on many phones.
The only things I'd really put on the cloud are photos, contacts (via Google account) and certain app-related things like Google Keep.
But music/media....no. Not until wifi is ubiquitous.

32GB works for me, but the price has to come way down first.

Hopefully holiday sales in the near future

Seeing what Google is turning into - don't expect any major price-cuts during the holidays. Instead, they will probably throw in a Daydream for free - something that costs them $20 to manufacture but portrays a perceived value of $80.

My 32GB Turbo 2 has 13GB free still, so it's pretty much a no brainer for me.)

128 so I can download some of my Google Play Movies for offline watching.

I have over 80 gigs of Google Play Movies downloaded on my Nexus 6p for car rides for the kids or just nice to have if I'm stuck somewhere and don't want to burn through my 6 gigs of data.

My kids aren't touching my $650 phone. That's what their $50 tablets are for lol.

Would prefer 128gb, but knowing I would need to use the phone for at LEAST a few months to need more than 32gb kept me at 32gb as my upgrade history is quite often; too often (get bored). Little worried about this article suggesting only 23gb available though, I don't have numbers or a 6p in front of me, but I could swear stock Android phones generally have only a few gb's used out of the box?

128 gb will be awesome... Google should have gone for 64 and 128 instead of 32 and 128

When I bought my Nexus 6P I was going to get the 64Gb model, but changed my mind at the last minute and bought the 128GB version. When you have that much space you really don't worry about anything. I'm a Project Fi user so my mindset is to stay off cellular data as much as possible. I tend to "off-line" download a ton of stuff such as YouTube videos and whole course content from Udemy. Even if I had a big pot of data on a plan to play with, it's still beneficial to download stuff for off line because you can get a better quality video than you get sometimes streaming over cellular. If you can afford it, go for the 128Gb just for the piece of mind. It would have been nice to have a 65GB version though.

That's why I feel Fi is way too expensive for power users compared to T-mobile's offering with all those free'lanes. I am doing 60-70GBs a month (on the road a lot) on T-mo. Google could have done better on making data cheaper. It should have been $10/10GB in today's day and age.

Yeah if you don't have easy access to WiFi most of the time then Project Fi can get expensive fast. However, being a Project Fi user I find it almost like a game to do whatever I can to not use data so I get creative by downloading for Offline use and using Google Maps in offline mode. Stuff like that. I tweak a lot of the apps to not use background data if it's not something I really need while on the go such as Facebook. I'm lucky that I have WiFi at home and work and I don't travel so Project Fi works for me just fine.

That's sad. And it's pretty lazy of Google not to figure out these things out considering they want people to get online all the time and use their cloud services.

I remember when some of the appeal of going to Android was because of micro SD and removable batteries. Now google out here mimicking Apple.

Yeap, I have a Nexus 6P with 64GB because there is no SD card and now I'll be forced to buy another flash memory inside next phone again :( even worse my 6P is 1 year old and has had a significant battery capacity loss (my USB capacity meter only shows 2900mah) so the extra flash memory in that phone that cost me dear is now attached to a degrading battery and I'm supposed to forget that and but a 128GB pixel?
Can't even disable flash memory encryption (I notice some dropped frames recording 4k video) and why would I be happy encrypting my 4k family videos, wasting CPU and battery, before deleting them from phone memory after a week or so?

My take? Don't sell me a device with 32GB and I don't have full access to store 32GB. If the OS needs space, simply add memory for that. Since the phone doesn't have expandable memory, you really need to future-proof or anticipate future needs, This reminds me of buying an Ipod touch. Why is there even a 16GB option? 64GB is my minimum. Plus, the memory prices keep going down.The price difference between 32GB and 128GB isn't $120. Just have a 64GB as the base. 128GB for $60 more and 256 for $120 more than that. The "cloud" requires data. Most folks don't have unlimited. Some of us don't have wi-fi at work. I work for a large company, and wifi is limited. Sure I have wifi at home, but I'm mostly on my laptop or tablet at home.

There's an option to only upload to cloud on WiFi so I wouldn't worry too much about data usage. I'm sure you can wait until you get home to upload your snaps.

My take? Don't sell me a device with 32GB and I don't have full access to store 32GB. If the OS needs space, simply add memory for that. This is how it is done all the time though, right or wrong phone manufacturers are not unique. If you buy a laptop with 128 gigs of storage you will not have 128 gigs of storage out of the box. Hell even if you buy a HDD you won't have exactly the advertised space.

This is the thing - they don't want to make future-proof gadgets, they want you to buy the new one in a year

The past 4 Nexus devices I've had personally I only got the 32GB versions, and it's been more than enough due to streaming everything, only things I store are apps and some playlists in Google Play Music. Sticking with the smaller form factor, Quite Black in 32GB.

I've never seen the need for more than 32GB of storage, but I'm sure there are people that use their phones differently than me. Photos get backed up to the could with Google Photos, my Google Music subscription prevents me from needing my whole library on my phone, I don't play games very often, and I don't put big video files on there either. 32GB for me, please.

I went with 128 but I probably could have gotten away with 32 given the photo and video backup features. I ended up going with 128 for a couple of reasons, one is I like having my photos and videos on local storage. I sometimes tend to stray far from a reliable signal when visiting certain family members and it helps not to have to load photos when I want to show them. Secondly I realized pretty quickly with my S6 that VR apps and games will eat through storage very quickly. Not to mention it is nice not to have to worry about storage, 128 might not be enough for some but it is plenty for me.

I looked at my current storage situation, all my space is usually used up by photos. With the unlimited photo storage and me subscribing to Google Play Music, 32GB is enough. I've always gotten by with 16, so this will seem like splurging lol

There should be a 64GB version

$100 difference for ~100gb extra storage, in 2016, is ridiculous, and exactly why I don't buy phones that don't have SD card slots.

I agree with you about the cost model, Zebra, but recent struggles with the relatively low number of SD card compatible apps on my 16 GB Samsung Galaxy Tab S [with a 64GB SD card] has me thinking differently. I'm struggling to keep the onboard storage under 15 GB...

I'm having the same problem with my 16gb phone. A 32gb phone with an SD card would be much easier. Better yet, a base model 64gb phone with an SD card slot. I mean, if they want to charge top end prices and be the best, that's what it takes. I still can't accept the $100 difference for more storage though. Regardless of those factors.

Always go for the maximum storage option that your budget will allow. In this case, I will say try to spring for 128GB but 32GB won't be that limiting, especially since you will get unlimited full-size photos and video backups.

Using cloud services like Google Play Music Google Photos backup I don't even get close to 32 GB, so barring any performance issues I'd go with that.

Forgive my ignorance but, even if I use Google Play music doesn't that still use the internal storage space? I use an SD card now for storage but obviously this doesn't have that.

I used to store all my music in my micro SD card, I would use Google play music as my music app, after a certain update, suddenly Google play music stopped detecting my music, I thought my SD card was corrupted, of damage, so I checked it with my PC, only to find that my music and other stuff (hee hee) was intact. So I did a little test and passed all my music to the internal storage and VOILA, suddenly Google play music recognizes it perfectly..... TL;DR: google killed micro SD detection for their music app, from what I experienced, if someone has or doesn't have this issue, tell me.

Still don't see why they couldn't offer 64 in place of the 32 to give it an edge against it's direct competitors. The only thing it's got going for it at that price range over the S7 is early updates, but the S7 is more waterproof.

I've gotten the 64gb option of the last few Nexus devices, so I wasn't happy to see the 128gb version come at the expense of a 64gb one. But I just checked my 6P and I'm only using 24gb despite heavy use of the camera, so I guess I'd just end up going with the 32gb model.

Haven't we come far enough that they should be able to code for and put a 16GB unit for OS only and then an additional storage unit of 32-256GB for apps and storage so we can finally get advertised level of storage?

Given the way 7.0 now handles system partitions, this would make a lot of sense to me.

I just don't understand why would Google continue to take the Apple route. Were in a day and age where media,apps,navigation, chew up storage like a virus. Not everyone wants to upload all of their **** on the cloud. They're are still users who like to download music for offline usage and navigation maps for offline usage too. Not at least offering a expandable storage was stupid move by Google. If you're not going to offer water resistance,fast charging,wireless charging, removable battery at least offer the expandable memory for your crazy asking price and low storage option.

i've got a 128g 6P, and i never come close to maxing it out. i'll never put a movie on it, because i really don't care to watch a movie on a small screen while burning my battery. i'll get the 32g 5" most likely, since i really would like a smaller form factor phone, and i miss my 2014 moto X.

I think 32gb is enough since it has unlimited google photo storage and google photos has auto delete option if you low on storage, So doesn't make any sense to me to go for 128gb.

Yes, you can always delete stuff. However, constantly having to purge apps, pics, and music because you're riding the edge of storage capacity is a pain.

your "speed" topic makes no theoretical sense. the speed of the phone depends on the processor and the RAM.... and has nothing to do with storage (assuming there's at least a couple gb free). the speed of the phone between the 32gb model and the 128gb model will be identical.

With free storage from Google Photos, for photos and videos, why would you need more than 32GB? You gotta know how to manage the ~24GB available on the phone and not install every app your finger touches on the Play Store...OR not remove photos/ from the phone once they're backed up in the cloud (Google Photos, OneDrive, Box, wherever). 32GB is enough for everyday use.

23 GB free with the "best smartphone camera" is absolutely stupid. I realize they want everything in cloudville, but until cell phone data is really unlimited, that just doesn't work. Without removable storage, 64 GB should have been the minimum for these Pixels.

You can choose to only upload photos when you are on wifi. Small storage might still be an issue for those who want to take a lot of video at once but it is an option. Does anyone know if it is possible to set a cap on how much local storage you want photos to take up before deleting local copies. That would be a really nice option rather than just waiting for the phone to fill up (thus preventing you from downloading something else at an unpredictable time).

The reason why the 128GB Model is so expensive is because Google would LOVE for you to buy the 32GB, that way you would use their cloud services more often.

I just ordered 128GB in Black to replace my Note 7. I wasn't happy at first but after reading the VZW announcement that updates will be delivered when Google has them ready I am super excited.

Likewise, but I got the Pixel XL instead of the Pixel.

Indeed, base version should be 64 GB since it doesn't have expandable storage and the upgrade version should be 256 GB. Especially at the new premium Pixel prices they now want.
32 GB is for the peasants with their Nexus phones! Wtf Google. They are turning into Apple-like demons.

Google has created another bomb. No thanks, Pixel.

Neither both phones are extremely overpriced

Says the guy who'd buy a 100 dollar digiorno pizza. Dude, they be insanely overpriced.

Very Silver 128 GB Pixel. Music storage and VR content being the reasons.

There is no reason these devices should be costing this much LOL ! $X,XXX.XX for a CELLPHONE o_0 I don't care what your financial status is, that is silly. Canada yikes they are charging you the most that is messed up lol. But um yea, the Pixel at 32 and 128 is odd variations, if only Google did SD card. But um new product, lackluster "meh" design and specs, with lineage pricing with no proven lineage is asinine. I mean the iFone has always been over priced compared to value in my opinion, and the same goes with the Pixel. The general consumer rarely used a Nexus let alone an over priced pixel these will not sell well and next year we will have another gimmick

You're much better off with a Nexus 6P 64 or 128 GB

I don't understand people in here who think 32GB is more than enough, don't you people use any apps?? Mine get updated every few months, which means, of course, they need more space. And everyone has at least some data on their phone. When I'm traveling, I can't be sure of having internet so it's the logical thing to do for me.

128 without doubt, but even that is inadequate. WIthout microSD, the Pixel is an inadequate device.

The Pixel XL 128 has been out of stock for 9 days now on the Google store. How is there an option?

Yes it has and now Verizon has a ship date of 12/2. Quite sickening if you ask me.

Since only the 32GB silver is available to order right now... neither. I want an XL, color irrelevant because I use rugged cases, and 128GB. Wake up Google and make available what most people will want. If you add a blue to the XL - 128MB I'm definitely in.
Android Central Newsletter
Get instant access to breaking news, the hottest reviews, great deals and helpful tips
Thank you for signing up to Android Central. You will receive a verification email shortly.
There was a problem. Please refresh the page and try again.