Where did you dig up that old Fossil? [#acpodcast]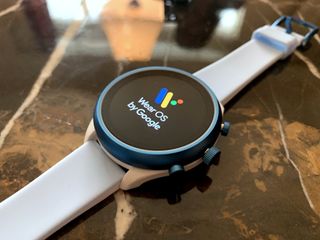 Daniel Bader and Andrew Martonik are joined by fellow Android Central writer and Smartwatch aficionado Joe Maring to talk about everything that's new in wearable tech and Google Wear OS. Nike has announced a new pair of self-lacing shoes, and Withings has a $70 watch that boasts 18 months of battery life. Mobvoi and Kate Spade have new watches as well.
Most significantly, Google has announced a 40 million dollar investment in tech from Fossil, and has acquired part of their R&D team. Is this a harbinger of a Pixel Watch, or just an example of Google helping build momentum behind Wear OS?
Listen now
Subscribe in Google Play Music: Audio

(opens in new tab)

Subscribe in iTunes: Audio

(opens in new tab)

Subscribe in RSS: Audio
Download directly: Audio
Show Notes and Links:
Nike Adapt BB shoes

(opens in new tab)

Newly independent, Withings returns with colorful $70 Move smartwatch that lasts 18 months
Mobvoi introduces refreshed TicWatch E2 and S2 with larger battery, 5ATM waterproofing
Google buys $40 million in new smartwatch tech from Fossil, acquires part of R&D team
Sponsors:
Thrifter.com: All the best deals from Amazon, Best Buy, and more, fussily curated and constantly updated.
I love my Fossil watch. Been using it for over a year. The updates have actually been making the battery life better.

Disappointed you didn't mention Samsung Tizen OS wearables. It looks like Sammy may be introducing new Galaxy Watches next month.

Does anyone else feel like the AC podcast has been going downhill for a while? Bader rants and talks way too much. Maybe try giving the introduction to news stories to someone else on the podcast. Also, I think the thrift ads seem super disingenuous and their relationship to MobileNations should be disclosed after each ad read. I can only finish the entire episode if Jerry is on.

I don't think the podcast has been going downhill, but I'm biased. I appreciate the feedback — given the format, I try to make my introduction and then hand it off to the guests, but I'll try to be more aware of how much I'm talking within segments. As for the Thrifter ad, I'm not sure what you mean by super disingenuous: we're not trying to hide anything about the relationship between Thrifter and Android Central. They are both Mobile Nations brands and we're helping out our sibling site. We call it a sponsorship because that's the convention of the podcast format, but there is no money exchanging hands in the traditional sense. Would love to know why you feel that the ads are problematic. Feel free to email me at daniel.bader@mobilenations.com to discuss it more. Thanks again for listening — even if it's not to the whole thing :D -Daniel
Android Central Newsletter
Get the best of Android Central in in your inbox, every day!
Thank you for signing up to Android Central. You will receive a verification email shortly.
There was a problem. Please refresh the page and try again.