Where to buy the Xiaomi Mi Box in the U.S.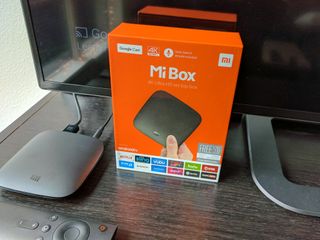 Though the new Xiaomi Mi Box has been on sale for some time, it's been a little tough to get your hands on one. Most major retailers have yet to start selling the boxes, and many that have don't have consistent stock or pricing. If you're still looking to get your hands on this $69 Android TV box, we've rounded up all of the best places to buy it.
Amazon
As is often the case for new and hard-to-get tech, Amazon is pretty swarmed with resellers that are trying to mark up and make some extra money on the Mi Box. There are a lot of confusing listings for either older versions or Chinese models of the Mi Box, which you don't want, but there is a legitimate item listing where you can go for the proper version. At the time of writing you'll be buying from a reseller at a markup, but then again you may be okay with that in exchange for being able to buy from Amazon with the discounts and buyer protection that's included.
See at Amazon (opens in new tab)
Newegg
At the time of writing Newegg doesn't have its own listing for the Mi Box, but is instead listing it for a partner store that has marked up the price a little bit to $99. That's still a solid deal for this box and may be worth it if you prefer to shop from Newegg, but we'd recommend this as a last resort if the other places with the proper retail price don't have stock when you're looking to buy.
See at Newegg (opens in new tab)
Buy the Mi Box at Walmart
The biggest U.S. retailer offering the Mi Box is Walmart, though stock can be hit or miss. You may have to check local availability in a nearby store, but chances are if you check back often you'll be able to get one online and have it shipped. You'll pay the standard $69 price and get free shipping if you order online, or free in-store pickup if not.
See at Walmart (opens in new tab)
Get the Android Central Newsletter
Instant access to breaking news, the hottest reviews, great deals and helpful tips.
Andrew was an Executive Editor, U.S. at Android Central between 2012 and 2020.
If you're a fan of google play movies this is a bad option. When I owned it it staggered and lagged like crazy (so did the Nvidia shield TV, so it might be a problem with android TV). Chromecast Ultra is a great option for the same price for 4K. Or the Chromecast 2 is even better if you don't need that.

GP movies was never that great imo..

The Nvidia player never lagged on me.. but this thing they call mi box was awful.. I don't know if the remote was the issue or the box it self, but it lagged like crazy and I wasn't able to navigate through the home screen.so I returned it

I have one of these with kodi installed and it works like a charm. For sure worth more than $69.

Been looking at one of these just for a kodi setup. It sucks I can't put Jodi on my new roku 4k TV. This box would give me a lot of extra options other than kodi. And the price is perfect.

I would rather have a box like this that ran regular Android instead of Android TV.

What so hard about finding them. There are at least 3 on the shelf at Walmart right now.

"Most major retailers have yet to start selling the boxes, and many that have don't have consistent stock or pricing." Consistency is key. My nearest Walmart doesn't have any in stock.

That's hardly a data point that can be extrapolated to every Walmart in the US. As I tracked things this week, the Mi Box went in/out of stock several times a day. It's not consistently available.

Scarce? Every Walmart I've ever been into has them all over the shelves. Nobody but nerds seem to buy them.

That's great, but how would I get one of these in Europe?

Not having a ethernet connection makes me uncomfortable as it could impact 4k streaming. Yes, I can buy a dongle...but will wait for next Shield.

There's no ethernet connection??

Just HDMI and USB. Presumably you could use an Ethernet adapter over USB? You could also just buy a Chromecast Ultra.

a $30 increase is not a "little mark-up".

This is not the cheapest android TV box by far.
I tested 10 different ones from various sellers on amazon and there are alternatives that start around $20.
Most work exactly as expected if you look at the specs, you can get a 2 gig ram and 16 gig storage version for around $30.
They all will have Kodi pre installed as well as having many addons for it also installed. Honestly for the price, this one is going to be only marginally better than the cheaper options.

There is a genuine difference between an Android box and Android tv box. For example most apps running on an Android box require a separate mouse/touchpad to allow full functionality. Even Netflix requires a mouse on an Android box that allows you to get to all episodes in a series. The Android TV box allows full functionality with the included remote. Kodi is about the only app that is universal allowing you to use the included remote for both boxes, but install something like HBOgo on an Android box and you'll come across problems especially if you're running OS Marshmallow 6, because there's no sound. Point is the available apps on the Android TV box as specifically designed for the remote control, whereas with the Android boxes and the Google play store, you end up with the standard app that's on any Android hardware and most of those aren't as remote friendly.

I have a total of 10 android boxes both tv and normal, i always use a keyboard/touch pad with them and honestly the only one that stands out more than the others is the shield tv

A small box running Android is different from an Android TV box.

Yeah, a lot of people don't seem to understand that Android TV was specifically made for use on a Television from a distance. The boxes running full Android are using an operating system designed for phones and tablets making the experience much worse. Text is impossible to read, you can't use a remote, etc. It's like trying to use a full blown windows UI on the TV instead of Media Center or some equivalent.

Anyone figure out where they buy link is on the manufacturer website? Just seems like a product listing to me.

Don't do it, I bought through them and it was so crappy I started a complaint with PayPal, it showed up a weeks after. Which was just over three weeks after I ordered it. While I waited I went to Walmart and got one.

"buy" button in the top right of the product page

This is pretty great and I use it all the time especially for Kodi. It works great as a Chromecast as well.

Mine is great.. Kodi and all Google apps run like a dream on it.

I don't know why I was thinking it runs full Android, not Android TV. Do they have a different box that runs full Android? Posted via the Android Central App

Previous Mi Boxes were like that.

Unless you need the native Android tv platform for your needs, I wouldn't by the Mi Box. I gave it away and bought a refurb fire tv 2nd gen. for the same price. The mi box over all was less pleasant to use, the Plex interface for Android TV is crap... I wanted to get away from the closed ecosystem of Amazon, but I was very disappointed with the other options.

How is paying $99 for a product that retails for $69 a "solid deal" exactly?

I went with the Roku Ultra because it's the only box I know of that runs both Google Play and Amazon. Plus it has an ethernet port.

Roku Interface looks so ugly, oh my god it's s outdated.

I love this device. Since getting it I've not even touched the newest Fire Stick from Amazon. I've connected keyboards and mice and bluetooth headphones and gaming controllers without a single issue. I have nothing supporting 4K, so that's not an issue for me. I've had zero issues with lag while also being able to sideload and run every Android app I've thrown at it. I've also sideloaded the Dish Anywhere app which allows me to connect to my Dish Sling DVR. I can watch live TV or anything on the DVR. This is great if I'm away from home. I don't use Kodi, but I do use Plex, and it works perfectly on this box. If this is an entry level Android TV box, I can't imagine how great the Shield TV must be.

Only issue I ran into is not being able to connect to ps4 controller. Also, how do I side load? I did notice no chrome browser. Didn't realize Google tv was its own version of android.

I much prefer the simplicity of Chromecast. I don't yet have a 4K TV, but if I did I would go with the Chromecast Ultra. I know you technically get more for your money with the Mi Box, but I much prefer casting. I currently have a Chromecast and a fire TV stick. The fire TV does everything the Chromecast does, but I never use it for anything other than prime video because it's just easier to do on the Chromecast.