WhatsApp hit with 72-hour ban in Brazil [Update: suspension lifted]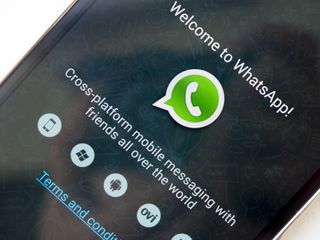 (Image credit: Android Central)
Update: A judge has now overturned the suspension just a day after it went into effect, Reuters reports. The block would have affected more than 100 million WhatsApp users.
Original story: Brazil has once again opted to temporarily block the popular messaging service WhatsApp in the country. According to Brazilian publication Folha De S.Paulo, the block is scheduled to remain in place for 72 hours, affecting WhatsApp users across the country. The reason for the temporary ban hasn't yet been revealed, but previous bans have come in response to Facebook's refusal to comply with federal investigators in in ongoing criminal cases.
This isn't the first time Facebook-owned WhatsApp has been temporarily blocked in Brazil. In December, the service was subject to a 48-hour shutdown for similar reasons related to a criminal investigation. That shutdown was lifted before the 48-hour period concluded, however.
Are you affected by this block? If so, let us know what you're using as an alternative in the comments below!
Damn, I'm not, but I do have a couple coworkers that usually rely on Whatsapp for quick communications and are traveling in Brazil right now. I suppose the ban is on the country, no matter where your original account is from, but this definitely impacts tourists too.

You can tell them to use a VPN like Betternet that's 100% free. I would use it here in Brazil but nobody else would so that's no point.
They should lift it way before the 72h anyway.

Shame on Brazil! It started, but I don't believe it is going to last 72 hour. The judge should know that it is impossible to provide chat message informations to federal police. Privacy is what matters. They are trying to blame their incompetence on whatsapp.

And phone operators here really like this kind of ban. I don't know if there is a hand on it from them

I'm in Brazil and already started, unfortunately.

Yeah, now you can switch to Telegram. WhatsApp is real ****.
Brazil powa

Problem with Telegram is that it's not as widely adopted in Latin America as Whatsapp is. Furthermore, A LOT of companies actually offer free Whatsapp 'data' to users (and Facebook and Twitter, usually) even if they don't have a data plan, which made for great communication methods across the board.

It's time to break with the past. Zuckerberg will no longer have our data

Yep. The day FB acquired them I uninstalled it and moved on. Moto XPE/VZW Moto X DE/N7

Your data, he will no longer have your data. I don't use WhatsApp but a part of growing up is learning not to speak for others. Posted via the Android Central App

Everyone can hurt themself as they want.

Welcome to the real net neutrality.... Where the government doesn't like something, they pull the plug. Posted via the Android Central App

That's not what net neutrality means. At all. Posted via the Android Central App

Hey, I'm from Brazil. My guess is that, since apparently WhatsApp can't be spied on by the police, they're shutting it down to prevent encrypted chats between some major criminal gang they're trying to catch (at least that was the reason last time as far as I remember). I've switched to Telegram in November — yes, before the first shutdown — to talk to my girlfriend, and now almost all my friends are there. And to be honest, ignoring the lack of VoIP, Telegram is much, MUCH superior to WhatsApp in just so many ways (probably safer, too). And the good thing is that it still feels very familiar to WhatsApp users. Telegram is apparently getting flooded with new Brazilian users today, and a few hours ago they've actually tweeted an apology to the users who aren't getting their SMS confirmation because their servers are overloaded.

Did they announce the shutdown before it happened? It seems like a trivial thing for the criminals to jump to pretty much ANY other service... This isn't the 1930s, where you can only get a telephone line from a single company.

Apparently, they did a few hours before it happened. Both blockings were the decision of some idiot judge in the Northeast of Brazil. I guess they thought WhatsApp was the only popular (or at least accessible) encrypted app in the country, so they decided to block the most influential messaging app in the country for a matter of days. Ah, old people. It's like the FBI trying to block piracy. The government here is just too retarded for you to understand, I'm sorry. Posted via the Android Central App

This just in. Android Central is partially right with the news: some stupid ass judge who's after this drug trade group decided to shut down WhatsApp for three days not as a way to block the mob's communication, but to threaten Facebook because it doesn't give the government the information IT DOESN'T EVEN HAVE (it's encrypted, god dammit!). So basically, a bunch of old retards are ruining a lot of people's days and also forcing many stores to lose money because they don't know how tech works.

That's what old retards with power always do. And yet, we keep electing them, and pretending that we're free. Unlocked Marshmallow Nexus 6 on Verizon. I'm a happy guy.

Probably properly educated people like you and I don't do that, but there's these other millions of retards (of all ages this time!) who are responsible for ruining the country we live in. I guess we just gotta cope with that (or maybe work our asses off and go to Canada or wherever decent people gather when their home country is burned down). Posted via the Android Central App

Screw you Canada is not a place where people go when their country get destroyed Canada is better then Brazil in every way possible Posted from my Moto X 2nd gen and my Nexus 9 both on Android Marshmallow

Are you illiterate or just plain stupid? That's exactly what I meant! Posted from my Moto Maxx / Droid Turbo which will never get out of 5.0.2...

Blocking whatsapp does not ruin anybody's life. If it does, then you don't have much of a life or enough intelligence to come in out of the rain. Posted via the Android Central App

I don't think you thought this through before calling people lazy or lifeless. Many people organize events through WhatsApp, there are lots of cab companies that work with the app, and even some restaurants and stores use it to get orders. The economical damage was actually front-page news around here. Phone companies are incredibly greedy around here, so we must use it as an alternative to calls. Plus, WhatsApp is a tool that makes "having a life" easier. Posted from my Moto Maxx / Droid Turbo which will never get out of 5.0.2...

Brazilian government are stupid, they should be worry about billions and billions dollars which has been stolen by they are socialist party (PT) Posted via the Android Central App

Why would anyone use a service, that can easily be shut down by governments or companies?
Ok, I know that is a question noone (except me) is asking, because most of the time Whatsapp is working and collecting your communication metadata (when and where did you write whom).
There are a lot of services around, each is a walled garden, not federating with others. XMPP is an open protocol and Conversations app a very good client. Sure, there are some shortcomings, but hey its better than not being able to communicate at all.
So I have always a Jabber/XMPP account I use as a backup or really private conversations. Because its impossible to block or monitor all those Jabber servers out there.

I don't get the fuss about encrypted messages. The information should be available to law enforcement where it is possible evidence.
I can't actually think of any reason why it should be encrypted?
It's so open to criminals/terrorists etc.
Seems backwards in the messed up world at live in to allow encryption. Posted via the Android Central App

You think that all that unencrypted data gathered will be used in a morally correct way? You are naive!
If you think encryption is not necessary, then please tell us your latest doctor appointment and what was done.
Hey, you said you have nothing to hide!

it's ridiculous. It can not be that Brazil suspend whatsapp when they want.
I have a blog with current news WhatsApp for public brazil in: http://www.whatsappedia.com.br/ greetings to all
Android Central Newsletter
Get the best of Android Central in in your inbox, every day!
Thank you for signing up to Android Central. You will receive a verification email shortly.
There was a problem. Please refresh the page and try again.