What's in Tom Westrick's gear bag?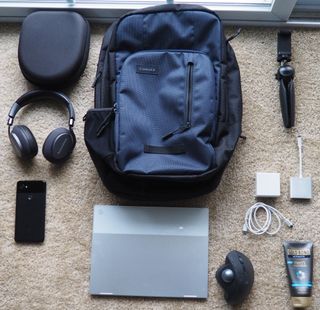 I may not be a jet-setting tech journalist like other writers on this site, but I do plenty of local traveling. My day job involves me fixing computers at about 20 offices in central Indiana, so I like to carry some gear for the road. My exact loadout varies by the day, depending on what exactly I'm doing and what parts I need to pack, but here are the devices I constantly carry with me.
The bag: Timbuk2 Uptown Laptop Backpack
Truth be told, I typically don't care much about what I carry my gear around in. As long as everything is decently protected and organized, it's good with me. I bought this bag near the beginning of 2017 when I was looking for something that would be slim and light when I wasn't carrying much gear but could expand if need be. This bag is great when I'm just carrying the basics, but also works well when I'm hauling equipment.
Laptops sit in a compartment against the wearer's back, providing maximum protection against hits or thieves. This is where my Pixelbook lives, while my work laptops get put into the large main compartment. The main compartment also holds multiple days' worth of clothes and a toiletry kit.
The phone: Pixel 2 XL
A while ago, I wrote that when I first saw this year's Pixel phones, I didn't give them much thought since my OnePlus 3T was working so well. One day I was stumbling through Best Buy, played with a Pixel 2 XL, and liked it a lot. I'm apparently a complete monster because I liked the default display tuning and I haven't had any of the quality issues that have shown up for this device. It's just a pleasant, stable device. My favorite feature so far is definitely the camera, and I'm curious how much that will improve going forward. I use a Spigen case when I'm at the gym, but otherwise don't bother.
The watch: Pebble 2
I'll say upfront that I bought this knowing the platform is well and truly dead. I used a Pebble Steel for about a year and a half, then moved to the Vector Watch. After four or five warranty replacements, I ended up selling my last good Vector Watch after Fitbit bought both Pebble and Vector last year. I was perfectly fine without a smartwatch until buying a refurbished Pebble Classic for cheap in September 2017, where I fell back in love with its operating system.
After trying other smartwatches, I bought the Pebble 2 last week for the smaller design and smart alarms, in addition to my favorite wearable OS. I'll be curled up in a ball and crying when this thing finally dies.
The laptop: Google Pixelbook
I don't often use my Pixelbook during the day, but it's great to have handy in case I get a few minutes to read a book or work on an article. I can do (almost) everything I need to for my day job on this machine as well, and I've had to do that on occasion when my work laptop is updating or doing other things. I've gushed enough about the Pixelbook in my review, so I won't repeat myself here.
The work laptop: Dell Latitude 3340
While I can do everything I need to from my Pixelbook, I prefer to have a separate laptop for my day job to keep my professional life and personal life as separate as possible. I have access to a few different Windows laptops, but this one is one of the first I imaged and set up. Also, the power, video, and Ethernet ports are all on the left side, making my desk setup much cleaner than if one of those ports lived on the right side. This laptop actually stays at my work desk overnight, only getting a spot in my back during the day. The laptop is a few years old, but performs perfectly fine except…
The mouse: Logitech MX Ergo Plus
The trackpad on the Latitude is downright awful. I reached for a mouse within a few minutes of using it and brought a mouse from home the next day. I purchased this trackball just recently, but I already love it and can't imagine going back to another mouse or trackball. I've tried center trackballs before, but my preference is for the thumb-balls. Because this uses Logitech's unifying receiver, my wireless keyboard at work can be paired to one receiver, saving me a USB port. A second computer can be paired with another unifying receiver or Bluetooth, so I take this back and forth between work and home. Whenever I go to one of our other offices, the MX Ergo comes with me because swearing at my laptop is public is generally frowned upon.
Headphones: Bowers & Wilkins PX
I love these headphones for two specific reasons: I can charge them with a USB-C cable, and they pipe in surrounding noise so I can hear my coworkers while listening to music. The battery life is great, the smart features work as advertised and above all these headphones sound fantastic. Again, I've already reviewed these headphones, so give that a read if you're interested.
Portable power: Pixelbook charger with Pixel 2 XL charging cable
I don't bother carrying a portable battery right now since I can't remember the last time I used one. All my devices have great battery life so I don't give too much thought to charging them during the day. If I do, I use the Pixelbook charger since it can quickly charge my laptop, phone and headphones. My work laptop gets good enough battery life as well, so the charger for that typically stays at my desk at my main office. I use the charging cable that came bundled with my Pixel 2 XL since that's shorter than the one that shipped with the Pixelbook, meaning less clutter.
Other odds and ends
Winter is coming, so I've started carrying around a small bottle of hand lotion to keep my hands from getting too dry. I also have a USB-C hub that has a USB-A port, HDMI out and passthrough USB-C charging port. I rarely carry any cash or coins, so I use the Big Skinny Money Clip since it's slim and minimal. Finally, I still have a smartphone tripod with me for the few times I make it to the bar to sing at open mic so I can record my performance.
See Big Skinny Men's Leather Magnetic Money Clip at Amazon
What say you?
As CES draws nearer and nearer, we'll all be listing our everyday carry items and what we'll use for the show itself. What do you bring with you on a day-to-day basis? Let us know down below!
Get the Android Central Newsletter
Instant access to breaking news, the hottest reviews, great deals and helpful tips.