What new Samsung phone do you plan on buying in 2019?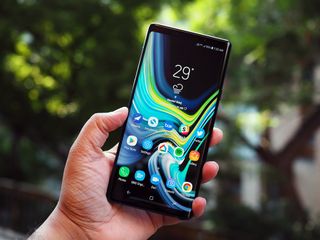 2019 has officially arrived, and with a new year comes new resolutions, goals, and — of course — tech. Throughout the year, one company you'll want to really keep an eye on is Samsung.
In regards to its flagship phone releases for the year, we're expecting to see the Galaxy S10, S10 Lite, S10 Plus, a special 5G version of the S10, the Galaxy Note 10, and Samsung's foldable "Galaxy X" phone.
With so many phones coming down the pipeline, some AC forum members are already deciding right now which one they'll be buying. Here's what some of you have had to say.
What about you? What Samsung phone do you plan on buying in 2019?
Joe Maring was a Senior Editor for Android Central between 2017 and 2021. You can reach him on Twitter at @JoeMaring1.
Sticking with my S8 Active. Will see how Pie works on it. If they make another Active then I will buy a new version in 2019...

Interested to see what they do with the foldable phone but I'm waiting for Samsung to figure out faster Android updates.

I'm interested in the s10. I'm very happy with my s9 plus so it's going to take a lot to get me to upgrade this year. I also love the note series but honestly I can't justify the price. I had a note 3 and loved it but didn't use the pen much at all.

I haven't decided yet. I'm not a fan of Samsung, but I'm thinking of getting the standard galaxy SX or Note X just for the ability to (allegedly) theme the notifications dark. It's that or replace the battery in my perma-Oreo OnePlus 5... Only issue there is me not really trusting third party battery vendors/manufacturers.

Can do this now with substratum. No need to purchase a new phone to accomplish this.

I am, that's why my OnePlus 5 is perma-Oreo, because Pie breaks it. But I've had it for a year and a half... The battery is showing it's age and I just want a new phone... But they all suck lol.

Not upgrading this year, very happy with my Note9.
It's gone too expensive and in all honesty not necessary too upgrade yearly. I plan I keeping my Note9 for as long as possible.

Yes I'm still on the note 8 for the same reason.

Looking for a deal on the S9+.

hope smaller S phone comes out... I am sick of these gigantic phones. I still have old S1(backup for travels) and S5 that is perfect size.

I'm with you my S5 with Qi back is fine with me. I still have a new s5 in the box for backup. Bigger is not better.

None if they have a notch or a hole in them. Might switch to a Nokia or anything else that actually has a screen without part of it missing. Back in the day that having part of the screen missing on a device was considered a Defect, you know, broken. Now people have been conditioned to think it's a feature. I'm not supporting any phone or company that does puts a notch or hole in my screen.

You already have cutouts at the top of your screen lol

At the top of your screen. It's called a selfie camera.

Funny... neither my FFC nor my speaker grill impede on my screen real estate one bit on my S8+... I guess we have different definitions of what a "screen" is on a phone...

I have a S7 which still works great. I might get a S10 if it has a headphone jack and doesn't have a notch or hole cutout. No interest in a folding phone.

Will be keeping my Note 9 for the next year or two, I think. It's a great phone and haven't had any issues with it. Besides, phones are way too expensive to be upgrading every year, especially for us retired folks, lol. Happy New Year!

Have a note 8 contact is up in October will see what's going on around then.
Though Huwai has my interest

Galaxy note 10, seeing how they stepped up their Note 9, excited to see what they'll do to their 10th Gen (9th Gen since they skipped 6 lmao)

I'll definitely get the Note 10. In November.

Not planning on upgrading (Note 8 still working mighty fine), but might get tempted by the Note 10 if they decide to do more than a slight incremental update. I've grown REALLY accustomed to having a stylus so I wont go for anything else, but I wont upgrade if it's just a beefier Note 9.

Intrested in Galaxy S10+, from the leaks so far seems like a great device to upgrade from S8.

What? A bit better camera that you won't really notice day to day, and a new way to unlock your phone.... You really cal that significant progress? 😂

Note 10 or see if my carrier has the foldable phone when it comes out. LOL Note 8 has been doing me fine and interested in seeing the final Pie update for it (rocking the leaked closed beta so far...no ragrets!)

Currently using an S8, interested in seeing if the Nokia 9 ever appears. More likely to upgrade to an S10, potentially waiting to see what the 5G version is like.

Waiting to see what they do with the N10. Trying to be more fiscally responsible, but Sammy is good at making me an offer I can't refuse.

S10+, or Note 10. My Note 4 gave up the ghost on Black Friday, so I picked up the S10+ at an outrageous price, and am very well pleased! Price will have everything to do with it!

What do you think it will be then, if not a punch hole or notch?

To be honest I purchased an s9+ on Black Friday with Verizon. I really don't want anything to do with a hole or a notch. I intend on keeping it for 2yrs. I'm hoping by then the holes & notches will be history, maybe! Plus i only paid 529.00 for the 9plus. A deal i could not refuse!

I don't plan to downgrade to Samsung this year :) I'll stick with my Mate 20 Pro

Converted to Pixel - Samsung no longer appeals to me.

I'm intrigued by the Note X. However, I think the Fold, the 5G, and the various S10 models will suck all of the marketing and development air away from the Note line this year. I might wait until 2020 when the true 10th generation Note debuts.

Can't we just have a poll here? It would be more fun.
Looking at the forum comments is not what I would like to see.

No new phone. My Note 8 still has many serviceable years ahead of it. I can afford new phones... But they would be a waste of money. Tiny camera upgrades and new unlocking methods.... I don't find them exciting at all... Lol

Only interested in a foldable phone from Samsung, if good enough, or some other ODM/OEM. Using a Note 8 now, which is OK (better with Pie update next month). Moving to development mode for my own device so, my next purchases will be mobile devices which the OEM/ODMs offer the ROMS to be downloaded and modded. Need them for prototyping custom Android builds and features research/development.

Likely will upgrade from my S7 Edge to S10 or S10 Edge depending on exact specs once released. As always hoping for battery improvement. And don't care about more camera improvements...

Hoping for a notch or cut out on 2019 Samsung flagships. It will make my choice to sit tight with my Note 9 so much easier to stick to.

None. I am not into glory holes or notches in my displays. I am trying to talk my wife out of the Galaxy S10 due to the glory hole but she really needs a new phone and is a Samsung fangirl. I'll either go with a Pixel 4 to replace my Pixel 2 or I will wait another year if Google decides not to give us a phone without a notch (or hole as I wouldn't be surprised if they jump on that fad).

Lol.... Yeah.... More bezels, less screen.... Said nobody except you... 🤣

The minuscule bezels at the top and bottom of my Note8 are perfectly fine to me. The idea of cutting out half of the screen a ¼" from the top, or a ¼" dot of missing pixels looks stupid and the mere idea sounds stupid.

Well if I were going the Samsung route it would have to be the A6 or one of the J7 variants. Galaxy phones on the other end are painfully expensive.

Yes... A $300-$500 hit when your contract is up is a huge price to pay for such marginal, tiny, improvements.

Hopefully upgrading to the Note 10 from my Note 8 depending on how it is.

I'm available to upgrade in August 2019 and the last 3 phones I've had have been LG's. I haven't had a Samsung since the S3 which was a disaster. But I think I will look at other makers this time around.

Keeping my note9. Will wait and see what note10 got to offer!

I want an Samsung Active with the Buttons back on it.

None, going back to Apple 😂

I'm planning on getting the Unlocked 1TB Samsung Galaxy Note 10
Android Central Newsletter
Get the best of Android Central in in your inbox, every day!
Thank you for signing up to Android Central. You will receive a verification email shortly.
There was a problem. Please refresh the page and try again.