What launcher are you using on your Galaxy Note 20?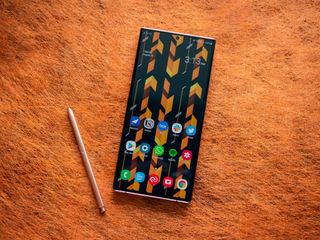 (Image credit: Apoorva Bhardwaj / Android Central)
There's a lot you can do with the Galaxy Note 20, especially thanks to the One UI 2.5 software that's available on the phone. One UI 2.5 looks and feels a lot like past iterations of the software, with one of the biggest differences being that you can now use gesture navigation with third-party launchers.
That's kind of a big deal, as third-party launchers often offer more features and settings to play around with compared to the stock one that Samsung uses for One UI. Looking through the AC forums, a lot of our members have already jumped aboard the third-party bandwagon.
Now, we want to hear from you — What launcher are you using on your Galaxy Note 20?
Join the conversation in the forums!
Android Central Newsletter
Get instant access to breaking news, the hottest reviews, great deals and helpful tips
Joe Maring was a Senior Editor for Android Central between 2017 and 2021. You can reach him on Twitter at @JoeMaring1.
Stock Samsung ONEUI 2.5. I'm satisfied with it.

One UI. It just works better with the phone, and widgets look way better.

Benn trying Nova for a few days now and I really like it. Still in the process of learning everything about it.

The launcher is the least important thing to me on phone on average I use the launcher once or twice a week. I use Launch Board which is much faster with Launch Board I don't have to swipe to go home and then swipe to open launcher and then swipe to get to the app I'm looking for. The people that still talk about launchers are the people who talk about fingerprints on phone and stuff like that so out of date.

I know... What an impressive individual... So cool

Stock One UI. Excellent on new A71 5G.

Using MS Launcher. Had it on my Razer phone 1 and 2 and it was just simple to not have to customize everything AND muscle memory for opening everything!

I use it too...just on my Note 10+

Nova is the only launcher I ever use. Samsung though is dragging their feet and not fixing the scrolling wallpaper issue for third party launchers. It's been broken since the last update to One UI.

Real Note users don't switch out the launcher because this isn't 2009/2010 any longer. No launcher exists that's better than #ONEUI period.

What makes it so good to you? Just wondering. I tried it for a couple of hours and just couldn't stand the directionality of scrolling through my apps. Their news/at a glance pane gave me irrelevant info so I switched to lawn chair and now looking at nova/microsoft launcher.

Holy crap it's you again, smh 😂

Smart Launcher. I've installed it on every one of my phones for the past seven years.

Microsoft launcher. Excellent experience. Very smooth.

Square home FTW! Best thing since Windowsphone. Love using widgets and I can have every widget and app on 1 screen without scrolling

One UI... Most of one UI will eventually be stock Android. Google continues to add One UI forward thinking changes year after year. Besides, I just don't get worked up over android sub menus. I set up my phone once, and then I'm either opening apps, talking, or texting. I will say Google Contacts and Google Messages are now both superior to Samsung versions. Nobody likes the Samsung typing interface.. I use SwiftKey.

What wallpaper is that in the article photo? I'm using Lawnchair 2

I'm hoping to use Nova when my Note 20 Ultra arrives as I've been using it on a note for a couple of years.
There are just so many things you can over and above the stock launcher. Here's hoping it works OK with the new phone.
Android Central Newsletter
Get instant access to breaking news, the hottest reviews, great deals and helpful tips
Thank you for signing up to Android Central. You will receive a verification email shortly.
There was a problem. Please refresh the page and try again.