What I'm using: Aukey Quick Charge 3.0 car charger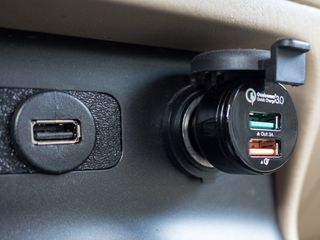 I tend to not overthink charging. There's been so much ink spilled over Qualcomm's Quick Charge 3.0 standard and USB-C cables that are out of spec and whether my phone is going to melt or irradiate my brain ... or worse.
I don't worry about such things. I just want to plug in and charge and trust the companies that are making the products I use. And to that end, I've been rocking the Aukey's dual-port car charger with Quick Charge 3.0 for a few months now. And as I've said before, this sort of product has changed the way I look at my phones.
Here's a quick look.
Image 1 of 6
So this is your basic plug-looking car charger. It sticks out from my outlet a little more than others I've used, but not so much that I can't get a cup in the cupholder when not in use. It's done up in glossy plastic, which becomes a bit of a dust magnet over time. (As you can see in these pictures. Let me never be accused of not showing you the real deal.)
But other than that? It's charging like a champ. This charger has two USB-A ports, as you can see. One orange, one green. And so that you don't have to worry about remembering which color does what, there's the Qualcomm Quick Charge logo beneath the orange port, showing that, indeed, it's the one with QC3.0. If you want to charge via QC3.0, this is the one to use. The other port sports Aukey's AiPower tech that "gives all your USB powered devices exactly what they need with up to 2.4A per Ai USB Port." You can use both at once if that's how you roll.
I get in my car. And I charge. If it's been a rough day for my phone, I'll forego hooking into Android Auto and use this instead. On my 15- to 20-minute commute, I can get upwards of 30 percentage points back (sometimes more, depending on the capacity of the phone I'm using) on the drive home. That's a game-changer. That's the difference between worrying about charging my phone after I'm home, instead of looking after the people I went there to hang out with.
And it's that simple. And inexpensive.
See at Amazon (opens in new tab)
The one I got for free at Costco is working surprisingly well. Even charges my vita Posted via the Android Central App

Phil, nice DIY install of the USB port next to the charger (in the photos.) I'm guessing that you have an aftermarket HU and installed that (or had it installed) port for a cleaner Android Auto connection?

Yep. BB put it in though. Not me.

This is my FAVORITE Charger, it charges better than any of the other chargers. it's small and I haven't lost it yet.....YET.

I have this charger as well and my only complaint it's it pops out of the acc port from time to time.

I have one too I love it. Charge my Nexus 6 with QC and a blue tooth speaker or some other gadget with normal charging. Really like the orange color for the QC port. Got it for around $10 on Amazon during black Friday. Posted via the Android Central App

I built one into my dash. Not QC, but it does have three ports, and each port is independent and delivers full power even if all are in use. I rarely charge my phone on it, but it sure came in handy over the holiday. Met up with friends at a beach and all of their phones were low, and their external battery pack was the kind that could only be charged in a 110v outlet. I let them use my 10,000 mAh Zero Lemon, then I could plug that back in to recharge on the way home along with everybody else's phone. http://i235.photobucket.com/albums/ee288/altema/Misc20photos/PT%...

I think I had this one but then I got USB-C enabled devices :(

I use a "Vinsic" on my Nexus 5X, works great.
https://www.amazon.com/VinsicAE-Charger-Adapter-Standard-Outputs/dp/...

Thanks! Will check it out Posted via the Android Central App

I got that one too. Works very well. Approved Benson, his only complaint was slower charging with 2 devices, and that almost seem to go without saying. Nexus 5X, Android Central Ambassador Team Leader

Excellent choice. I have the v2.0 one and it is good as well. I'll definitely try this one now. Posted via the Android Central App

I use the same charger with my HTC 10 and even a short ten minute drive gives me a serious battery boost! It's brilliant especially at its price point! Posted via the Android Central App

I use the Anker one with my 10 and usually get 40-50% charge in my 25 minute drive to work. I love QC3.0.

Yeah it's ace! Posted via the Android Central App

I've been using 3 of these over the past year. They work extremely well and durable since one of mine sees duty in my Polaris RZR in extreme conditions from snow to Idaho moon dust on the trail. Pretty good abuse test in my book.

Is it safe to use quick charge 3.0 with let's say a S6 with quick charge 2.0?

Yes, the QC 2.0 device will just charge at that level instead of the 3.0 level because it doesn't have the proper hardware. The device and charger "talk" to each other and charge at the appropriate level.

I've been using the iOttie RapidVOLT Max Dual Port charger (5A, 25W) for some time and does the job for me. It charges your device to the max allowable rate, meaning it won't charge higher than what your device allows. Peace of mind IMO.

I purchased this one for my HTC 10 and it has worked well for the last week... except twice my phone has popped up a "charging has stopped, incompatible charger detected" error message while hooked up. Posted via the 10

I use basically the same one but mine is qc 2.0 instead. Works like a champ. S7 edge/AC app

I've use ivoler without issue. Quick charge over wireless charging any day. Posted via the Android Central App

Wish it came bundled with a Type C cable instead of micro USB. Got plenty of those.

I've heard really good things about Aukey, but I went with Anker, just because that's what I've been using. Anker also works well with usb-c devices. I bought a compatible cable and car charger for my HTC 10, and they're working great. My phone charges so quickly when in my car, I can hardly believe it. And there have been zero issues with overheating or slow charging. Posted via the Android Central App

I use the same charger in my work and personal cars and it works very well. Posted via the Android Central App

I bought the same one, had issues with it maintaining a connection, a common complaint in reviews. Sent it back for a similar priced Anker with 1 3.0/1 2.0 ports and have had zero issues with it.

When I first used the Anker cable with my HTC 10, I had connection issues, too. I was about ready to return it, when I realized the usb-c end wasn't fully seated. In fact, it needed a firm push. Since then, it's worked like a charm. Posted via the Android Central App

Gee, if only the S7 supporter QC 3.0 I would have already had this!!!!!!!! Posted via the Android Central App

The Anker version has one 3.0 port and one 2.0 port so it will work with the S7, and be future ready. Of course, 3.0 is backwards compatible, so your S7 would work with the Aukey as well, it would just charge at 2.0 specs on the 3.0 port.
http://www.amazon.com/Charge-Anker-Charger-PowerDrive-PowerIQ/dp/B01A4ZG...

I bought the one official htc car charger off their website like 2 years ago. I wonder what kind that is...

Mine quit working, it's very disappointing.