What do you think about Samsung ending the Galaxy Note series?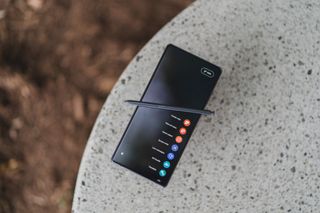 (Image credit: Hayato Huseman / Android Central)
Samsung's Galaxy Note series is one that we talk about a lot here on Android Central. With flagship specs, impressive displays, and the iconic S Pen, they're some of the most powerful flagships of any given year. For 2021, that looks to be changing.
We've seen a lot of rumors that Samsung will include S Pen support for the Galaxy S21 Ultra that's expected to launch in January, and now it's being said that Samsung isn't working on a Galaxy Note 21 at all.
The possibility of Samsung killing the Note series is huge, and as you might expect, it's gotten a lot of people in the AC forums sharing their thoughts on the subject.
Now, we want to hear from you — What do you think about Samsung ending the Galaxy Note series?
Joe Maring was a Senior Editor for Android Central between 2017 and 2021. You can reach him on Twitter at @JoeMaring1.
They're too damn big anyway. Get a 7" tablet if you want one, but the Note size has always been impractically large to serve as a daily phone.

You hit that right on the head. My Note9 stays at home.
My S5 is still my go every where (and it is bigger than I like).

That's a personal opinion. Many think otherwise.

ok Mr Tiny hands!! I take my S20 Ultra with me EVERYWHERE -- 6.9 inches and I'm wishing for 7.0!!!!

I carry both the Note 10 Plus and iPhone 11 Pro Max daily

A rose by any other name.........

Now. I don't think pen support on the S21 means they will get rid if the Note line.
Besides if there is no port for the pen...where will it go?

I keep my Note 9 at home, now that is is over 2 years old. I carry my S20 FE or Oneplus 7t, unless I am going somewhere for work where having my Note would be beneficial. I'll just swap them out. Notes are waaay too expensive to keep buying when the Note 9 is still a close to perfect phone. I just don't need it all the time and I don't want to take the chance of dropping it anymore so I can 95% of the time live without the S pen. I've wondered for quite some time why not just include the S pen in Galaxys as an option. Sell some without and put a plug in the hole, charge a premium for those that want it. Make a killing selling S pens as aftermarket. Why not. The phones are pretty much unrecognizable from each other now anyways. Seems stupid to have such a hyped launch only months apart for something that isn't much different.

Noooooooo!!!!!! Why does everything I love become obsolete!!!

I made a very conscious decision to buy my Note10+. My S7 edge was 3 years old and showing its age. I found that even at home I'd use that smaller 5.5'' phone rather than my beautiful Samsung Tab S2 8.0. I wanted something with a bigger screen that I could use *all the time*. At 6.8'', my Note is perfect. I would use a stylus on my S7e to manipulate Excel and Word files and so, I *really* appreciate the Note's built-in S-Pen. If the new S-series comes with a pen, and its screen is as big as a Note's, and filled with features as the Note is, then what's in a name? Those two series simply leapfrogged each other with their iterations anyway, so killing off a line may be a good thing insofar as support is concerned. Let's just hope higher-end features aren't sacrificed as a result. (And when I say "big screen", I'm not talking stupidly thin and long devices as the S-series are either!)

Indeed the obvious defining feature of the Note line was the enhanced Pen support. It was NOT the silo, though that clearly made csrrying/using the Pen convenient. If the digitizer screen tech is added to S line or Fold models, does that "make" them a Note? For me it was also the shape. The S line has very rounded corners, that ALWAYS made the series feel toy like. For me, the defining feature of the Notes was the squared corners AND the Pen. If the discrete Note line ends I will be 21 or 22, the Note 20 is my last. I have no interest in a overly delicate folding screen.

Totally agree with your point of view.
I have currently a Note 10+, I am not going to upgrade to the new S 21, I will take the Note 20 Ultra and keep it for a couple of years.
I am sure that till then Samsung will realise their mistake and will launch again a new Note.
Android Central Newsletter
Thank you for signing up to Android Central. You will receive a verification email shortly.
There was a problem. Please refresh the page and try again.