What to do when your PlayStation 4 headset doesn't work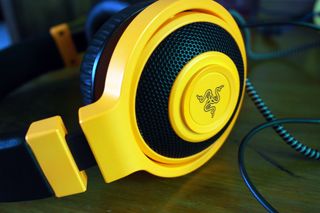 (Image credit: Android Central)
We've all been there before: you turn your PlayStation 4 on, plug your headset in, and you can't hear anything. That or people can't hear you when you're trying to voice chat. Either way, something's broken and you don't want to have to shell out a ton of money to fix it.
If that sounds like you and you want to be prepared for the next time you have headset issues, listen up. We'll show you a few things you should do when you notice your PS4 headset isn't working.
Wired Headsets
Wired headsets are more susceptible to breaking than wireless ones. That's just an unfortunate downside to having a physical cable that can get tangled and pulled on. Here's what to do if you're in that boat.
Make sure everything is plugged in correctly
This may seem obvious, but one of the most common causes of a headset malfunctioning is it simply not being plugged in right. Sometimes that 3.5mm headphone jack gets just loose enough to cause you some headaches.
Make sure everything is fully plugged in with a snug and secure fit. Then unplug it and plug it back in. Turn the controller off and back on, and then do it again. If it's a wireless headset, turn it off and turn it back on. Finally, reset your PS4, resync the headset, and do it again.
Yes, that's a lot of meandering, but it'll take you just a few minutes and it's worth confirming that you actually have a problem before you take drastic measures to solve it.
Test it with other controllers
If you find things are still a bit wonky, try the headset with another controller. There's a chance that the problem lies within the controller itself and not the headset.
If your headset works fine with another controller, then you'll want to replace the one it's not working with. Otherwise, it's time to figure out how you're going to get your headset fixed.
Make sure you have the latest updates
Check for updates to your PlayStation 4 if you aren't sure whether you have the latest one. There's a chance the issue could be resolved after the update, especially if the issue might be caused by some sort of change to the firmware inside the DualShock 4.
To check for updates on your PlayStation 4:
Head to the Settings menu on your PlayStation 4.
Select System Software Update.
If an update is available, it will download the file, after which it will install the file.
You will need to restart your PlayStation 4 to finish updating.
Also, be sure to check for updates to your headset. Even some wired headsets can receive permanent software updates, so head to the manufacturer's website to see if yours is in that crowd.
Replace the cable or microphone
If you have a modular headset that lets you disconnect the cable or microphone, check to see if you can get those two components replaced instead of having to get an entirely new headset. Most headset issues arise due to electric shorts in the cables, so there's a high chance this will solve your issue.
You may request a replacement from your manufacturer (if it's still under warranty) or buy one from websites like Amazon. Popular headsets like the Astro A40 have cables readily available, and you can even get third-party alternatives if you find the official replacements to be a bit too expensive for your budget. This is also the preferred route if you need the headset fixed fast because the warranty process can be a bit lengthy depending on the manufacturer
If you're able to get a new cable, microphone, or even headset, it's important to remember to keep the wires safe. Try not to wrap the wires tightly around anything or bunch them up in any other way, as this is an easy way for the wires inside the cable to break.
Wireless Headsets
While wireless headsets are less likely to have mechanical issues, there's still an entirely different set of problems they can have. Try these tips if yours isn't working right.
Make sure the battery is still functional
Akin to the obvious "is it plugged in" approach, making sure your headset's battery is fully charged. Wireless electronics just don't work right when they don't have enough juice to carry out their duties.
If your headset has an indicator light, plug it in until that light tells you it has a full charge. Once it does, try the headset out and see if it performs better. If you've found that the battery is dying right away, you may need to replace it.
Some headsets make it easy to replace the battery, while others may require some work from your manufacturer. Check the troubleshooting and support documents on your manufacturer's website to see which route you should take.
Resync it with your PlayStation 4
Have you ever been connected to Wi-Fi or had a Bluetooth headset connected to your phone, and everything works perfectly until one day it suddenly doesn't? You didn't change anything — it just stopped working. That's just what wireless electronics do, and it's annoying.
In these cases, a simple resync can solve your issues. Go through the pairing process to resync the headset with your PlayStation 4 before you go any further.
Check for updates
Issues with wireless connectivity can potentially be fixed with updates to either the headset or the PlayStation 4. You'll want to make sure you're on the latest version for either of those things.
To check for updates on your PlayStation 4:
Head to the Settings menu on your PlayStation 4.
Select System Software Update.
If an update is available, it will download the file, after which it will install the file.
You will need to restart your PlayStation 4 to finish updating.
For updating your headset, refer to the support documents at your manufacturer's website. Most headset updates require the use of a USB cable connected to a Windows PC. If you don't have one of your own, see if you can use a friend's.
Redeem your warranty
Sometimes, the problem just can't be fixed by your own hands. In those cases, you'll want to contact your manufacturer to go over your options for repairs or replacements.
You'll likely need to be under warranty for the manufacturer to be able to help you in any capacity, but there's a chance they'll help you out even if you aren't. Give them a call or send in a support ticket to get going on figuring it out.
Consider buying a new headset
If you hit a dead end with your warranty, your only option is to buy a new headset. There are many great options out there to fit any budget.
If you're going wired, try and choose a headset that lets you replace the cable and/or microphone easily, and make sure those replacements are readily available. This will be helpful in the future if you happen to suffer the same fate.
If wireless is your preference, check out reviews to ensure there are no damning bugs, and see if the manufacturer has a good track record for updating it in case any bugs do arise. You should also look to see whether the battery is user-replaceable.
Need a good starting place to search for a new headset? Be sure to check out our list of the best PlayStation 4 headsets. It features the Astro A10, which is one of the best headsets you can find on the cheap. For just $60, it's the perfect emergency option to get you back into your games in a pinch with great sound, clear voice, and long-lasting comfort.
Entry-level
A cheap emergency headset
Made from "damage resistant polycarbonate," the A10 should be able to take a beating in your gaming bag. You're not getting much in the way of fancy features, but you do get a solid, well-made, great-sounding headset with an inline volume remote so you never need to take your eye off the game.
Get the Android Central Newsletter
Instant access to breaking news, the hottest reviews, great deals and helpful tips.