What color Amazon Echo should you buy?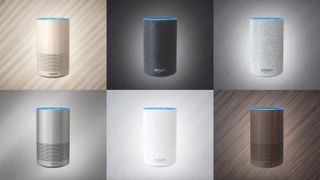 Let's just be perfectly honest up front. I don't care which color Amazon Echo you get. New Echo, old Echo, Echo Plus, Echo Spot, Echo Dot, whatever. OK, it's not that I don't care. It's just that we haven't been properly introduced yet, and I don't yet know all your intricacies. What it is that makes you tick.
What's important with all this new hardware is that there actually are some choices to make.
Let's take a look.
Amazon Echo Spot
This is the one folks are most excited about, so let's start with it.
You can get an Echo Spot in black. Or you can get an Echo Spot in white. Or you can buy two and put them side by side and squint really hard and ...
It's, uh, not any more complicated — of fun than that. I supposed you could put a little hat on your Echo Spot, if you want. Or maybe a tiny tea cozy. Your call.
Either way, missed opportunity from Amazon here to not put out something with a little more personality.
Amazon Echo (second-generation)
OK, this is where things really get interesting. There actually are a couple versions of the second-generation Amazon Echo, with two price points to match.
The less expensive of the two (it runs $99) has a fabric-covered base, and you can get it in a dark charcoal, a lighter heather gray, or an even lighter sandstone.
For twenty dollars more you can get more colors and a different material. There's a light oak color, and darker walnut, and a metallic silver.
All the finishes look pretty nice, I think. Me? I never pass up wood.
Amazon Echo Plus
Three options here, all alike in price ($149) and with the same plastic finish. You've got options for white, black, and silver.
I know, I know. I wish Amazon would slow down a little, too. Let's not do anything too crazy.
It is worth a reminder, though, that Amazon is packaging a Philips Hue Bulb with the Echo Plus, which is a nice little addition.
And don't forget the Echo Dot
The Amazon Echo Dot is still (and will remain) a best-seller, thanks in no small part due to its $50 price tag.
But it's worth a reminder that even if you don't like it in white or black, you can pick up a case for it that completely changes the look.
Fabric cases (in indigo, charcoal or sandstone) run $10 each, and leather cases (in midnight, merlot or saddle tan) run $20 each.
Do not buy any color yet, wait for Oct. 4 and see what Google is going to put out there. If I can buy a host of small google homes and play music throughout my house.....SOLD I am.

Amen brother! Haha Good morning and happy Monday all! Can't wait to see if there are any surprises waiting for us in two days.

As much as I like my Echo Dot, I'd still like all the Echo devices to be a bit cheaper. I will buy a Silver Echo Plus and the smaller Google Home device (I can't remember the name of it at the moment) Still not a fan of Bing...

Seriously? An article about what color to buy? Are you guys so desperate for pages to fill with ads that you need to write garbage like this? But whatever color you want. Who cares?

There are many third-party cases for the Echo Dot.
Android Central Newsletter
Get the best of Android Central in in your inbox, every day!
Thank you for signing up to Android Central. You will receive a verification email shortly.
There was a problem. Please refresh the page and try again.