We now have a rough idea how much the friendly LG G5 modules will cost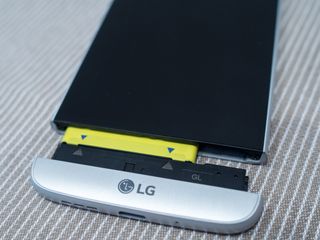 Excited about the launch of the LG G5? We are too, and we bet some of you are also looking forward to trying out these new LG and Friends modules that can slot inside the phone. The only issue is we have yet to receive official word as to how much these magic slot add-ons will cost. Now, thanks to an official Korean press release, we have a rough idea as to how much we'll need to part with (at least in Korea anyway).
LG will offer a small array of modules that can be plugged into the G5, including the CAM Plus camera grip and extended battery, and the B&O high-def audio module. According to the Korean press release, these new modules will cost the consumer around $85 (₩ 99,000) and $160 (₩ 189,000), respectively. The spare battery, which most will receive free of charge, will be priced at approximately $35 (₩ 39,000).
It's worth noting that these are rough conversions and will not likely represent international pricing. That said, we can't imagine listings to be far off. Would you be looking to invest in a module or two? Let us know your thoughts on the LG and Friends, as well as potential prices, in the comments!
Will the LG G5 modules matter?
Android Central Newsletter
Get instant access to breaking news, the hottest reviews, great deals and helpful tips
I would really want that B&O module but I wouldn't pay $160. $100 is what I have in mind. I'm still gonna give the g5 a good look, but I'm not in a hurry to buy anything. Want to see the HTC 10 and possibly note 6. Posted via the Android Central App

Well, I was expecting the price to be $200, just because of the B&O branding.

Honestly $100 is not bad at all for the 360 camera

I was guessing $50 each. Samsonite. I was way off. Posted via LG H815

Swammy, Swappy....Samsonite!

This morning, we also saw the US pricing of the G5 itself when pre-orders went live on Best Buy. Sprint unactivated price is $800; AT&T unactivated price is $1000. However, buying on the monthly payment plans, Sprint's price is $689 and AT&T is $576.

No word on Verizon? Posted via the Android Central App

None that I was able to find. No information from T-Mobile either.

AT&T is out their damn mind Posted via the Android Central App

They'll have to do buy one get 2 free to move these phones at that price. Posted via the Android Central App

Yeah saw that - I'll be waiting for the unlocked version.

Actually I think you have the pricing off - AT&T is $22.97 for 30 months on Next, that works out to $689.10 on AT&T, not $576.

$160 for better headphone audio?... I'm sure they'll sell dozens of them. Posted via the Android Central App

Yeah, I would rather buy a stand alone amplifier. You can get a decent one anywhere from 50 to 100 bucks. Posted via Nexus 6 running on any data plan I want

Yeppppp Posted from my Nexus 6/Nexus 7 2013/Surface Pro 3

Well, what do you expect from B&O brand Posted via the Android Central App

Something that will sell maybe????? Idk Posted from my Nexus 6/Nexus 7 2013/Surface Pro 3

That's the final nail in the coffin for the G5. I know a lot of people who said they were interested were holding off making judgment until the accessory pricing was released. But those prices are too much. There has been no comment on future support and I think LG have made a huge mistake. I was really intrigued about the G5 when it was announced but I am glad it is taking its time coming out as I've completely talked myself out of considering it as an upgrade to my G2. Posted via the Android Central App

Exactly, the form factor would need to be now frozen for at least 2-3 years and they won't do that.

Keep in mind that the g5 stands on its on merits without the modules. Posted via the Android Central App

Yes it does but why release a module with decent sound? Why not have a decent dac in the phone to begin with? The fact that you know when you buy the phone that it is not as good as it can be makes you think you are being shortchanged. Posted via the Android Central App

From what I've read, the dac on the phone is already great (some even said it's better than the one on s7).
But if you want to take your music experience to another level, this module can give u that Posted via the Android Central App

I sadly have to agree with you on that. It's too bad because at first it sounded like an absolutely intriguing smartphone that I could upgrade to from my M8 but I now have no other choice than to cross it off my upgrade options list. At first the "Friends" modules idea sounded great but it's gonna flop.

Well, it's the nail in the coffin perhaps if you live in Korea. I'm holding judgement until I see the pricing in the USA.

There is another report that the 360 cam is priced at 200 dollars so it's not looking positive. Posted via the Android Central App

Have you seen how much all the other 360 cameras out there cost? 200 bucks is great.

T-Mobile is giving the 360 cam for free with purchase of G5.

Oh and whoever decided to call the Modules Friends, needs firing. Twee bullshit Posted via the Android Central App

Haha Posted from my Nexus 6/Nexus 7 2013/Surface Pro 3

Absolutely, I hate names like that. Anything that starts with 'My' is also terrible. Posted via the Android Central App

Or anything that starts with 'i'.. like iPad, iPhone, iMore ;-)

So if someone wants to always use the camera or audio modules, are they SOL if they also want a case?

Absolutely. Posted via the Android Central App

Garbage phone Posted via the Android Central App

No, garbage way of doing this as well as pricing.. Posted from my Nexus 6/Nexus 7 2013/Surface Pro 3

And all this makes me hark back to a comment I made a little while ago... It has no value, it's a way for LG to remove parts from a phone, charge you for a premium for the phone and then charge for extras Other than the finger print reader being crappy on the V10 there is no possible way this is better value than that as it comes with a top top camera, built in DAC, removable battery, SD card and.... It's got awesome build quality and looks fantastic. Sorry LG but other than die hards I don't think anyone is going to care about a phone where you pull out its ass to make it better.... Then charge $100 ish for the pleasure... Please... Posted via the Android Central App

I would really love to see Jerry, or someone else who knows audio, do a comparison of the G5 with and without the audio module, vs the V10. Posted via the Android Central App

I'm sure that's coming. The B&O module is the one I want to see. At $629 on T-Mo plus the drop cam, plus the extra battery and adapter, I'm sold. I've got no faith in Samsung to do decent security updates based on my s6e.

And definitely when the HTC 10 Comes out Posted via the Android Central App

I don't think the fingerprint scanner is crappy on the v10. What do you find wrong with it?

The fingerprint sensor on the V10 tends to be finicky unless you're handling the phone naked as the steel rails supposedly make a circuit for the scanner to register a print quickly. There was an update for some carrier models which fixed the issue though t-mobile V10's have yet to receive it. Posted on an LG V10

ahhaha, it's like the DLC of phones!

A Premium phone shell that has been Gutted, Is not Premium

In my opinion, they should include a case with each "friend" that fits with the module attached. Especially if you're paying $100 or $160 for just the module. Even if it's just a cheap TPU case I'm sure it would be appreciated.

I was really hoping to stay interested in this phone. After doing more research I will still withu ancient Note 3 (I have it since it laumch) and Nexus 6p. I have been looking for a decent phone fore over a year now to run as my work phone. Posted via the Android Central App

The audio module is little expensive considering the V10 already comes with a nice hifi DAC built in. I'd be curious to know how they stack up against each other. The camera module pricing seems decent. One picture at a time--LG V10

True though the V10's ESS DAC only works with certain music players so one will likely have to stick with the stock player. The G5's B&O DAC is a plug and play affair so it'll work with everything. Though yeh, $160 for an audio attachment isn't really worth it as there are much better options out there for less. Posted on an LG V10

In theory the modules "sounds" like a great idea but working in I.T. I don't see the average consumer caring about being able to upgrade parts to their phone. Hence part of the reason Apple does so well. Majority of people just want simple and functional. Marketing also has a lot to do with it but wanting to bring along another device that can only be used with the phone is just too much for the average consumer to want to do. Posted via the Android Central App

Wow. The G5's friends will be DOA.

$160 for a better DAC. No thanks. The pricing is what makes or breaks this whole idea. Right now, it's going to break it. The only one that entices me is the extra battery. That's it.

The G5 is nothing special Posted via the Android Central App

Somebody is doing handsprings over at LG. Posted via the Android Central App

All these gimmicks. No wonder people get envious of others who are satisfied with the limited capabilities of an iPhone. Posted via the Android Central App

Except they don't get envious because they just use a different Android phone. ;)

This Posted via the Android Central App

about what I expected . . . and too expensive for accessories that are unique to a specific model. At least, for me! :-)

I think they should have started it cheaper so that more users will buy it, giving the feature more publicity and attracting more developers.

The idea that the average person is going to buy these modules and swap things is ridiculous. Posted via the Android Central App

Maybe they should have just put in a better camera and audio hardware, instead of making people swap pieces around to complete their phone. This is such a horrible idea.

Thats what I'm saying. Posted from my Nexus 6/Nexus 7 2013/Surface Pro 3

well I will only buy an unlocked G5 if it is cheaper. How can it cost hundreds more. ?? dumb if you ask me. I will buy the ATT model and just get the unlock code. 650 is about the most I will pay. HTC 10 will be out soon and it will be bleow 700 for sure. They sell unlocked phones directly to the consumer and you will receive updates 15 days after google. I have the N5x and had the A9. The A9 is an overall better phone. I was excited about the G5 but that is slowly fading away with pricing issues

LG, are you going to do an LG Maker (Moto Maker) option? I can see people buying the G5 with DAC module (friend), and unlocked. Directly from the LG site without the standard base which might cut the cost slightly.
"More friends means a bigger party, start your orgy now. We will throw in a free rubber to cover your DAC!" Posted via the Android Central App

I can't understand who's going to pay $160 for a DAC module, which will only last the 2 year life span of the phone when you can by a decent Bose etc bluetooth speaker, which will last 4 or more years and probably have far better sound quality as well. Camera wise you may as well buy a decent stand alone camera. They really need to at least half these rumoured prices.

The DAC Module is meant to be used with the included B&O H3 headphones or with whatever headphones you currently have. If you care about audio quality at all it is a big deal. Bluetooth is inherently a lossy way to transmit audio so sound quality is lacking. Not to mention the headphones that come with the module are $161 on Amazon right now. I think that the DAC is very well priced.

LG just lost a few friends. They should not have messed with the G series. They should have carried on improving what they had going and experimented with a different line for this modular mess they call the G5. That rear cam is unsightly on an already dull rear end of the phone. The camera module is pointless and makes an already questionable rear end of the phone look even more hideous. And to add insult to injury, they slap in a smaller battery. I was so looking forward to this phone, but LG did pretty poorly this time around. Guess I'll wait for the V11. As long as i don't have to piece it together like a box of Lego. Posted via the Android Central App

Batman would like the G5. He could keep modules in his utility belt :) Posted via the Android Central App

Nope. Modules are between $40-$120 overpriced. Let's hope third party vendors come up with something worth it.

Except for the controls on the back, and some annoying software, I liked where LG was going with this line of phones.
I thought maybe making a few Nexii would clear up their ugly UI. I thought, when buttons back on the side was rumored, that LG would finally make a phone I wanted. Then this. I hate gimmicks. Unlocked Marshmallow Nexus 6 on Verizon. I'm a happy guy.

What you guys need to understand at least about that B&O DAC is that it will be bundled with the B&O H3 In ear headphones, which on Amazon right now they are at $161 normally $199. I realize they may be overpriced but to get audio that according to What HIFI is noticeably better than what comes with the phone as well as the headphones i believe LG charging $160 is a bargain.

This sounds like a great idea, providing it can: - allow third party companies to make cheaper, alternative modules. - allow different modules to work and "fit" together. - allow modules to work/for inside/with cases (or come with case add-ons in some way). If not, then it's not going to sell.
Android Central Newsletter
Get instant access to breaking news, the hottest reviews, great deals and helpful tips
Thank you for signing up to Android Central. You will receive a verification email shortly.
There was a problem. Please refresh the page and try again.