Want an official Nexus 7 Travel Cover in the UK? Avoid Google Play and hit the high street retailers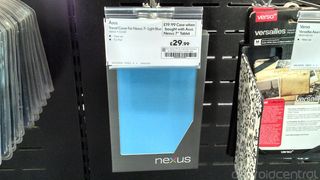 One thing notably missing from the UK Google Play store at the launch of the Nexus 7 was the official Travel Cover. In fact, to this day, UK buyers of the Nexus 7 still cannot pick up a Travel Cover from Google should they choose to buy their tablet in this way. Fear not, though, as the high street retailers and their online compatriots have us covered.
Looking through the various offerings, we've got a variety of prices, just as we also have a few different varieties of color. Including pink. Click on past the break for the rundown of the where and the how much.
First up is Comet. Here we find probably the priciest option for purchasing the Travel Cover. Available in the dark grey and blue variants, here you'll be handing over £29.99. However, should you decide to pull the trigger on one at the same time as you purchase a Nexus 7, that price drops by £10. As you'll see by our snap here too, they're also good for iPads!
Link: Google Nexus 7 Travel Cover at Comet
Heading over to the Dixons group next, and their high street chain combination of Currys and PC World. Again, we find the blue and dark grey, but also a rather fetching shade of pink and a lighter, cool grey. The other difference is the price, with the Dixons group of stores only asking £24.99, a full £5 less than Comet.
Link: Google Nexus 7 Travel Cover at Currys, PC World, Dixons
Carphone Warehouse is where the best deal can potentially be had -- should the item come back in stock at current price. They're offering the dark grey Travel Cover for an incredible £12.99, but is currently showing as out of stock on back order. Definitely worth keeping an eye on if you're patient.
Link: Google Nexus 7 Travel Cover at Carphone Warehouse
Otherwise, it's pretty slim pickings still. There is a solitary seller on Amazon selling the grey Travel Cover for £15.99, but be quick, as there's only 1 available. If you know of anywhere else in the UK that hasn't been mentioned that is selling these then hit us up in the comments below. It's still pretty hard to understand why we can't just purchase these from Google, but at least we're not totally left out.
More: Nexus 7 Travel Cover review
Got mine from Carphone Warehouse about 6 weeks ago for £12.99 delivered to store. Well pleased with it...

No thanks. For the price I'd expect at least a way for the flap to close and stay closed. It also isn't a smart cover, which is a major turn-off. Now if only there were other covers out there that weren't tacky faux-leather. Edit: I'm eyeing up this case. It looks lovely. http://www.mobilefun.co.uk/dodocase-hardcover-for-google-nexus-7-charcoa...

30£ ??? That's really expensive compared to the official price in the ASUS Shop:
http://shop.asus.co.uk/shop/gb/en-GB/Home/1-Products/1500-ASUS-Collectio...
Android Central Newsletter
Get the best of Android Central in in your inbox, every day!
Thank you for signing up to Android Central. You will receive a verification email shortly.
There was a problem. Please refresh the page and try again.