Vizio Tablet Honeycomb update rolling out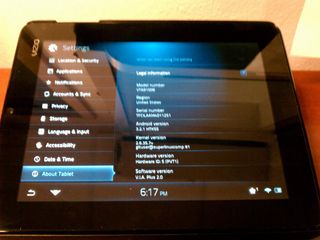 The Honeycomb update for the Vizio VTAB1008 looks like it's rolling out a bit broader, bringing the VTab to version V.I.A. Plus 2.0 and Android version 3.2.1. We first heard it was slowly pushing out earlier this afternoon, and have been checking our own VTab here every hour or so, but by now we've heard it enough times to know it's not a fluke. Reports say that you will lose the capacitive buttons around the bezel in favor of on-screen soft buttons, but to balance that out custom launchers like ADW (seen above) now work and you can make your VTab feel more like stock Android.
It's too early to know any serious bugs, or what sort of impact this will have on battery life, but anytime a "legacy" tablet sees an update to Honeycomb we're happy. If you're using a VTab, be sure to check for updates (menu>settings>about device>Vizio update service) before you hit the pillow. There's a couple other pics after the break.
Thanks everyone who sent this in, and thanks Dale for the pics!
Senior Editor — Google Ecosystem
Jerry is an amateur woodworker and struggling shade tree mechanic. There's nothing he can't take apart, but many things he can't reassemble. You'll find him writing and speaking his loud opinion on Android Central and occasionally on Twitter.
I have one its great for movies and I have a PlayStation 1 on it works great this tab just needs a stock rom to pull off all the crap vizio did to it.A stock from would be great for this tab.As forgoing from this to a prime or xyboard it would be like gong from a civic to a mustang gt but you get what you pay for at $160 this tab is a no brainer.

I do. Its a pretty good piece of equipment once you get used to it. The only issue I've had was the charging port detaching itself from the motherboard causing me to have a mental breakdown and having to send it back to Vizio for a replacement

I feel sorry for anyone with this tab going from it to the transformer was like two different worlds but at least they are supporting it

Not everyone wants the size or cost of the Transformer. I bought my Mother one of these off Woot for Christmas and at that time couldn't beat the deal of $165 shipped including the leather case.

My daughter loves hers, and when I've used to to watch some videos it's excellent. This is not a $600 Galaxy tab, it's a sub $200 tablet. Simply amazing!

I have been thinking about picking one of these up for the "house" tablet. Something the kids can use, something not tied to my gmail account.

If they're going to update it at all, why are they updating to an 8-month old version, when ICS is already 4 months old? Considering it was originally on Gingerbread, any update is better than no update, but it's still pretty pitiful.

Just speculation - but I don't know that the vizio supports hardware adequate (or necessary) for an ICS upgrade. Still not a bad little tablet for $160 - good competitor to the Kindle fire IMHO,

The VTab only has 2.5 GB internal flash storage. That's not very generous to start with. ICS could probably run off an SDcard, but Vizio isn't going to do that.

Has anyone successfuly upgraded yet? VIZIO Update Service keeps telling me this one is up to date, yet it's on Android verison 2.3.2 GRH78C.

Mine's doing the same thing. I'm going to keep an eye on it today though to see if I get the upgrade.

Mine updated. I received it as a notification on the home screen.

lets start with $180 (brandy, spankin new, not a woot refurb)... then add HDMI, 1 gig processor, GPS, full Android Market, oops Google Play, support, 8" screen, wish it had more onboard storage, but then there's an sd slot, (BTW, pretty much none of this is available on the fire, or the nook). yeah the stock launcher sucks, but thats what GO is for, and its only flash 10.1, but 11.1.xxx was an easy sideload... oh, and an IR blaster that controls pretty much everything else in my house... whats not to love... and did i mention $180... i have 2 one for me and one for the mrs and we both love em... oh, almost forgot the front VGA camera for oovoo video chat... and the 3 speakers, so no matter which way you hold it, you still have left and right stereo...

I purchased one back when they were $300, and have no regrets at all. The 8", 4:3 form factor is definitely underrated. I can't wait to get Honeycomb.

yeah, the wife's was $300 at bj's, went back a few months later to check out the fire and scored my second vtab at $189... never looked back... still waiting for my honeycomb tho... on both... don't understand the server overload caution to vizio's part though, there can't be that many of us out here... LOL !!!

I got the update yesterday and installed it on mine and have seen no problems. It was slightly glitchy until the first reboot, but has been solid since. I love the tablet for the remote control features and the size. No, it's not a Transformer or any other $400+ tablet, but I don't expect it to be. The Honeycomb update works very nicely on the VTab - it improves the display resolution, adds touchscreen buttons to replace the built-in capacitive ones, and runs smoother and more responsively than on Gingerbread. The Play Store pulls up 'tablet' apps now too, which opens up more apps for this device finally as well.

I agree. One thing I noticed that I really like is there are more apps available now. I had some apps that I could download on my phone (which is running 2.3 GB) and I couldn't download on my tablet. Now I can.

It does have some cool new features but have you noticed the X-like icon on the right side? It is a new ZOOM feature that allows you to adjust things that might be too small to see since they were made for the dimensions of a 7 or 10 inch tablet (This is a 8 inch tablet after all) and zooms in so that it fills the screen a lot, making it MUCH easier to read, even if it does end up looking more pixelated but that's to be expected when you zoom in.

But does it fix the wonky SD/external storage issue? That's my number one beef with this thing...

Yes it does. It has the option to use SD card instead of internal memory. Things run on it now that wouldn't work before, like Google earth. Only issue so far is the battery died after it sat all night (I got my update yesterday). I need to figure out what ate the battery. I used to charge it every 3 days and it was barely less than 1/2 battery still left. Update to what I said about battery life. I don't know why it went dead that first night but last night I left it on and it barely used any battery. I love this update. It's like a brand new (faster) tablet.

It may be any notifications that may be running in the background.

Got my update yesterday morning and all I can say is WOW, I feel like I have a brand new tablet, it's much faster than before, love the new UI and the battery lasts longer (probably because Honeycomb is not as processor intensive as 2.3).
The web browser is much faster too, everything is great.
Got it on Woot for $180 and for the price it is def the bast tablet available now that it has Honeycomb.

Got mine from Woot! too. Did you notice that USB transfer is gone? Did you find all your files on the micro-SD?

Anybody have problems updating? I got mine this morning, ran through the first part up to the "press here to reboot" (or whatever), then after it came back from the reboot, it gives me the "V" logo, then a 1/2 second black screen, in about 10 second cycles, looping over and over... 20+ minutes so far... Afraid to turn it off...

Please, if anyone here has the know-how to grab the OTA update file from their vtab before the update installs, the XDA VTAB community would be very grateful to you. Jerry - can you help, or did the AC VTAB already get the update?

I got the honeycomb update a few minutes ago and the first thing I noticed is that my "news and weather" app disappeared. Anyone else see this? I checked the store but didn't see the one that came loaded on the vtab - anyone clue me in on the proper replacement?

The honeycomb update is complete! Now to give this thing a go.
QUESTION--Has any of you had a problem with the USB connect? My tablet won't charge most of the time because the connection isn't firm anymore. I have to move it around some for the red charging light to come on, but still at times it's not in 'charge' mode.
Any help out there??
Thanks

Micro-USB was never intended as a charging connector, and certainly not to provide more than 500ma, while I'm sure you've noticed that the Vizio VTAB will not even go into charge mode seeing less than 1.5 amps. Sorry this doesn't help. It's a design weakness in this and many other products.

Got the honeycomb update and tablet is running fine, if not better than before. My main issue is now that honeycomb uses MTP for file transfer, I cannot now get my pc to recognize the tablet and it wont find the drivers either? It know longer functions with the usual USB mass storage option so no way to move files onto my sd card. Any help would be much appreciated.

the update just blew me out of the water - can no longer connect to my browser, will have to do a total factory reset. I have done a total shutdown 3 times as per customer support but they say it's not going to come back. Quite a bit of work without any advance warning.

** UPDATE ** Now WiFi is a total SQUIRREL!! It's up, it's down, it's up again... Did they TEST this even for a millisecond!!?????? I have one. I let it update yesterday. After doing the upgrade, I went to ES File Explorer and clicked on "external" and saw "Empty Folder", so I assumed it got formatted. But now I go to Settings, Storage, and the SD CARD shows 29.71GB total space with 12.06GB free, so my stuff is there, I just can't see or use any of it. I tried un-mounting and mounting the SD CARD but that didn't help.
There also doesn't seem to be any option to format the card. I plugged the Vizio into a PC using a USB cable, and discovered that I no longer get a dialog asking to turn USB on, or the option to access internal memory or SD CARD. So the ability to copying files to or from the device is now gone apparently. So, the "upgrade" throws away soft keys, robbing you of screen space to no good purpose whatsoever.
It eliminates all hardwired data transfer capability to the device.
It hides the micro-SD, making it useless, and all of your data inaccessible.
It eliminates the option to format the card, which was in prior Android versions. Off hand, I'd say this "upgrade" is a colossal failure. If you get the opportunity, I recommend holding off. I'll be doing a hard reset on my VTAB this evening. It would be good to know how to turn off the update service if anyone knows.

I would suggest calling Vizio and opening a support ticket. (877) 698-4946. BTW, my wifi was squirrely before the update... I'm not looking forward to my hard reset tonight.

Upgraded both my Vizio and my daughter's Vizio without incident. Hated losing the softkeys off the display - especially the settings one - but I'm getting used to the differences. Had no trouble getting PC access to the SD card thru the PC, although it doesn't prompt me from the Vizio anymore (seem to remember that's how it worked, anyway). I actually prefer it this way. Seems snappier and the display seems better, but that may be my imagination. These Vizios were the best purchase I've made in a while. Bought them both at Costco for $180 each with Costco's extended warranty and they are now selling for $280 on Amazon. They do everything I wanted and needed them to do for 1/3 the price my brother paid for his wiz-bang tablet. For that price I'd rather buy a tricked-out netbook.

So, to continue this senseless saga...
Being unable to see anything on my micro-SD, I thought I'd try putting a folder on what the Vizio now thinks is the "external" (hasn't this always been screwed up?) For all the hype about MTP file management, I still see \SDCARD shown as the internal memory, and a mount point called "external" under that, so apparently MTP isn't really implemented, or it doesn't do what was promised. Anyway, I navigated to the 'external' folder under \SDCARD and created a 'Honeycomb' folder under that. Then I shut the tablet down, removed the micro-SD and put it in a PC using a USB adapter. Then I went looking for anything called 'Honeycomb' NOTHING! It isn't there! All my files are there, and I backed them up but where is the 'Honeycomb' folder I created? So I have to assume Honeycomb is either not mounting the micro-SD at all, or it's mounting it under another name I cannot find. And that 'external' is now internal, or somehow virtual and non-existent. I found a folder with a bunch of numbered files called 'LOST.DIR' but the properties show the whole folder to only be 2.2MB and not the >10GB I can't find. When I run 'File Expert', I see SD-Card with a total size of 2.4GB total and 2.19GB free (NOT the micro-SD -- the screw up I referred to), and also "Phone Internal Storage" with no size info.
When I go into "Phone Internal Storage", it looks like the ROOT! I see SDCARD folder there, and 'external_sdcard' under that, and I can see all the data that is still on the micro-SD. So the \SDCARD\external mount point is bad now, and I have to use an app the tablet doesn't come with to see the correct mount point. So, this "upgrade" is a total goat rodeo! Without a utility Vizio doesn't provide, I'd now have no access to my micro-SD, and the only way to get anything of any size into my tablet is to remove the micro-SD and load it externally!!!
Why did Vizio not TEST THIS UPGRADE before pushing it to the field? Why am I forced to waste my time!?

Did you go to storage under settings and where it says default storage location and change that from Tablet Memory to MicroSD card? It will tell you that you will have to restart the tablet and you will be able to have you sd card as your default storage. After my upgrade my tablet was buggy at first and I had to do a factory restore and download all my apps again. It seems to work fine now.

I didn't try that. Now I'm doing an "update" to the older version off a 4GB micro-SD. I think I'll hold off on Honeycomb until it gets past 2.0. I'm really attached to moving files across USB, and the Honeycomb update didn't help the failure of Bluetooth to pair with anything, so there is no win that I can find.

I had the same problem using es file. If you use astro file there's a tab on the side to switch between internal and external storage. Click external and you can see all your stuff again. I did notice there is an update for es file. I don't know if that will fix the issue because I've switched to astro file since the update

my reset went well and am enjoying the new OS, much cleaner and faster. the SD card shows fine in file explorer on my pc and I was able to move files back and forth. I do not like that the new swiftkey keyboard is missing its arrow keys ability, I use that a lot, will have to find another keyboard (unless the feature is turned off and I just can't find it)
Except for the restoring of apps and the lack of backup for bookmarks, the reset went surprisingly easy.

This Honeycomb update has its good and bad points. Good: runs faster, better browser, more modern interface, latest google "play" services. Bad: we lose the capacitive buttons, on-screen buttons take away pixels from the screen, the sdcard sometimes gets mounted after a reboot and sometimes not. Bottom line is I want the capacitive buttons back and more screen space.

Just finished the update to my VTAB1008, and it's locked up. Nothing on the start screen responds. Power cycled it, no change. Hope the VIZIO support line doesn't get backed up with people like me.

Just got off the phone with support. The good news: no hold time; apparently this is not a widespread problem. The bad news: we went through factory reset, no joy, need to pack it up and send it back (!).

The vtab now supports bluetooth PID devices, ie bluetooth keyboards and game controllers. That's HUGE.

Browser no longer works. Pretty unhappy. Haven't had this kind of problem with my Nook Tablet. Hope I don't have to do a reset.

I have one that I bought from a thrift shop. It came with someone else information on it. So I stupidly decided to reset to factory reset. To my surprise it removed google play services and now I can not install anything I download. Called both google and vizio to my disappointment both say its the others issue. and I still have not resolved it. Today I decided again to call Vizio and was told there is no update for this issue and google and vizio has to come up with one so that it will work on my tablet. In the mean time I have a worthless tablet I can not use.
Android Central Newsletter
Thank you for signing up to Android Central. You will receive a verification email shortly.
There was a problem. Please refresh the page and try again.