Virgin Mobile getting rid of grandfathered plan options with new smartphone purchases?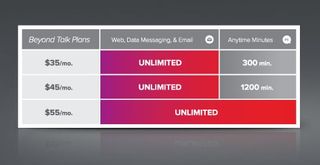 A new text message is currently being sent out to Virgin Mobile USA customers with what may be an in important announcement if you're looking towards picking up a new device from them anytime soon.
At first glance, it may appear as though Virgin Mobile might be releasing some new smartphone plans, but that's not the case. When you visit the link they're advising folks that anytime you upgrade now you're required to pick from one of the already existing plans available. This looks to imply that if you're on grandfathered plan, they'll no longer allow you to keep it when upgrading to a new device. Anyone else on Virgin Mobile get this message or any further clarification in it?
Thanks, Brian!
In other words, you can stay with us but you should know that we rather take your money for a non-tangible service, over tangible phone hardware anyday.

I got the text. My understanding of this is that any phones that are released May 2012 or after will be subject to this. Hence, if I wanted to upgrade to a phone on their existing lineup after 5/27/2012, I'd still be able to keep my $25 plan. I also think this is a very good indicator that the One V and possibly the Evo V are getting set to launch in the coming months.

Boost has been doing this for some time now. Either stick with your old phone, or get with the new program. Figures... Soon enough, there won't be any benefit to going prepaid besides not being stuck with the same phone or a carrier for 2 years. They already don't get any kind of roaming.

How long before Verizon and AT&T follow suit and eliminate the grandfather clause? Me thinks not much longer. Probably when the iPhone 5 comes out and it starts taxing their 4G networks. Love this little addendum: "All plans include 2.5GB per month of full-speed data. Customers will continue to have data access but maximum speeds may be limited to 256Kbps or below for the remainder of the monthly plan cycle."

Won't be surprised when AT&T, Sprint, T-Mobile, and Verizon to follow shortly after.

I'm On VirginMobile For Almost 2 Years, & I Have Not Seen This Message At All.

If they are getting rid of grandfathered plans with upgrade, then for me when I am ready to upgrade I will be saying goodbye to VM. When there is a quad core with HSPA 42+, I will go with T-mobile $30 plan.

I'd rather go with T-Mobile than Virgin Mobile anyway. $5/month less, better coverage, better network, faster speeds, better selection of phones, and 5GB of full speed data (compared to 2.5GB with VM). The only thing you lose out on are 200 minutes, but you can use VoIP for that.

+1.... Exactly my thought especially with Google now offering the GNex unlocked for $399!
Can't wait to see what new smartphones VM is bringing. If it's another crappy less than 4" screen phones, I am heading to T-Mo.

My thoughts exactly too Channan. Optimus V is working nicely now, but when there is a quad core and HSPA 42+ phone, I will upgrade.

I received this. I read it to mean if you "upgrade" to an Optimus V, Moto Triumph or one of the other current Android phones, and have the $25 a month grandfathered plan, then you can keep it. If you upgrade to any of the new android phones coming out this summer, you switch to $35. I'm on the $25 plan right now and am pretty disappointed about that. I have a Moto Triumph and although it is generally okay with a custom rom, the GPS is still buggy and all around it isn't the smoothest phone. I was hoping for a decent phone finally this summer, but I'm not sure if I would switch for the $10 price increase. If that happened, I would probably just pay $5 more, get unlimited everything and move over to simple mobile. The T-Mobile $30 plan is nice, but 100 min isn't enough for me and I've tried VoIP, but haven't found it reliable enough to be a real solution. Unless I could find another $30 or less plan (with the same 300 min, unlimited text + data) then I would likely go to Simple mobile.

I agree with "notserpmh". I think you need to pay the higher rates only if you switch to a newer model phone introduced during May 2012. But I could also see VM screwing you and saying anytime you switch, even within the same group of old phones, you need to pay $35. If that's the case, I would go to T Mobile's $30 plan.

If you read the link they define new phones as anything released May 2012 orvlater but I too can see people getting screwed especially since VM customer support doesn't even know their own policies.
Android Central Newsletter
Thank you for signing up to Android Central. You will receive a verification email shortly.
There was a problem. Please refresh the page and try again.