Verizon is offering a stellar BOGO deal on the Galaxy S9 and S9+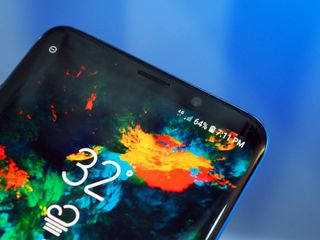 The Samsung Galaxy S9 has arrived, and not wanting to be left out of the fun, Verizon is offering one of the best deals on Samsung's latest flagship.
For a limited time, when you buy a Galaxy S9 or S9+ on an installment plan from Verizon, you'll get an S9 FREE via bill credits worth the device price of $799. This deal doesn't require a device trade-in, but you will need to stay with Verizon for the full 24 months to get the total value of this offer.
Here's what you need to know:
Purchase of new phone must be on an installment plan
Credit for the second phone is applied via 24 monthly bill credits and starts within 2 bills.To get the full value, you will need to stay on your installment payment plan for the full 24 months.
Activation fee of $25/line applies
Requires a new line of service to qualify
If you cancel service, the full balance is due
This deal excludes device's sales taxes
Here's an estimate of what you would pay each month on Verizon's Go Unlimited Freedom plan which costs $75/month with autopay. This does not include monthly taxes and surcharges.
Verizon Galaxy S9 with Unlimited data plan
Swipe to scroll horizontally
| Header Cell - Column 0 | Galaxy S9 | Galaxy S9+ |
| --- | --- | --- |
| Monthly Payment | $33 | $49 |
| Monthly Total | $108 | $114 |
Android Central Newsletter
Get instant access to breaking news, the hottest reviews, great deals and helpful tips
Editorial Director - High Yield
After getting his start writing about BlackBerry in 2008, Adam is the Editorial Director of High-Yield content at Future. Leading an outstanding team, he oversees many of the articles the publisher produces about subscriptions and services – VPN, TV streaming and antivirus software. From buying guides and how to watch content, to deal news and in-depth reviews. Adam's work can be seen on numerous Future brands including TechRadar, Tom's Guide, T3, TTR, Android Central, iMore and Real Homes.
Fee $30 up front, not $25. Column and row headings are flipped on your table (device name should be rows and payment break out columns). And the device payment on the S9+ is $39, not $49. Not being a jerk, just took me a few minutes to unwind everything. :)

Do yourself a huge favor before signing up with any BOGO through Verizon. Google Verizon and BOGO and read the verizon community posts on past deals. I failed to do this, and am suffering for it. Verizon loves to tell you that you are eligible, and then after 5 or 6 months of telling you "credits will show up on your bill NEXT month", they'll find a technicality and inform you that you are in fact, not eligible. You'll be stuck paying for two phones, and probably some surprise start up fees, and countless wasted hours trying to get the deal you were promised.

This seems like a great deal at first, but you'd be better off trading in your current device to Samsung and buying the unlocked Galaxy S9/S9+. Verizon will make you pay full price up front and then gradually reimburse you over 2 years. Samsung will give you a discount for your trade in, and they have installment payment plans. Don't take Verizon's deal.

No you don't pay for the device upfront. The cost is billed in installments and then a monthly credit to offset the installment is applied every month.

At least in the app, the pricing chart is set up incorrectly. With the s9 having the device payments only and the s9+ having the unlimited plan only. It makes the s9 seem like way too good of a deal.

Requires you to open a new (second) line. Might be a good deal for a family that needs a new line anyhow, but not for everyone. I, for one, do not need a new line so the offer is of no value to me.
Android Central Newsletter
Get instant access to breaking news, the hottest reviews, great deals and helpful tips
Thank you for signing up to Android Central. You will receive a verification email shortly.
There was a problem. Please refresh the page and try again.