Ventev Powercell 6000+, Wallport r2200 and Chargesync Micro USB cable review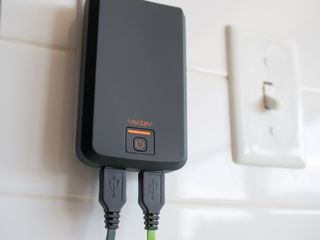 High-end charger accessories with a few neat tricks will keep all of your mobile devices charged up and ready to use
There's no shortage of ways to keep your phone and tablet charged up nowadays. Between reverse-charging technologies, battery packs, wireless charging mats and plain old wall chargers, you have more choices than you probably need. At the same time, every single manufacturer you've heard of — and dozens you haven't — make these accessories.
Ventev is one of the companies you probably haven't heard of, but it makes some pretty nice charging accessories to keep your phones, tablets and other accessories charged up and ready to go. Its latest lineup consists of the Powercell 6000+ dual-port battery pack, the Wallport r2200 dual-port 2.1A wall charger and some great no-tangle colored USB cables.
Image 1 of 7
The Powercell 6000+ is your typical large-capacity external battery that has enough juice to keep your devices fueled up over what would normally be multiple charge cycles. It has two USB outputs, one of which gives the higher-power 2.1A (at 10W) output for fast charging phones or more importantly actually charging large tablets. It provided my devices constant power even while both devices were on and in use — not a small feat — and while it's a tad larger than comparable-mAh battery packs (the size of about two and a half 5-inch smartphones by volume) you're getting some neat features.
It has the added bonus of doubling as a wall charger — there's an integrated flip-out wall plug that you can use to of course charge the battery, but it acts as a pass-through for charging devices that are plugged into the USB ports while plugged into the wall.
The only downside we can find right now with the Powercell 6000+ is how it tries to optimize its output when the device it's charging hits 100%. The battery is smart enough to turn itself off when whatever it's charging is fully charged — cutting down on the amount of power wasted — but is often a little too smart and turns off prematurely when charging some lower-power devices like peripherals and mobile hotspots. We've reached out to Ventev and they tell us the issue is with how little power smaller devices draw, and that they're considering ways to improve the smart power system.
At just shy of $70 this isn't the cheapest battery pack you can find, but for the power-hungry among us that need to keep multiple devices juiced up and want to cut down on the cords, this may be a solid choice.
Image 1 of 5
The less-interesting but entirely necessary accessory is the Wallport r2200. It's a dual-port USB charger that offers 2.1A (10W) output from both ports, giving you the flexibility to charge pretty much any pair of devices at the same time without having to worry about it taking the whole day to top them off. Just like the Powercell 6000+, it has flip-out charging prongs to plug into the wall, with the same soft touch feel of its battery-filled larger brother.
Finding a nice charger that can do high-speed charging on both ports is somewhat of a rarity, and although the Wallport r2200 lists for $29.99, it's easy to find at under $20 from places like Amazon — not a bad deal for what you're getting.
Paring up with either the Powercell 6000+ or Wallport r2200 (or any other device for that matter) are Ventev's tangle-free Chargesync Micro USB cables. They come in a variety of colors (I had a couple that match my favorite soccer team), support 2.1A fast charging and are noticeably high quality. At $15 a piece they aren't super easy on the bank account, but they truly don't get tangled — due to their flat design — and are just the right length for most applications at 3-feet long.
Ventev has a nice suite of charging accessories on its hands here, and it's hard to say anything bad about them after using each of these products to keep our phones, tablets and peripherals charged up at home and on the go.
Be sure to check out more Ventev accessories (opens in new tab) for your Android phone or tablet at ShopAndroid.com (opens in new tab)!
Get the Android Central Newsletter
Instant access to breaking news, the hottest reviews, great deals and helpful tips.
Andrew was an Executive Editor, U.S. at Android Central between 2012 and 2020.
Just ordered the wall charger. I was just about to order something similar, and this one's a little more expensive, but a good review here goes a long way. I would consider the battery pack, but I'm still pretty happy with the Anker 10,000mAh pack.

I know you mostly eluded to it, but specifically will the 6000 charge all three at the same time (the two ports and the 6000 itself)?

They say that when its plugged into the wall it prioritizes charging the attached devices first, then the internal battery. It didn't take long to charge phones when its plugged to the wall, so it gets the phone to 100% then starts filling its own battery, in my observation.

Thanks Andrew! -------------------------------------------
You really should see the crap I don't post. Sorry if honesty offends you

I'm looking for a battery pack right now, I'm certainly going to take this into account. Posted via Android Central App

Two things... I have the wallport r2200, and I also have the dashport r2240, a car charger with 2 outputs, also 2.1 amps each. They both work amazing! Quickly charging any of my phones, tablets, and battery packs (Mophie). What I do find interesting is that the wallport you have pictured here has the same serial number (S/N: 529323) as my wallport... Looks they made a good charging product but went cheap on the screen printing!

needs built in microUSB cable like this - https://www.androidcentral.com/e?link=https2F2...

I personally don't like the ones with built in cables, when and if the cable goes bad the whole charger loses some of its appeal. Plus I like the ability to use different cables for different devices. I know there is a USB port for other cables, but having one that doesn't work permanently attached would drive me nuts. Posted via Android Central App

I'm with you. A built-in cable just means that I have to carry a separate cable in my travel bag if I want to connect my phone to my laptop while I'm on the road. Posted from one of an unnecessarily large collection of Nexus devices because I'm That Guy

AND... what if I want to charge my iPad too? The built in cable charger is going the way of the dodo.

Did you happen to test the 2.1A ports on Nexus devices? I've found my Nexus 5 drops to 500mA when plugged into any 2.1A port, making it useless to me. So particularly a device that has ONLY two 2.1A ports would be useless to me unless they've resolved that somehow.

I'm trying to figure out why this is.. Sucks. It really does.

Most 2.1 amp chargers are designed for apple products and the way they use to decide how much amperage to pull. The normal USB charging spec calls for the data lines to be shorted together to signify to the device that it may draw up to 1.5 amps. The apple method puts a particular resistance on each data line to bring each to a specific voltage so the device can pull (IIRC) .5, .9, 1.5, or 2.1 amps. Most aftermarket devices are geared towards what had been until recently the largest segment of the market, namely Apple products. Lately there have been some smarter devices that are able to differentiate between Apple and other devices and charge accordingly.

Bingo. I hate so much the fact that Apple has made at least one port on every charging device I own next to useless to me.

You need a fast charge kernel. Sometimes the higher Amp signal is sent according to Apple's ideals which sometimes doesn't play nice with Android. Franco Kernel is my fav

No. Rooting your phone and installing a custom kernel should not be necessary to get it to charge properly. The phone charges plenty fast on plenty of chargers. It's just useless on any charger designed for Apple's non-standard standard. Also I had to quit Franco Kernel. It wouldn't properly thermally throttle my phone, so when it would get too hot in the car it would allow it to overheat to the point of full shutdown.

Nexus 5 and 7 charged off the 2.1A port as "(AC)" just fine from what I noticed. Posted via Android Central App

Did you check input numbers via an app? When I plug my 5 into virtually any 2.1A port and use Battery Monitor Widget it shows me pulling less than 500mA, even if it does report AC. If I plug into other ports with the right cable I can range from 700 to 1.3.

Nope didn't check an app. I just checked the battery settings — it seemed to charge just as fast as any other wall charger or battery pack.

I am definitely having the problem with my phone charging extra slow on almost all 2.1A ports. I am also having trouble finding aftermarket cables that will charge my Nexus 5 to the full capacity of the charger. You can see the charging voltage drop when you switch to a cheap cable. Can anyone recommend a good one on Amazon or elsewhere? Thanks.

Just wanted to add that I, too, get a "Slow Charge" notification when connecting to most 2.1A ports. Posted via AC App on HTC One

would this be better than mycharge6000 that can charge 3 device at one time?

Hello Friends anybody just tell me about this new looks about Chargesync Micro USB cable for all the androids smartphones.
By - http://bodyrxlouisville.com/botox

botox??? REALLY - FYI, this is spam!!! :( And while we are on the subject... These are the best cables I have found and a great price. I will def' order more!
http://www.amazon.com/gp/product/B004GF8TIK/ref=oh_details_o03_s01_i01?i...

I'd like to report this post but where is that button?

If you must have ventev cables, try this: $10.74
http://www.amazon.com/Ventev-Chargesync-Micro-Cables-Packaging/dp/B00B5Z...

or this, available in 3,6, and 10 ft. Under $7
http://www.amazon.com/gp/product/B004GF8TIK/ref=oh_details_o03_s01_i01?i...
I bought 2 and am going back for more now that I know they are so good!

cant beat the MyCharge Peak 6000mAh charger... especially if your work forces you to have a crApple iPhone and you want to use ANY other device ever... having both cords built in is epic!
http://www.mycharge.com/products/peak-6000

I work at a store that sells ventev.. the life time warranty is needed because they break all the time! 1/3 easy..