V-Moda Crossfade 2 Wireless review: My new favorite headphones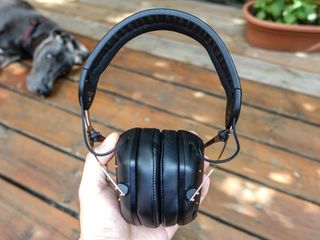 Headphone preference is almost as contentious and divisive as the phones they connect to. But one thing that isn't up for dispute is the proliferation, often by necessity, of the "hi-fi" Bluetooth headphone.
V-Moda isn't a particularly well-known brand, but it's been around for just over a decade. The company, like many others in the space, began building earbuds and cheap headphones to replace lost Apple EarPods and other cheap in-box headphones, but again, like so many others in the space, saw the burgeoning potential of the audiophile market.
The Crossfade 2 Wireless are the company's flagship Bluetooth headphone, modeled after its popular Crossfade M-100 wired model released a couple years back. It improves upon the original, released last year, in almost every way, with larger drivers, more reliable Bluetooth, better battery life, and more comfortable pads. And while the over-the-ear headphones' looks may be divisive, their sound won't be: these are incredibly good for the $349 price (though I've found them for nearly $100 less during sales).
What's good
While the Crossfade 2 Wireless looks a bit aggressive with its hexagonal cups and contrast-forward dual-toned finish, I rather like the overall aesthetic. My rose gold version is the only one (for some reason) that supports Qualcomm's aptX codec, which is increasingly being supported by most phones, for higher-quality audio, but I would have gone with this tone either way — I just think it looks good.
The cups themselves pivot gracefully on two hinges, making it easy to get the right fit around even the most stubbornly-shaped ear. Similarly, there is plenty of length within the customizable headband to accommodate even the largest heads. This is a headphone for all seasons. V-Moda considers the so-called SteelFlex headband to be "virtually indestructible," and while I don't plan on testing that theory, the whole outfit appears to robust and then some.
That the cups can be pushed upwards towards the headband to form a portable "pebble" shape is even better — V-Moda includes a carrying case to ward off abuse, but I've regularly thrown these in my bag sans protection with no ill effects.
There is a physical On switch on the rightmost cup along with three buttons — volume down, play/pause, volume up — and once learned they're simple to press while wearing. And these things get loud. V-Moda aims the Crossfade series primarily at DJs, which would imply a bass-heavy sound, but the default sound profile is fairly flat, with punchy bass, buttery mids, and smooth, sibilance-free highs. I am in love with the sound from these (though I'll admit to slightly preferring the sound from the slightly lighter wired V-Moda Crossfade M-100s, which appear to be nearly identical but for the wireless componentry).
Image 1 of 3
Image 2 of 3
Image 3 of 3
The Crossfade 2s have almost no Bluetooth noise floor, which is impressive given that nearly every other pair I've tested, from Blue's Satellites to Phiaton's BT460s produce a fair amount of low-level static when they're connected to even the cleanest of sources.
The soundstage is wide and inviting, with clean separation on even the most challenging of jazz or vocal tracks. But the headphones do come with a cable that includes phone volume controls and a microphone and, when plugged in, bypass the wireless components completely.
Comfort is a bonus here, too: I've worn these for hours at a time without noticing, especially since I can get 14 hours of battery from a charge. Yes, they charge with Micro-USB, but I have to plug them in so seldom it doesn't really matter. And they work with the cord even when the cell is depleted.
Finally, despite not having active noise cancellation, the firm seal over the ears provides a fair amount of passive isolation that, while not great on planes, is good enough for the outside world. I'd rather wear these sitting in a coffee shop than the vast majority of larger, bulkier, heavier ANC headphones.
I've yet to encounter the company's post-purchase warranty program (and I hope not to) but I hear that it's quite good. It features a standard 1-year defective parts replacement schedule, which is normal, but there's also a 60-day return policy for those who don't like them, and an "Immortal Life" feature, which provides 50% off a replacement pair should they break out of warranty. Pretty generous if you ask me.
What needs works
My biggest gripe with the Crossfade 2 Wireless is the fact that the aptX codec, which enhances the quality of audio when connected to devices that support it, is only available on one model, the rose gold color that I picked up. The all-black or all-white models, which are some $20 cheaper, don't come with it installed.
Now, of course, aptX is licensed for a fee and V-Moda is merely passing it on to the customer, but it's short-sighted and confusing to the average person who knows little about the stuff but would benefit immensely from its presence. As much as I like the combination of black and rose gold, the other hues are inevitably going to be the most popular colors, and many buyers are going to miss out.
Image 1 of 3
Image 2 of 3
Image 3 of 3
Others may find the lack of next and back buttons to be frustrating given that most headphones in this price range include such functionality, be it on the chassis itself or, like with Sony's MDR1000X, a touch-sensitive gesture area. I didn't much mind, but I did miss the ability to call on Google Assistant, which would allow me to skip tracks, adjust volume and do a whole bunch of other things without having to look at my phone.
The headphones, because they use a physical switch to turn on the wireless elements, have no auto-off functionality; more than once (in fact, nearly every time I leave the room) I forgot to turn them off, only to return to a pair of dead cans. While they only take three hours to recharge to full, I bemoan the auto-off functions that other, more intelligent (read: less analog) headphones have. I also wish the damn things charged via USB-C, but I've yet to find a pair of wireless headphones that do, so I guess I'll just keep waiting. Also useful would be a battery indicator; it's unclear when the Crossfades will die until I get the indication while I'm wearing them.
At between $320 and $350, depending on the model, many people are going to balk at this price, especially when you can get something like the aforementioned Sonys, or the popular Bose QC35s, for the same or less — and those come with Active Noise Cancellation.
Should you buy them? Definitely
I have been a big fan of V-Moda's headphones and overall sound signature for a long time. When the company put out a wireless version of its Crossfade M-100s, I bought it sight-unseen and haven't regretted the decision for a moment.
There are pieces of technology that just fit seamlessly into your life, and the Crossfade 2 Wireless headphones are such an example.
From an audio perspective, I have almost no complaints: they are punchy, accurate and fun. I don't profess to be an audiophile, but I'm a discerning listener of nearly every genre of music, and I have yet to find an album that doesn't sound fantastic. Moreover, I have a rack of headphones at my disposal, cheap and expensive, wired and wireless, and find myself constantly returning to the Crossfades. This isn't by accident; my ears know what they like.
Daniel Bader was a former Android Central Editor-in-Chief and Executive Editor for iMore and Windows Central.
I've had the V-Moda M-80s for several years. Absolutely love them. I've been eyeing the Crossfade 2 Wireless since they were announced. Just might take the plunge.

Daniel, have you compared how they sound between Bluetooth and using the wired connection?

I have but not tried using them with a phone or computer's headphone jack. I did connect my Crossfades II to an excellent little Dragonfly DAC and it sounded a bit better than BT to my spoiled ears. That isn't surprising because Bluetooth provides a compressed signal, even aptX, although less so and the little Dragonfly really sounds great with reasonably efficient headphones. On the other hand under Bluetooth, unlike many BT headphones that I've tried, the V-Modas (at reasonable volumes) do not ever feel like they are running short of the power to deliver deep loud bass. Either way the Crossfade IIs are clean enough and detailed enough that I never felt like they needed to be turned up to 11 to get all of the little musical details.

Sholling - Thanks for the meaningful reply. When I have BT headphones with a wired option, I always find wired better as well when I switch back and forth. I think the best BT headphones I have at the moment in terms of sound quality are the Jaybird X3. They have no hardwired option of course, but the do sound nearly identical to my HTC Actives which seem to be very accurate. I do have a pair of Jam Transits I picked up in an emergency (I was pleasantly surprised by the sound), and they have a lot of power in Bluetooth mode, but are not as detailed on the high end when using the cable. I only have a few BT headsets because I prefer wired. My most comfortable set are a wired pair of Sennheiser's, but they have a 1/4 inch plug that requires a 1/4 to 1/8 (6.3 to 3.5mm) adapter that's huge. In that regard, the U11 adapter makes it easier than having a 3 inch post sticking straight out of the phone like it does on my M8. I guess I should just order a replacement cable and replace the end, but then I'd need an adapter for plugging into my mixers.

I adore V-Moda headphones. My current pair is 3 years old and still look and sound great. I would not hesitate to buy another pair.

I have the rose gold Crossfade II and they are the best $300 Bluetooth headphones that I've listened to. In my opinion they are not quite the equal of the very best $300 WIRED headphones but they are really-really good. They are closed back and have the typical closed back 'concert inside your head' effect but they have a good soundstage for closed back design. I'd also describe them as a tiny bit bright but not terribly so. The bottom line in my opinion is that if someone is looking for a great $350 Bluetooth headphone they'd be crazy not to audition this one, especially if you have an aptX capable phone.

Ugly though (personal aesthetic bias).

I'm trying to decide now. I was set on getting a set of Parrot Zik 3's, but after this review, I many need to find somewhere to listen to them and my music to see which is better.

I have 3 pair of M-100's 2 wired and 1 wireless, I love them all. I had a pair 70's but I gave them away, they couldn't handle the volume I was putting through them. when I read about the pair with aptX, I knew I wanted a pair, along with getting the cliq fold design. what I want to know is where did he find them with $100 off the price?

i have to say (again) that my Ncredible1 headphones really sound amazing, and they were only $70 new!!...so spending $250-350 on these headphones here?--admittedly sounds ridiculous to me. And i'm not exaggerating...with the Ncredibles, i never thought it was possible to get sound this good over bluetooth, and they're better than any headphones i've ever owned/heard/tried over my 38 years. i've never tried a $350 pair of bluetooth headphones (though i've had RF wireless headphones that expensive), so i would be curious to hear the difference and see if it can somehow justify paying the whopping 70-80% more for these!?!
Android Central Newsletter
Get the best of Android Central in in your inbox, every day!
Thank you for signing up to Android Central. You will receive a verification email shortly.
There was a problem. Please refresh the page and try again.